The Mitsui OSK Line (MOL) vessel Felicity Ace is on fire in the mid-Atlantic with large consignment of VW Group vehicles aboard. The 22-person crew has been forced to abandon the vessel. All have been rescued safely.
[Updated February 22] The Panama-flagged pure car and truck carrier (PCTC) was on route to the US east coast port of Davisville with the export vehicles, which it had picked up at the VW-dedicated port of Emden in Germany. It is believed to have a mix of VW brand, Audi, Bentley and Porsche vehicles on board. The vessel has capacity for 4,000 vehicles.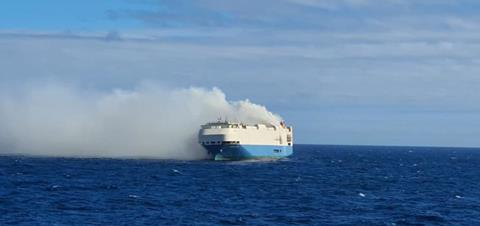 The fire broke out on February 16 at around 11.30 CET when the vessel was 90 nautical miles southwest of the Azores archipelago of islands in the Atlantic. The vessel is currently reported to be stable but the fire is also being fed by lithium-ion batteries in the electric vehicles (EVs) on board.
A statement from MOL Ship Management in Singapore issued on February 22 said that two large tugs have now arrived on scene from Gibraltar and are spraying the vessel with water to cool the hull and ship boundary. Those tugs are also helping to control the position of the vessel prior to inspection by the vanguard salvage team, which is on site.
Once conditions are safe the salvage team will board the Felicity Ace for an initial assessment of future salvage plans, according to MOL.
Two salvage craft with additional firefighting and towing capability are in transit to the area, with one scheduled to arrive on February 23 and another on February 26.
The operation is being coordinated through the Ponta Delgada Maritime Rescue Coordination Centre (MRCC).
"Mitsui OSK Lines wishes to thank the Portuguese Navy, the local authorities in the Azores and those vessels that supported the rescue operation of the crew members in the best traditions of the Merchant marine," said MOL.
VW Group has yet to issue any information on the status of the cargo but said it was in contact with MOL.
A similar incident occured on the MOL car carrier Sincerity Ace back in 2019, with fire engulfing the vessel which was loaded with 3,500 Nissan vehicles in the middle of the Pacific ocean.
There have been a number of ro-ro vessel fires in recent years though it is unclear whether this is related to the increase in the transport of EVs.
In related news, a fatal fire broke out on the Grimaldi ro-pax vessel Euroferry Olympia on Friday (February 18) last week, en route between Greece and Italy. The fire is thought to have started in one of the vehicle decks. Eleven people are reported missing, while 278 people have been rescued.