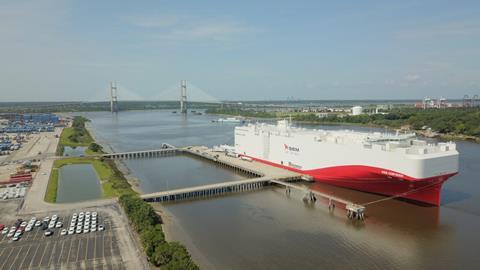 Volkswagen has extended its vehicle handling contract with the US east coast port of Jacksonville (Jaxport) for three years and will continue to work with terminal operator Amports.
Volkswagen Group of America (VWGoA) moved to Jaxport in 2015 and has a 30-hectare operating space at the Blount Island Marine Terminal, through which it is supported by Amports for the import and export of VW brand, Audi, Bentley and Porsche vehicles. Over the next three years the carmaker said it expected to move 300,000 cars through Jaxport.
The OEM also has an 18,580 sq.m parts distribution facility nearby.
"Jacksonville has been a good home base for our southeast US distribution operations," said Mark Ilijanic, VWGoA senior vice-president for parts and vehicle logistics. "Our partnerships with the port and our service providers in northeast Florida are very strong and we are proud of the positive economic impact our operations have on this community."
VW imports vehicles through Jaxport from plants in Europe and Mexico for distribution through the states of Florida, Georgia, South Carolina, North Carolina, Alabama, and Mississippi. The carmaker has 118 dealers in the southeast region.
VW also exports volumes from Jaxport. These exports include the Passat, made in Chattanooga, Tennessee.
"We are pleased that a global company like Volkswagen continues to experience success in Jacksonville," said Jaxport CEO Eric Green. "This agreement allows Jaxport to build on our already strong reputation for vehicle handling-excellence while delivering on our commitment to attract and retain quality jobs for Northeast Florida."
VWGoA recently commissioned two new vehicle carriers built by Siem Car Carriers that can run on liquefied natural gas (LNG) and the first vessel, Siem Confucius, made its maiden voyage to Jaxport at the end of July carrying imports of VW Group vehicles from Mexico. The 7,500-unit capacity vessel had already made deliveries of European-built vehicles to North America on its first crossing in June. Both the Siem Confucius and Siem Aristotle will regularly call at Jacksonville.
"Northeast Florida is a global leader in the use of LNG as a preferred fuel type for the maritime industry," said Green. "Some of the world's most environmentally friendly vessels call Jaxport and we are proud to support these initiatives and do our part to make the supply chain cleaner and greener for the communities we serve."
Read more about vehicle throughput at Jacksonville and the rest of the US east coast ports in FVL North American Ports 2020