OEMs and their customers are feeling the pain from delivery delays and capacity shortages in rail services. Greg Thompson expores what the industry is doing to fix the problem.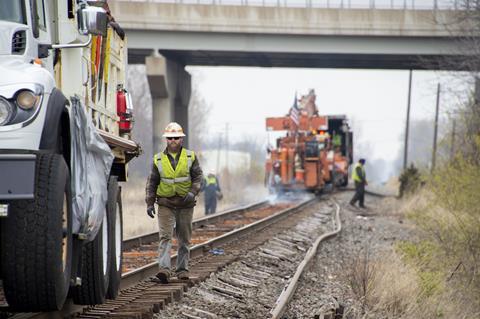 The first phone call Darren Acker received from a new car customer caught him off guard. The person, who had found him via Google, wanted to know the delivery status of the vehicle they had purchased. Clearly, they had been waiting much longer than expected.
As the director of logistics operations in the US for Hyundai Glovis - the logistics division of Hyundai Motor Group service Hyundai, Kia and Genesis, along with other brands - Acker takes all manner of calls addressing supply chain and logistics processes, but they had never previously been from a final consumer. However, as the finished vehicle logistics capacity shortage continued to deepen, such calls to Acker became more frequent - and he quickly understood why.
"I understand and appreciate why they are calling, and I'm happy to do my best to help them when those calls come through to my phone," he says.
But Acker, along with other logistics executives in the automotive industry, have no doubt been wishing they could do more.
Delayed vehicle delivery is not specific to Hyundai brands but has become a chronic industry issue across North America ­– with similar challenges in Europe, too. OEMs including Stellantis have cited delivery challenges in recent earnings reports. Senior executives across the industry have been pointing especially to capacity shortages and services delays in finished vehicle rail across North America. Jeff Morrison, vice-president of global purchasing and supply chain at General Motors, told Automotive Logistics that vehicle logistics issues were among his top five global challenges. "And if you were to ask my CEO [Mary Barra], it's one of her top five issues to be able to move the vehicles that we build."
These supply chain bottlenecks are happening just as automotive production ramps up since chip shortages have eased. "With the Hyundai Motor Group, our inventory has come back in a very strong way," notes Acker. "Production has increased, and the rail network has been a few steps behind."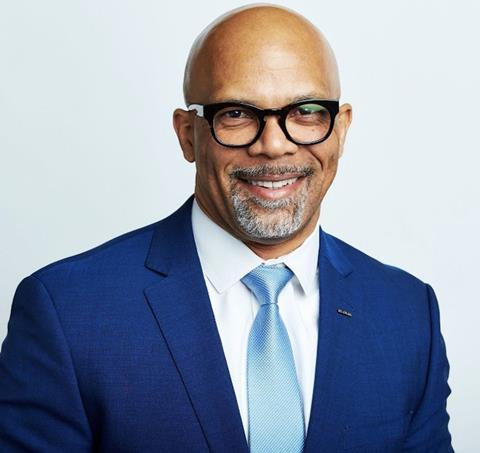 A perfect storm on the tracks
Several factors have combined to disrupt rail and vehicle logistics network. In a speech earlier this year highlighted in the Detroit Free Press, Surface Transportation Board Chairman Martin Oberman noted that the number of rail workers employed by the four Class 1 Rail providers in the US had dropped by some 34,000 employees since the pandemic, a reduction of roughly 25% of the rail workforce.
GM's Morrison, meanwhile, cited labour shortages along with a chronic lack of investment and imbalances in railcar allocation. Changes in vehicle logistics flows have exacerbated the issue, including a rise in volume from Mexico, and more vehicle imports at west coast ports from Asia, which have required a 'land bridge' by rail to reach other parts of the US. This coastal rail services have put more pressure on getting railcar equipment to the right place at the right time – which has been exactly the challenge facing the industry.
According to Acker, the growth in truck and SUV market share in North America has posed ongoing challenges for rail capacity. The triple-stack setup that allows the rail to haul three rows of sedans is now less in demand than the double-stack rail cars used to move larger vehicles.
Prior to the pandemic, Acker notes that rail providers had been in the process of making the shift from tri-level rail cars to bi-level equipment, pulling tri-levels from service and allowing for maintenance and refits to become bi-level capacity. However, with the chip shortage stalling production of all vehicle types, a portion of the tri-level equipment capable of moving sedan models had been put in storage. Later, when the chips became available, and the finished sedans were ready to be transported into the market for consumers, a lack of maintenance service locations made it even more difficult to get equipment into operation.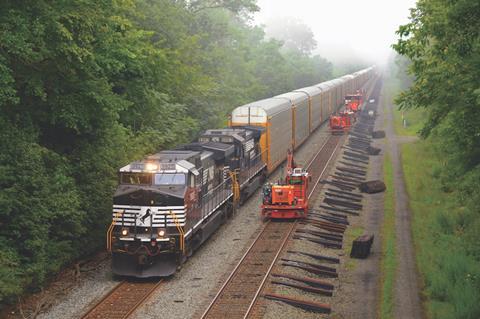 A shortage of maintenance staff and facilities has slowed down the increase in capacity and service for North American rail
"The concern I raised is that we have equipment that's in storage," Acker says. "You have to have a cycle to this to make sure that it stays in a continuous state of readiness. We're hopeful that it can get worked out in the future."
Sources across the industry have also pointed to changes in rail scheduling and loading patterns. For example, rather than dedicated 'unit trains' made up of vehicle-carrying railcars, more railways across North America have switched to 'precision scheduled railroading' (PSR), which mixes railcars for various cargo on a single train. OEM executives have suggested that this approach has increased dwell and lead times, although railway companies have pointed other efficiency gains.
"When you look at the situation, we were in the midst of three things with Covid, the chip shortage and PSR," explains Acker, who adds that there was no magic switch to put rail capacity online. "With all these issues coming together, it was just like back-to-back perfect storms.
Acker thinks that Glovis and others did try to keep logistics providers updated on when production volumes and inventory would return, including weekly meetings with railways. But still, the industry couldn't respond fast enough. "Maybe there was a reluctance to really do things in advance. It was more of a wait-and-see approach, and now we're playing catch up," he says.
Slow train coming
Although the scale of the issue is significant, it is also a sensitive issue for vehicle manufacturers and for Class 1 rail providers. OEMs, for example, understand that they need partnership, engagement and long-term investment with rail providers. Acker, in offering his insights and analysis of the current situation, stresses the good work and attention of rail providers. He is part of the Automotive Logistics Executive Committee (ALEC), a group that is actively engaged with rail partners to address both short-term issues and long-term efficiencies.
"ALEC has been working really diligently with the railroads to try to get some insight on what's being done to help improve the network," states Acker. "The railroads are doing a great job trying to recover and they are making progress, albeit not as fast as we'd like to see it."
Almost no Class 1 railways were willing to offer interviews or respond to specific questions for this article. One of the few was Katelyn Byrd, senior communications manager at Norfolk Southern, who acknowledges the shortages of multi-level railcars, and points to the company's plans to increase its fleet of 9,428 such railcars by 900 in 2023, and a further 500 in 2024.
She also highlights cross-functional efforts across the company, from marketing to operations, to work with customers' concerns and on creating more capacity to better serve the automotive demand in the market. "[Our teams'] efforts include prioritising railcars in need of maintenance," says. "In fact, we've reactivated three repair shops with a fourth in process."
In background conversations with experts across the industry, all the parties understand the issues at hand, and many are working to find solutions while choosing not to comment at this time. In some cases, board member and OEM chief executives are said to be in discussions with leaders at railways.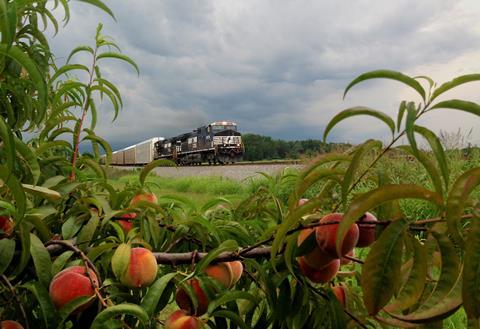 Railways point to increases in multilevel fleets and efforts to increase capacity usage
Ready to change
One of the dominos that has fallen with the shortage of rail capacity is the imbalance of finished vehicles within the US domestic market and across North America. For example, Hyundai Motor Group has manufacturing locations in the US southeast, including Hyundai in Montgomery, Alabama and Kia in West Point, Georgia, with a new plant for all three brands under construction in Bryan County, Georgia. For Glovis, the region has a heavy (and growing) concentration of finished product in the region, which will make it even more important for reliable cycle times for equipment to get back to plants, for example.
Managing these imbalances requires greater flexibility in traditional transport routes. Though truck transport of finished vehicles is an obvious alternative to rail, it can be costly and inefficient to change high volume to truck over long distances – as well as racking up greater carbon emissions. Nonetheless, Hyundai Glovis is making the switch to road where it makes sense.
"We're converting rail inventory to trucks, and we're going short and long distances. That's one of the solutions to supplement the rail that we've come up and we are managing through," explains Acker. "For the plant locations, we have to use alternative rail ramps where we are bypassing and trucking to alternative rail ramps, loading directly on other railroads to get our product to market faster as well. These are some of the actions we are taking, but it comes at a huge expense."
With an eye on the situation being temporary and with a focus on finding long-term, cost-effective solutions with the Class 1 rail providers, Hyundai Glovis is currently absorbing the costs of changing modes and moving finished vehicles over the road by truck. Acker notes that driver availability and truck capacity have been adequate over the short term, but he also points out that such countermeasures go against the grain of the normal finished vehicle supply chain.
"For the plant locations, we have to use alternative rail ramps where we are bypassing and trucking to alternative rail ramps, loading directly on other railroads to get our product to market faster as well." – Darren Acker, Hyundai Glovis
"What we are doing can't be sustained over a long period of time. And that's part of the issue that all the OEMs have. There's just no specific date and time in the future where anyone is willing to commit when it'll be repaired," observes Acker. "Unfortunately, we can't really plan for when we'll see a major improvement shift, which would get us back to a pre-Covid level of velocity and availability."
Other OEMs have also highlighted the need for flexibility and using alternative rail services. According to Oliver Bilstein, vice-president of logistics for BMW Manufacturing, at the carmaker's Spartanburg, South Carolina plant, BMW has added an additional railhead besides the one that connects directly to its plant, trucking vehicles a few hours from Spartanburg to another rail location to move vehicles to Canada.
Solving the pressure, getting the sale in Mexico
The shift in imported volume to the west coast has already contributed to rail service imbalances. However, it's not just the US ports that are seeing a change in volume from Asia. In her position as chief commercial officer for Jack Cooper Mexico Rail & Intermodal, Julie Luna has been keeping an eye on the growth in Chinese car production coming into the Mexican market.
"One thing that's really happened in Mexico is the explosion of the Chinese auto manufacturers," observes Luna, who points to brands such as Chirey and MG selling more vehicles. "They really have impacted the supply chain, both in the port capacity as well as in the market demand. And, when you look at what is happening in the US [with rail capacity], that's exacerbated to a great extent in Mexico."
Luna, who has previously worked at Class 1 rail providers, points to creative solutions among OEMs to get their vehicles to market in good time. "When rail capacity is tight, more opportunities tend to come to truck, and we certainly have seen that this year. In fact, the pressure on the madrinas [Spanish term for car hauler] has been really incredible. We've added more services with Jack Cooper, including vehicle drive away, or dealer delivery, where we are actually driving the vehicles to dealers – just to get the product to market."
"When rail capacity is tight, more opportunities tend to come to truck, and we certainly have seen that this year. In fact, the pressure on the madrinas [in Mexico] has been really incredible." – Julie Luna, Jack Cooper Mexico
From Luna's perspective, the constraint on rail capacity has opened the door to new opportunities.
"Whenever there's pressure in the supply chain, whoever solves it gets the sale," adds Luna. "In Mexico, we have brought on 11 new customers this year and added five locations. It always comes back to whether you can deliver a price that's competitive to the market. More importantly, can you get the vehicle to its destination, and do it damage free? So that's why in Mexico, especially, it's the creative OEM who's going to get that customer sale because of the pressure of getting vehicles to their destinations."
For his part, Acker is hopeful about the continued efforts through ALEC to find solutions and create more visibility in the finished vehicle supply chain. The focus is to avert capacity shortages like the market is currently experiencing.
"We've been working on a tool that will be designed to share more information about the rail network across all the railroads and OEMs,'' notes Acker. "This will help give us more visibility. And being able to see will give us the opportunity to plan and manage properly."
Acker thinks that analytics tools will help, with improved technology for visibility and planning. However, he also thinks the industry will still need to overcome capacity shortages. "To me, the main part of it is just managing through some of the more physical side of it."
While Acker and all those holding decision-making roles within the finished vehicle supply continue to search for short-term answers and long-term solutions to the current capacity crunch, he will continue to stand ready to answer the calls from new car customers searching for a delivery ETA on their respective purchases. It's a call that he has had to get used to, after all.
"The first time it happened I was surprised," Acker recalls. "But I'm always happy to help in any way that I can."