Dirk Willmann, director of material planning and logistics for Ford Europe, outlines how the carmaker is improving visibility and adapting its vehicle logistics network across Europe to better manage customer demand and trade uncertainties.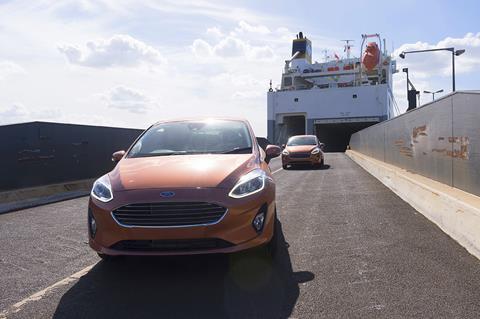 As Ford Motor continues a fourth year of solid recovery, with rising sales and profits across its main European markets, the complexity of its outbound vehicle distribution network for the region has also been increasing. Today, the carmaker must manage a network that is markedly more dispersed in terms of plant locations, origins and destination markets than it was even a few years ago.
Between its European plants and markets, Ford is managing deliveries across longer distances, with more multimodal transport and port locations, and growing exports from its plant in Valencia, Spain, and its joint venture plants in Turkey. Significant growth is also planned for its plant in Craiova, Romania. Meanwhile, the number of non-European imports into Europe has risen sharply in the past three years, including major volumes from India, South Africa and North America – flows that have further complicated lead times and visibility, while contributing to straining capacity in some ports.
Just as lead times and distances are growing, competition in the market has become tougher than ever. Customers remain highly demanding in terms of vehicle delivery speed and accuracy, specification and, of course, price. Such pressure is evident even before new technology for propulsion and autonomous driving radically alter today's business models.
"We have customers demanding more features and service on everything we offer them, with vehicle variety much higher compared to 20 years ago," says Dirk Willmann, director of material planning and logistics (MP&L) in Europe, whose wide-ranging responsibilities include vehicle logistics across Europe and cross-regional vehicle shipments for Turkey, Russia, the Middle East and Africa.
In Europe, Ford has been addressing such demands through a variety of strategies. Most immediately, it is exploring new port options to increase its reach, including in the UK and southern Europe. Meanwhile, in recent years Ford has made a significant switch in nearly all of its main European markets in how dealers store and select inventory, rolling out a vehicle holding centre (VHC) concept already in place for the UK. The VHCs, which Ford operates on behalf of dealers, store inventory owned and pooled together by a country's dealers, acting as a shared, extended forecourt across retailers to allow for more variety and shorter lead times.
Read a profile on Dirk Willmann and Ford's changes across the supply chain for the 20th anniversary edition of Automotive Logistics
The strong growth in imports, especially in the SUV segment, is also prompting changes to the production and distribution network. Starting later this year, the Ecosport compact SUV, currently built and exported to Europe from Chennai, India, will instead be built for European markets at Ford's plant in Craiova. The localised Ecosport, which has also been given design and feature updates, will reduce lead times, logistics and inventory costs – though Ford will still have to navigate a long, multimodal supply chain from Romania to the rest of the continent.
Ford's global MP&L department has also worked on improving the carmaker's order-to-delivery over the past six years, with the systems and processes in Europe largely the basis for other regions. Today, Willmann points to better planning of production capacity, higher visibility of vehicle inventory and improvements in predicting estimated time of arrival (ETA) to dealers and customers. Such transparency across the supply chain – which Willmann aims to improve with new technology – has been critical in assessing Ford's vehicle logistics priorities across its network, both in speeding up deliveries where necessary and in making appropriate decisions about cost.
"It doesn't matter what you do, you have to find the right balance between efficiency, speed and accuracy," says Willmann. "We want to improve lead times, but you have to consider that the customer is not willing to pay any amount to achieve that. Do you ship just two vehicles on a truck at any cost to get there faster? We typically don't. But with the right visibility, you can at least make better decisions."
A network in stasis and flux
A sweep across Ford's production and distribution network reveals many characteristics that have remained relatively constant for the past decade or more. For example, the core multimodal flows from Ford's German plants remain stable and highly effective. In Cologne, Germany, which builds Fiesta models, vehicles move by barge along the River Rhine both to the port of Antwerp, Belgium, for ocean transport to Europe, and to the port of Flushing (Vlissingen) in the Netherlands, for the UK. The sold models that arrive from Cologne are shipped by ferry directly to the UK, while unsold vehicles are stored at a UK-dedicated VHC at the port in combination with other Ford models, which are shipped by ferry based on dealer demand. Fiesta models produced for the European continent also move by rail to Italy, serving compounds and VHCs in other countries by road.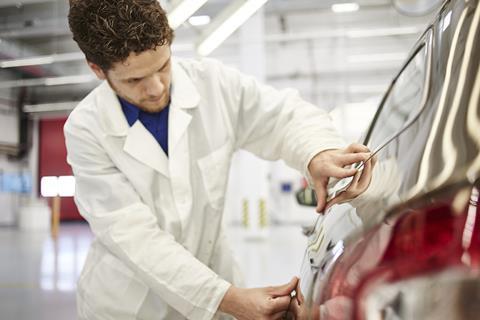 From Saarlouis, Germany, which builds Focus models, UK-bound vehicles also move by rail to Flushing, from which they move to either the VHC if they are unsold or straight to dealers via ferry if sold, as well as to the port of Antwerp for export. Saarlouis also has rail links with Italy and Scandinavia. An important train service established some years ago carries both finished vehicles and engines between Saarlouis and Ford's plant in Valencia, Spain.
But there are also important changes and developments in the network, some of which are likely to accelerate. The closure of plants in Southampton, UK, in 2013 and Genk, Belgium, in 2014, for example, has led to higher concentrations of production at plants in Valencia, Spain, and in Kocaeli, Turkey, for example. The Spanish plant now builds six different models and derivatives, with production and exports up more than 40% since 2014. Ford Otosan, Ford's joint venture with Koç Holding, exported around 257,000 Transit and Tourneo light commercial vehicles in 2016, and is increasing production capacity across its plants by 40,000 to 330,000 units per year.
Meanwhile, deep-sea imports have risen above six-digits per year, leading to new flows as well as putting more pressure on capacity in some ports.
Following these developments, Ford's shipping flows out of southern Europe have become more significant. Although Willmann declines to provide a modal split between road, rail and short-sea across Europe, these growing flows would suggest a ratio reasonably split between the three, if not increasingly weighted toward sea transport.
Ford operates a short-sea network using several shipping lines connecting all its major ports in Europe. One major flow runs from Turkey, with vessels moving Ford Transit and Tourneo vans from Kocaeli to the ports of Koper (Slovenia), Venice (Italy) and via Valencia to the northern European ports of Southampton, Flushing and Bremerhaven (Germany). Along the route, the ships drop off and pick up volume at the port of Valencia, where Ford has secured its own concession to handle both exports from its nearby plant and imports to the Iberian Peninsula.
A constant focus for outbound at Ford is the UK, which represents one-third of the carmaker's European volume, all imports. That obviously makes the smooth flow of vehicles through ports critical (and also raises issues about the UK's future trading relation with the EU after Brexit).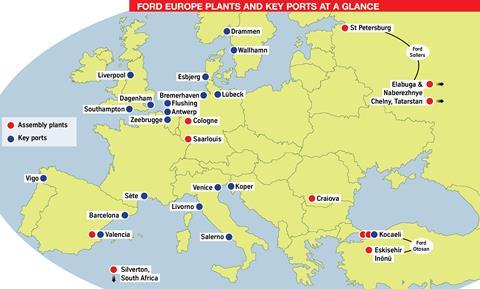 The UK has several special characteristics for Ford. It uses three entry ports – London (Dagenham), Southampton and Liverpool – with facilities to process both vehicles and engines built in the UK. For nearly a decade, it has also owned and operated its own fleet of car carriers for vehicle distribution across the UK, along with some port facilities.
For example, at Dagenham, east of London on the River Thames, Ford has its own jetty, where it invested £6m ($7.75m) in refurbishment last year. As they have since the early 2000s, vessels move Ford vehicles from Flushing several times per day directly to Dagenham, picking up vehicles from other brands and engines for export on the return. From Dagenham, vehicles move by truck and rail across the UK. Ford's other major entry point is Southampton, on the south coast, which handles its short-sea and deep-sea imports. There, Ford has invested in an area for vehicle imports and distribution.
"Having our own assets is an advantage in the UK, as it helps us to maintain flexibility and service even during the country's peak registration periods in March and September," says Willmann. And with Ford also launching a scrappage scheme in the UK and Germany to encourage customers to buy new, lower-emission vehicles, this flexibility could become even more important.On the site of the carmaker's former Transit van plant in Southampton, Ford has also added its Soton VRC (vehicle refurbishment centre), which mainly refurbishes used vehicles. It also uses an external modification centre for Transit vans close to the Soton facility.
Another logistics flow set to rise in importance for Ford is Romania, where later this year Ecosport production will launch. For the current B-Max at the plant, about 85% of cars move by rail to central and western Europe, for example to Cologne and to Flushing for onward distribution. A small share also moves by rail to the port of Constanta for ocean export. According to Willmann, Romania has a very dense rail infrastructure, with a high ratio of tracks connected to the wider European network. However, as Ecosport volume from Craiova is likely to increase relative to the outgoing B-Max, Willmann admits that Ford has some concerns about the speed and reliability of rail services in Romania.
"Romania has a very good network, but it needs maintenance," he says. "The speed of rail drops off sharply once trains enter the country, for example. We are speaking with the Romania government about improving rail, as well as road infrastructure and bypasses."
A British idea takes hold in Europe
Aside from new transport routes, ports and IT systems, one of the most significant developments for Ford's finished vehicle European network in the past three years has been the switch to the vehicle holding centre (VHC) concept across most European countries. Today, Ford manages around 30 such centres across Europe on behalf of dealers, including countries that have multiple VHCs, such as Germany.
The VHC has long been standard practice for the UK market, acting as a central storage facility for hundreds of dealers. Dealers can access the full inventory of vehicles from their retail IT systems, and can select the cars and options available at the VHC. In this system, dealers technically own a certain number of vehicles each, however they can choose from vehicles across the VHC, effectively swapping or buying inventory from other dealers. Once a dealer selects a vehicle from the VHC, Ford delivers it to the desired location within 5-7 days, though in some cases vehicles pass through modification or processing centres for accessories or additional options.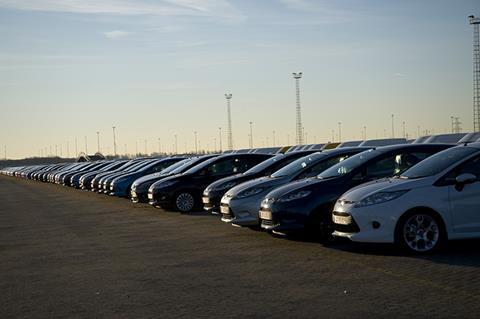 "The benefit for the dealer is that they have a much bigger pool, so instead of eight vehicles in their forecourt they have access to 800 in a central area," says Dirk Willmann.
A crucial point about the VHC, he adds, is that Ford has already sold the vehicles as wholesales to dealers, and no longer owns any of them. The VHC is in fact a service tool for dealers; Ford charges all the related costs from running each compound to dealers, but manages all the processes and transport on their behalf. The approach is unique to Europe across Ford's global regions.
For the UK, it is even more unique, since its VHC is located outside the country. While dealers may have local holding centres in the UK, the majority of unsold dealer stock is held in Flushing, in the Netherlands. This setup is effective as Flushing is a central point to consolidate shipping flows by barge, rail and short-sea from Ford's European plants, with the short and frequent shipping into the London region a cost-effective and fast way to serve Ford's largest market. At least three vessels depart each day from Flushing to Dagenham, east of London, for distribution in the UK.
However, such a setup also depends on a customs and tariff-free area between the UK and continental Europe, something that is now in doubt as the country heads towards Brexit in 2019. Although Ford's high share of non-European imports shows that the carmaker does handle vehicles from outside the European single market and customs union (which includes Turkey for manufacturing), there is a clear risk of added costs and complications for moving the high volume of vehicles into its single largest European market.
Willmann admits it is too soon to make decisions or go into detail, however he does say that MP&L is heavily involved in a strategy and risk assessment team related to Brexit. "We are looking very carefully at the potential implications and at any changes that we may need to make in response," he says.
The rising tide
Deep-sea flows have become a major part of Ford's European outbound network. Ford Otosan sends the majority of its exports to Europe, but also ships to Africa, Asia and the Americas. Ford also exports the Focus from Saarlouis and the Transit Connect from Valencia to global markets.
The most significant increase over the past three years, however, has been for deep-sea imports into Europe. The major products include the Ecosport from Chennai, India, sales of which surpassed 57,000 vehicles in 2016 in Ford's core 20 European markets. Last autumn, Ford also started importing the Ka+ from its plant in Sanand, India, after ending production of its predecessor, the compact Ka, at Fiat Chrysler's plant in Tychy, Poland, where it had been built since 2008. Other intercontinental imports include the Mustang from Flat Rock, Michigan; the Edge from Ontario, Canada; and the Ranger from Silverton, South Africa.
While Ford declines to give specific import numbers, sales of these five models reached 131,000 in the carmaker's 20 main European markets in 2016, and have risen by 65% compared to this time last year, driven by strong Ka+ sales (more than 31,000 in the first seven months) and the rundown of the current Ecosport. The number is likely to level off as the Ecosport MCA comes online in Romania, but is still set to remain high by historic standards.
Ford has integrated these flows into its European network. Imports from India, for example, are shipped to the port of Barcelona, Spain, as well as Antwerp, Zeebrugge and Bremerhaven, where sold units go straight to dealers and unsold vehicles move to country VHCs. The Edge, Mustang and Ranger also use northern European ports; unlike imports from India, those from North America and South Africa also move directly to the UK via Southampton. From North America, Ford recently introduced Liverpool as an entry port.
"We want to improve lead times, but you have to consider that the customer is not willing to pay any amount to achieve that. Do you ship just two vehicles on a truck at any cost to get there faster? We typically don't. But with the right visibility, you can at least make better decisions." - Dirk Willmann, Ford of Europe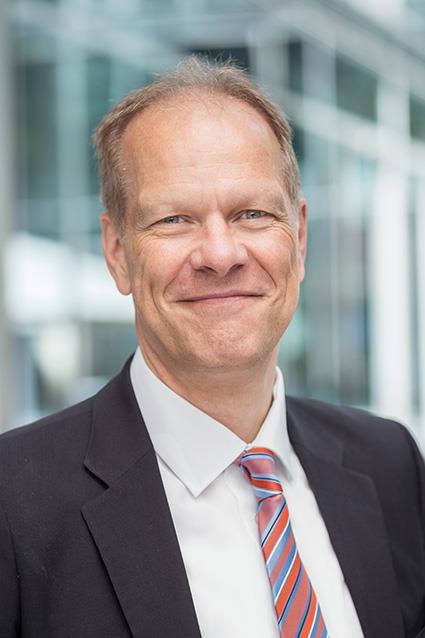 The increase in ocean volume within Europe and from intercontinental imports has put pressure on ports. Willmann points to full compounds and limited space for vessels and loading not just for Ford, but across the industry. "That challenges us and also causes issues with lead times into dealerships," says Willmann. "We are prepared to spend extra money where we can speed up some of those deliveries, but that is bottom-line waste."
Ford has taken some measures and continues to explore new port options. Earlier this year, it introduced another port of entry for Italy from Turkey, for example, using a Neptune Lines service to Venice on the north Adriatic coast. The port is expected to handle around 8,000 Transit vehicles per year, all of them bound for the Italian market by truck. "We started using Venice because the port of Livorno ran out of capacity, so we switched Transit. Livorno is used for [deep-sea] imports, especially Ka+ and Ecosport," says Willmann.
In the UK, Willmann also wants to make further use of Liverpool for deep-sea imports. "Currently, we serve most of the west and north of the UK from Southampton by truck or rail, but looking at a map suggests that Liverpool would provide faster access to the north and Scotland," he explains.
The increase in intercontinental imports and exports also raises somewhat newer challenges for Ford Europe. As well as representing huge value in transit, such import flows require up to 25 different touches as vehicles move across transport modes, terminals and compounds, points out Willmann. "When you touch a vehicle so many times that creates longer lead times – it also rarely increases the quality of the vehicle," he says.
Ford has been able to manage these flows with some success thanks in part to ongoing improvements to its order-to-delivery system and ETA management. Much of this work was rooted in a global project around the start of this decade, when Ford began rolling out its global-order-to delivery re-engineering initiative, updating the systems it uses. With these processes, Ford scans vehicles at every major handover and milestone in the supply chain, updating ETA forecasts at every stage for its own use and for dealers to access.
"The process involves some heritage systems, and it is still done manually and often in batches, as opposed to real time, but we are working on improving that," says Willmann. "The bottom line is that we know where our vehicles are and we can provide ETAs to all dealers."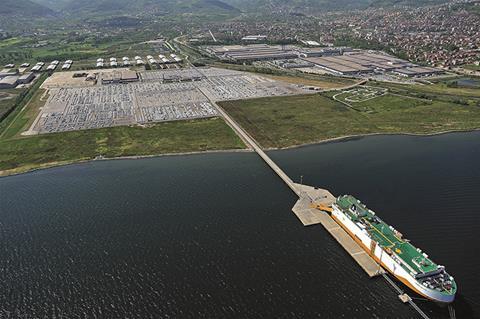 The imported vehicles have made this process more important, and Ford's MP&L team has become even more engaged in tracking and monitoring vehicles across the chain, including following up with logistics providers, ports and other stakeholders where it sees vehicles dwelling for longer or damages increasing.
"We are constantly watching how many vehicles dwell at locations for three, five or ten days, which we follow up to try and control," he says. "We also pay similar attention to quality, assessing where damage issues may occur."
Coordination between Ford's regional MP&L departments has also become more critical. Willmann, who is the single point of contact for logistics across Europe, Russia, Turkey, the Middle East and Africa, has weekly phone conferences with his counterparts in North America, South America and Asia Pacific, while operational teams coordinate across dozens of workshops. Capacity planning for plants across regions has greatly improved as a result, helping to make supply and distribution more stable.
Of course, where sales of an imported model reach a critical mass, localisation becomes an option, for example with the Ecosport. Locating the vehicle in Romania will bring other challenges, including managing a complex inbound supply chain with many global components, and long rail routes to central and western Europe. However, it will ultimately reduce lead times to European customers. "Bringing production of Ecosport to Europe was absolutely the right thing to do, as it helps to reduce the disadvantages inherent in long lead times, quality management and inventory costs," says Willmann.
Outbound could go high-tech
Dirk Willmann considers Ford's outbound logistics in Europe to be efficient and effective. He says external benchmarking has put it among the top carmakers in the region, but he also sees considerable room for improvement.
One targeted area will be in outbound network design and engineering. For inbound logistics, Ford works with a lead logistics provider, DHL Supply Chain, to manage carriers and operations, including the use of optimisation tools to frequently adjust transport flows. Now, Ford is engaging DHL to apply similar data analysis and optimisation to the outbound network.
"The scope would be different, but we aim to align best practices for inbound design to outbound," says Willmann.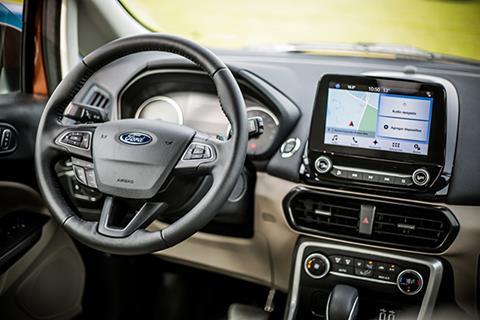 Technology, particularly around vehicle visibility, is another area where Willmann sees considerable scope to improve. The carmaker is exploring further use of RFID technology, for example. For the past seven years, Ford has used an RFID gate for its vehicle yard in Cologne. Trucks arrive at the plant equipped with tags that get verified without the need to check in; on the way out, the RFID scan verifies the loaded vehicles and releases the truck by opening the barrier.
"We are exploring the opportunity of extending this system to other plants and compounds, both for vehicles and for containers," says Willmann. "We have expensive vehicles in transit and we want to know exactly where they are."
Meanwhile, with built-in modems set to become an requirement for all vehicles in the EU by 2018, Willmann sees more chances to use in-vehicle telematics to trace vehicles, technology that other carmakers in Europe are actively exploring. "This will give us completely new opportunities, with an Amazon-style level of visibility, as well as the ability to communicate with the vehicle at any given point," he says.
Willmann also anticipates opportunities to come from data analytics, an area which Ford teams are already exploring. Autonomous driving technology will no doubt bring new dimensions to outbound transport as well. Willmann wants Ford, and its logistics providers, to be ready. Either way, change is coming.