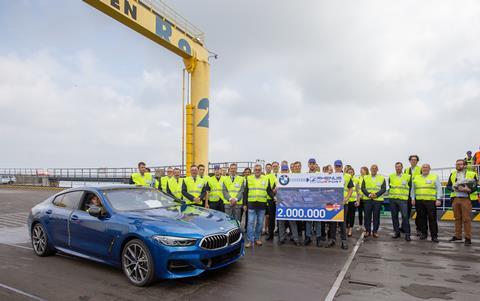 German port services provider Cuxport, a joint venture between Rhenus Group and HHLA Container Terminals, exported its two millionth BMW to the UK last week. The company is looking ahead to build on that and other intercontinental trade, and while Brexit uncertainty is a challenge, Rhenus' management believes that Cuxhaven port is well placed to grow volumes.
The exported vehicle - a BMW 8-Series Gran Coupe - was delivered by rail to the German port at Cuxhaven from the carmaker's Dingolfing plant in Bavaria. The car was then loaded onboard the ro-ro vessel Jutlandia Seaways, operated by DFDS for onward shortsea transport to the port of Immingham in north-east England.
Cuxport has been processing BMWs for delivery to the UK for 15 years and also handles vehicles to Sweden, Iceland, Denmark, Estonia and Finland. DFDS transports the cars to Immingham up to six times a week, while United European Car Carriers (UECC) sails to Southampton port twice weekly. The Scandinavian volumes are handled by K Line.
"Today, we're not celebrating the transhipment of one car but the customer relationship with BMW," said Hans-Peter Zint, managing director of Rhenus Cuxport, who was present at an export ceremony in Cuxhaven, held on Thursday (August 29). "It started in 2004 with Cuxport, BMW, DFDS and the rail company ATG [now DB Cargo].Based on a significantly shorter lead time, we were able to convince BMW to switch shipments from Zeebrugge to Cuxhaven and showed them that they can trust us."
Oliver Fuhljahn, Rhenus Cuxport's head of automotive logistics, said the port's location on the North Sea provides customers with short handling times (helped by lock-free access) and adequate storage capacity for shipping the vehicles. Vehicles are stored for an average of four days and 2,000 can be shipped per vessel.
"We have been able to massively increase the transhipment of vehicles and the number of our automobile customers during the past few years – partly by providing an improved railway link and also by making major investments at the site," said Fuhljahn. Those investments included the addition of a third berth at Cuxport last year.
In 2018, Cuxport handled approximately 200,000 automotive exports and 80,000 imports. Exports were mainly BMW, Kia, Daimler and GM vehicles, while imports were mostly from JLR, GM and Toyota.
Silver linings
Despite the strong figures, Zint told Automotive Logistics that since the UK voted to leave the EU in June 2016, Cuxport had seen a general reduction in UK-related imports and exports. That was mainly attributable to the prevailing political uncertainties and a related devaluation of the pound against the euro. He predicted that if there is a no-deal Brexit, "trade volumes might go down further depending on eventual customs tariffs".
"Many ports, in particular along the Channel coast, are physically not prepared to deal with customs controls, which brings uncertainty and risks for the supply chain," continued Zint. "But, we have conducted joint tri-lateral talks with our clients and with customs and are ready for this challenge in all aspects," he said.
While Brexit may be "looming like a dark cloud", the port location of Cuxhaven is "thoroughly prepared for any scenario," according to Enak Ferleman, parliamentary state secretary at the Federal Transport Ministry.

"When the UK exits the EU, the classic accompanied trailer transport routes will quickly be blocked due to necessary customs controls, but Cuxhaven still has capacity, because its handling speed prevents delays and most of the sea transport of trailers will be driverless," he said.
Fuhljahn suggested that the challenge of a no-deal Brexit could also provide an opportunity. "It cannot be taken for granted but we could have a chance to gain more business out of the UK into Cuxhaven if there is a no-deal Brexit," he said. "For Cuxhaven, which up until now mainly handled cargo within the European internal market, the ability to smoothly manage export and import customs procedures could open up additional business opportunities, be it UK traffic or even trade with the US, Mexico or China," added Fuhljahn.
He also said that Cuxhaven was a viable alternative to other more congested ports for customers looking to ship intercontinental volumes into the EU.
"We have balanced traffic due to the constant flow back and forth," he said. "Many vehicles are going via Cuxhaven; you could say it's the place to be."
That point was backed up by Ferleman at the Federal Transport Ministry, who said it was one of the ports in Europe with the best growth perspectives.
Cuxport has authorised economic operator (AEO) status and provides an electronic data interchange (EDI) connection into the automated German customs tariff and clearance system (Atlas), which all exporters and importer must use. It has also provided 30 employees with advanced training for custom's procedures.
"We have 90 days where we can keep the cars without having a customs fee put on the vehicle. From 90 days onwards, everything needs to be customs cleared," explained Fuhljahn.
Watch this space
Cuxhaven also provides easy access to road and rail links. Vehicles are moved in and out either by the adjacent A27 motorway or by the rail connection between Cuxhaven and Stade. That rail route is currently operated with diesel trains but there are plans in place for electrification.
"BMW heavily uses the rail connection in Cuxhaven, since the cars arrive largely via train," said Zint. "This is why the electrification of the rail connection between Cuxhaven and Stade has to be achieved. This the next step for Cuxhaven and it is part of the federal government's infrastructure improvement plan," he said.
Port capacity at Cuxhaven is also being expanded. Port operator Niedersachsen Ports is preparing plans to close the gaps between berth no. 4 and 8 with berths no. 5 and 7. The overall length of the planned berths is 1,257 metres. Once the gap is closed, the overall length of the quay wall from berth no. 1 to berth no. 9, will measure 3.6 kilometres.
According to Niedersachsen Ports, the extension of berths 5-7 will mean 30 hectares of storage and terminal space. If planning approval is granted, it would double the capacity of the current Cuxport terminal. The company expects a decision by the beginning of next year.
Looking further into the future, there is also the option of using hydrogen-powered equipment to help process vehicles at the port, with Zint revealing the company would explore the possibility.
Read more about finished vehicle activity at the European ports in our latest survey