BMW is benefitting from more sustainable inbound logistics at its Mini plant in Oxford, UK thanks to the deployment by its transport provider, Imperial Logistics, of a new fleet of 18 trucks powered by liquified natural gas (LNG). The trucks are being used to transport parts, including engines, from suppliers on 15 routes across the UK into the Oxford plant.
According to BMW the new fleet has already delivered a reduction of approximately 20% in carbon and nitrogen emissions, compared to a diesel fleet. The carmaker said that in future a 90% reduction in carbon is forecast through the use of bio-LNG.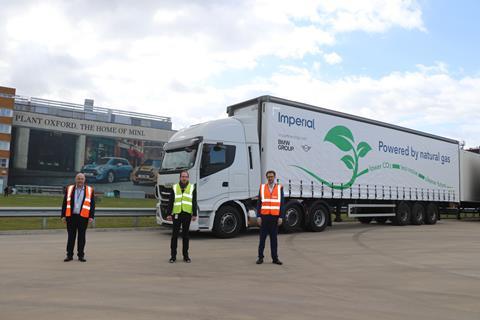 Imperial has been trialling LNG trucks in both the UK and Germany over the past 12 months and installed its own LNG facility close to the Oxford plant. That means vehicles on routes with limited refuelling opportunities can leave Oxford with a full tank before continuing their onward journey.
Last month BMW announced it was using trucks fuelled with LNG to deliver engines to its Regensburg plant in Germany, though BMW has not confirmed whether that was also as part of a contract with Imperial.
"We are really excited to be working with Imperial on this project as part of our wider efforts to improve sustainability throughout all areas of the BMW Group," said Thomas Frank, director of logistics at Mini Plant Oxford. "The fleet will travel from more than a dozen key suppliers, including BMW Plant Hams Hall, and it means that around 20% of all lorries now coming to MINI Plant Oxford will be powered by LNG fuel. This is a great example of how two companies can work together to achieve their sustainability goals."
BMW Hams Hall in the UK Midlands makes the latest generation of three and four-cylinder petrol engines.
BMW Group said that transport logistics had a key role to play in achieving its supply chain sustainability target of reducing carbon emissions per vehicle by 20% by 2030.
Mark Miles, managing director of Imperial UK, said: "We consider it our duty as part of the worldwide population to invest in environmental, social and governance (ESG), and integrate respective practices whenever possible in the daily course of business… so the opportunity to reduce our UK haulage operation's environmental impact was compelling."