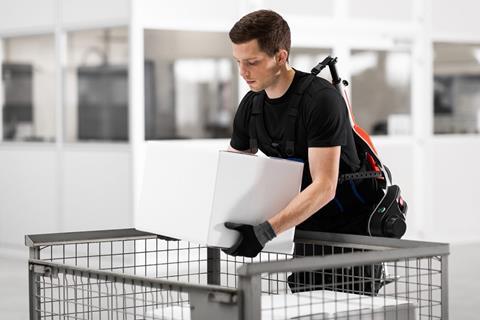 The company has been trialling the exoskeletons – structures worn on the body to electro-mechanically assist movement – at its German logistics facilities in Cologne, Augsburg and Arnstadt to help warehouse personnel during physically demanding tasks.
Exoskeletons can make employees' tasks more feasible and less harmful to their backs, DB Schenker explained. The repeated lifting of heavy loads in the workplace can put strain on the lumbar vertebrae and back muscles, which over time can lead to health problems and an inability to work, said the logistics provider. The equipment is strapped on by workers before carrying out tasks such as lifting parts out of containers or removing goods from the floor in the picking area.
During the pilot project in Germany, the focus was on the picking and sequencing of packages weighing up to 15kg. Employees equipped with an exoskeleton removed the packages from storage racks and then placed them onto pallets.
According to a spokesperson for DB Schenker test candidates wore the exoskeletons for up to four hours and increased the application time on a weekly basis. He added that it would only be in very rare cases that a worker would wear an exoskeleton for an entire shift.
"At DB Schenker, the deployment of employees in the logistics area is flexible and, depending on the volume of work, employees are switched between individual sub-processes during the day – some of which are not ideal for exoskeletons; for example when using floor conveyor technology."
The company is continuing to test different exoskeleton models in different applications with employee representatives and accompanied by a university research institute.
"The feedback from the doctoral students and DB Schenker employees after the test was very positive and once again confirmed that the long-term use, in conjunction with ergonomically optimally-designed logistics processes, can improve the health of the employees," said Gerald Müller, the company's head of process and efficiency management.
"In the coming months, we will now be analysing the results in detail and checking whether the exoskeletons will then be included in the area of process optimisation at DB Schenker," he stated.
The company's spokesperson added: "If our positive expectations are confirmed, we will proceed from the test mode to a roll-out mode and look for opportunities to use exoskeletons beyond Germany and beyond logistics operations."
DB Schenker said it was pursuing an holistic approach to deployment of new technology for logistics tasks, first evaluating and then optimising the workplace in terms of ergonomics. That means, for example, analysing tasks and reorganising them to avoid unnecessary walking distances, or turning, bending and lifting movements in targeted processes.
"To increase transparency, we are testing motion-capture approaches, in which we use sensors to measure movement sequences in the warehouse and evaluate them on an anonymous basis," said DB Schenker's spokesperson. "Other approaches include ergonomically designed packing tables, scissor-lift trucks and stationary lifting aids. In addition, in the future we will also use exoskeletons only on the basis of an individual decision. As an employer, we have a high responsibility towards the health of our employees – starting with preventive measures."