Following CMA CGM's takeover of French logistics provider Gefco earlier this year, the global container shipping line has announced that Gefco will be integrated into its Ceva Logistics division. The move is designed to strengthen Ceva Logistics services in Europe and advance CMA CGM's goal of providing end-to-end shipping and logistics services.
A spokesperson for Ceva said that last week CMA CGM Group received final clearance from the European Commission on its acquisition of Gefco. With that approval it is now able begin the integration of Gefco into the Ceva business.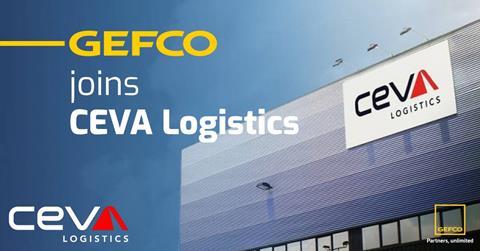 CMA CGM bought Gefco in April this year following an earlier statement by Gefco that it was taking back the 75% stake in its business that Russian Railways (RZD) bought in 2012. That decision to pull away from RZD followed Russia's invasion of Ukraine in late March. Gefco had faced possible sanctions imposed by the West by being majority owned by RZD.
The integration of Gefco into the Ceva division, which CMA CGM also bought back in 2019, will significantly enhance its ability to provide finished vehicle logistics in Europe. Gefco has 3,000+ rail wagons and 30 vehicle compounds across the region dedicated to moving new and used vehicles. It also has a large fleet of vehicle haulage trucks, though a lot of these are subcontracted. It's unclear whether Ceva will continue with that strategy.
A wave of consolidation in the European finished vehicle market over the last five years means there are fewer but bigger players with which to compete. Ongoing production volatility is affecting owners and operators of vehicle transport equipment, as is the shortage of drivers. Ceva is likely to scrutinise the integration of any Gefco assets in light of these industry pressures.
Prior to the Covid pandemic, Gefco was building up its provision of digital services for both inbound and outbound automotive logistics, as well as diversifying its provision of logistics services beyond automotive, including in consumer goods, retail, high tech, industrial and energy. Those factors, combined with its strong provision of finished vehicle and contract logistics services for automotive, could benefit Ceva, which provides logistics services to seven other industry verticals, alongside automotive.