Gefco has expanded its operations in the Merseyside region of the UK with the opening of a 16,350 sq.m logistics sequencing centre next to its existing facility in Speke.
The official opening of the new facility took place on September 30, coinciding with Gefco celebrating 40 years of operations in the UK.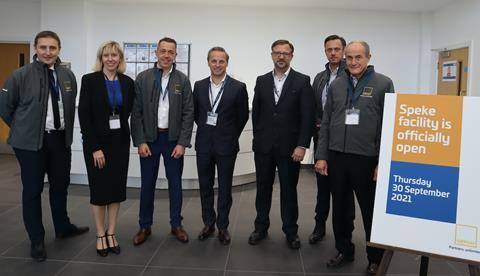 The sequencing centre will receive and process 400 different commodities from Jaguar Land Rover's (JLR) global supply chain for onward distribution to the carmaker's production sites in the UK. The logistics and transport provider will decant and repack parts, which will also be quality checked prior to delivery.
JLR has vehicle manufacturing plants in Castle Bromwich, Halewood and Solihull, as well as an engine plant in Wolverhampton. The Halewood plant is just 4km (2 miles) from the Speke location. The carmaker is also building a lithium battery assembly plant in Hams Hall, central England.
Gefco already has a £10m ($13.2m) warehouse and sequencing centre in Speke, which opened in 2017 and is supplying components to the JLR plant in Halewood.
"This is another major milestone in both the growth of our automotive sequencing capabilities and in our relationship with our valued partners at JLR," said Cédric Chacon, who took over as managing director of Gefco UK at the start of this year (third from right). "The project represents a significant investment by Gefco and its partners into what is a strategically important location for us, and indeed for the UK automotive sector. We are excited to be able to grow our presence in Merseyside, as well as support the local economy, strengthen manufacturing capabilities in the region and deliver major job opportunities for local communities."
The new facility will provide 140 jobs in Merseyside.