As of January 2022 Hyundai Glovis will be using the port of Bremerhaven in Germany as its hub for vehicles in transit from Asia to Europe in a new deal signed with BLG Logistics.
Glovis, which is the world's largest ro-ro operator, will be using BLG AutoTerminal Bremerhaven to import volumes of Hyundai and Kia volumes, along with other car makes.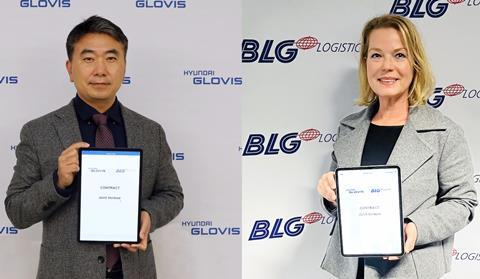 BLG Logistics has been handling vehicles delivered and loaded by Glovis for ten years and they currently account for more than a quarter of the vehicles processed through BLG AutoTerminal annually. Last year the terminal handled 1.7m vehicles making Bremerhaven the second biggest vehicle handling port in Europe after Zeebrugge in Belgium. However, those volumes were down around 19% on the previous year and numbers are expected to increase again next year, as with other vehicle ports in Europe (read more about European ports' performance).
The new joint venture (JV) builds on this and is designed to pool volumes and improve lead times, reduce cost and cut the carbon footprint of shipments.
"We're delighted to have a strong partner at our side in a difficult market environment," said Andrea Eck, CEO of the Automobile division at BLG Logistics. "The JV secures volumes and strengthens Bremerhaven as a port location. By joining forces, we want to pursue strategic development and secure Bremerhaven's competitiveness."