GXO Logistics has debuted on the New York Stock Exchange, with around 5% of the contract logistics market in North America and Europe. It has its eyes set on warehouse automation growth, with automotive as a potential growth area.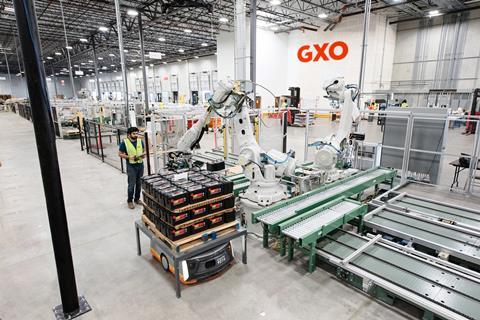 XPO Logistics has completed the spinoff of its logistics division as GXO Logistics, which began trading this week as an independent company on the New York Stock Exchange as one of the largest global contract logistics players and a business, maintaining a strong focus on the automotive and industrial sectors.
As GXO, the company will specialise in services including supply chain solutions, warehousing, automated logistics technology and reverse logistics. XPO, which grew through acquisition to become one of the largest logistics players in North America and Europe, retains its core business in truck brokerage and less-than-truckload freight.
Brad Jacobs, XPO's founder and chief executive, will remain at the helm of XPO. Malcolm Wilson, who led XPO's European operations, is now CEO of GXO. Jacobs has said that the spinoff is intended to simplify operations and give shareholders a clear sense of the value of each firm's core business areas, which had otherwise become highly complex to value.
"This is an exciting milestone in GXO's history. We consider it a privilege to launch GXO as a new company at the top of the industry – the world's largest pure-play logistics provider," said Malcolm Wilson.
XPO had forecast that GXO would generate about $1.5 billion in 2022 earnings before interest, taxes, depreciation, amortisation, and rent. GXO now has around 94,000 employees globally worldwide and more than 208m sq.ft (19m sq.m) of warehouse space and nearly 900 facilities across 27 countries.
GXO's largest business areas are across e-commerce, consumer electronics and omnichannel retail distribution, with customers including Apple, Nike, and Nestlé. However, it also has business across industrial sectors, including the automotive sector, for example, in inbound logistics and service parts, including Ford, General Motors, Renault and Mercedes-Benz.
GXO leadership points out that, despite its leadership in contract logistics, it has only 5% of the market in North America and Europe, with more opportunities for outsourced logistics services.
According to the company, only 5% of global warehouses are automated. GXO plans to have 3,100 robots and automation systems in its warehouses by the end of 2021.
Warehousing automation could represent a particular opportunity for automotive customers, where currently parts and distribution warehouses have lower logistics automation levels than e-commerce, for example.
Automated warehouse solutions currently represent around 30% of GXO revenue, according to the company.