Intelligent robots and sophisticated design are helping Toyota to achieve a higher level of efficiency at its new warehouse in Sydney, Australia. Automotive Logistics finds out more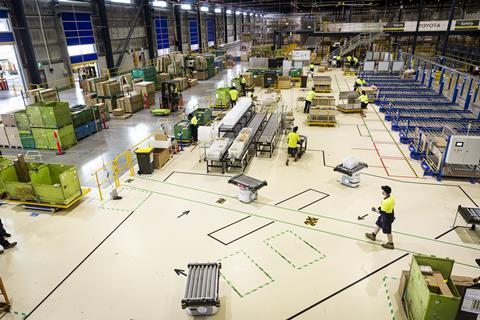 Japanese carmaker Toyota has now commissioned what it describes as "the most advanced automotive distribution centre in Australia" as part of its strategy of transitioning from manufacturing to purely logistical operations in the country. The OEM ceased making vehicles in Australia in late 2017 in a move that actually marked the end of all car manufacturing there, since it had been preceded by similar decisions by Mitsubishi, Ford and General Motors Holden. Nonetheless, the new facility, which was officially opened last November, shows that Toyota still regards Australia as a market deserving of supporting infrastructure.
This new Toyota Parts Centre (TPC) on a 6.4-hectare (64,000 sq.m) site at Kemps Creek, an emerging industrial hub in Western Sydney, is one of four the company now operates in Australia, with the others being in Melbourne, Brisbane and Darwin (previous operations in Sydney at Caringbah, in the southern part of the city, have now been subsumed by Kemps Creek). But this new two-level, 44,000 sq.m facility is also the most advanced and introduces a higher level of technical sophistication in materials handling technology to Toyota's warehousing operations in the country. In particular, it will see the company using, for the first time, a fleet of autonomous intelligent vehicles (AIVs) to move parts around the facility.
"The Sydney TPC has first use of a fleet of autonomous intelligent vehicles by Toyota for warehousing to reduce manual carrying of parts" – spokesperson, Toyota Australia
"The Sydney TPC has first use of a fleet of autonomous intelligent vehicles by Toyota for warehousing to reduce manual carrying of parts," said a spokesperson for the OEM. "The AIVs are designed to operate with people safely and have the intelligence to pick out the best path for the job or follow pre-determined paths. They help to reduce conveyance in processes, in other words repetitive non-value add work, to achieve a leaner and more productive warehouse."
Toyota confirmed to Automotive Logistics the importance of the new facility to its strategy for serving the Australian market. "The location is ideal due to its proximity to major motorways and infrastructure and represents a significant investment for us," said its representative, adding that Kemps Creek was in planning for a number of years and took 11 months to build.
Standing out
One aspect of the facility which the company regards as a "standout feature" to achieve performance benchmarks is what it terms the "birdcage" system, which the spokesperson says is "unique to Toyota globally". The representative explains that this is a "person-machine and machine-machine separation system" in which truck movement and forklifts in the warehouse are separated by interlocking boom gates. Similarly, there is complete separation between people and machines.
Customised features minimise both safety risks and damage to parts. For example, colour-coding is used to identify different areas of the building: a cream-coloured floor indicates a manual process only area; grey painted areas are designated for handovers between manual processes and heavy equipment; and unpainted floors are for machines only.

The AIVs moving around the facility consist of five Omron LD 90 mobile robots which can carry payloads of up to 50kg and travel at speeds of 3.8kmph, or one metre per second. They are fitted with fully integrated roll-tops so that plastic crates with parts can be easily picked up and then transferred onto fixed conveyors. Safety measures include programming for the robots to signal their presence audibly by playing music or verbal safety warnings such as 'moving forward', 'reversing' and 'stand clear'.
Rather than load-carrying capability, autonomy and flexibility are the real watchwords of these AIVs. The machines carry enough onboard processing power to enable them to determine the optimal route for each individual journey and they can operate up to 15 hours on a single charge. They incorporate Omron's NJ and NX controllers, HMI/SCADA software, as well as variable speed drives and safety systems, all controlled by its Sysmac Studio automation software.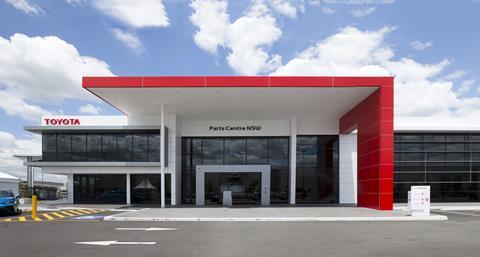 In addition, the new system features EtherCAT industrial fieldbus technology, which Toyota selected in 2016 as its preferred industrial Ethernet implementation, so that all its new facilities around the world would have the same system. Moreover, future-proofing against subsequent greater requirements is provided by the ability of the system to support up to a hundred AIVs through the use of a single enterprise manager fleet controller.
"The installation shows multiple LDs running autonomously without any changes to the environment,"a spokesperson for Omron, the equipment supplier, told Automotive Logistics. "No physical guides are used."
Heading for hydrogen
More conventional materials handling technology is also employed at the facility, in the form of approximately 16 forklift trucks. At the moment these are battery-powered, but somewhere further in the future hydrogen-fuelled forklifts may be introduced. "Hydrogen-fuelled machines are currently not operating in our Sydney TPC warehouse but only in Melbourne," Toyota confirms. "This is due to limitations in refuelling capability, since hydrogen refuelling is currently located in Victoria."
When the longer-term objective of using hydrogen-fuelled forklifts at the site does become reality, the intention is that the hydrogen will be generated using renewable energy from the warehouse's solar array (see box below for details). It is also expected to be the first use of fuel-cell forklifts by Toyota outside Japan.
Parts storage equipment at the facility falls into two categories. "There is five-metre-high fully meshed bulk storage racking in our replenishment area only, minimising the potential of parts falling from heights, while customised and ergonomically designed equipment reduces the risk of injuries," states Toyota's spokesperson. "All other racking storage systems at the Sydney TPC are two metres high, with a 1.6-metre maximum shelf height to eliminate forklift use and fall from height risks."
The parts inward process involves delivery trucks parking in a designated bay delineated by its own "birdcage" boundaries and then being unloaded by forklift. The packages are delivered to an internal station where they are scanned with a handheld barcode reader that identifies the appropriate storage area within the warehouse.

They are then transferred to a 'location module', effectively a manual cart that is used to move them to a short section of conveyor from where they will be moved to their designated storage location, either by an elevator fed directly from the conveyor or by a 'chaser', a tow truck driven by a human operator.
There are three main storage areas, for large, medium and small-sized parts. When the packages arrive at their storage location they are scanned again to double-check that that they are where they should be, and to ensure that no parts are lost to the overall parts management system.
Details for dealers
According to Toyota, the new facility houses more than 128,000 components for Toyota and Lexus vehicles and ships approximately 27,000 items every day. "Parts and accessories are received from a number of local and overseas suppliers for all of our vehicles, both commercial and passenger," the spokesperson says. The Sydney TPC provides these parts to dealerships around the country,including in New South Wales, the Australian Capital Territory enclave that contains the capital city, Canberra, and also to Western Australia. A total of 71 Toyota dealerships and ten Lexus dealerships are now served by the facility.
Dealerships have access to the parts storage data at Toyota's new facility so that they can know immediately if a required part is available. An incoming order will then generate a hardcopy picking ticket that initiates what is in effect a reversal of the goods inwards procedure. In order to help streamline the retrieval procedure, a picking ticket will also list all the dealerships which want that particular part, so that retrievals from a specific storage area can be made in one operation, cutting out repeat tow-truck journeys for identical loads.
Batches of different parts for delivery to individual dealerships are collated centrally with, again, repeated use of handheld scanners to verify that the correct parts are assigned to particular outgoing consignments. This information is verified by issuing to the driver of the outgoing delivery truck a document confirming the contents of all deliveries, which is simultaneously transmitted to the dealers.
Delivery requests are made through an online ordering system using a proprietary software system that was developed by Toyota in Japan for its warehousing operations. This is used to implement what Toyota describes as a "right part, right place, right time" methodology to ensure that parts are checked, packed and shipped to the recipient exactly as required. To help facilitate this, a progress control board displays the status and operational performance of each order. Toyota reports that this warehousing system ensures efficient processing and dispatch of parts, with the majority of components received within two days from receipt of request for standard daily stock orders.
Maximising natural assets
Toyota's new parts facility in Sydney has been designed and built to meet stringent environmental and energy efficiency targets. At a global level, Toyota has a goal of zero emissions from sites and vehicles by 2050 and its spokesperson states unequivocally that "Toyota Australia is part of that mission".
Toyota Australia president and CEO Matthew Callachor used the opening of the facility to announce an immediate intention to reduce emissions from the Sydney TPC site to zero by 2020. "Embracing green building solutions, cutting CO2 emissions and utilising alternative fuel sources go hand-in-hand with our production plans for new vehicles," he stated.
The building has been developed to align with 5 Star Green Star Performance standards. Aspects of the facility which embody this include a 605kW solar power generation system as well as numerous other environmental efficiency initiatives, encompassing increased insulation, cool roofs, cross ventilation, passive cooling, LED lighting, water tanks feeding toilets and irrigation. The solar power system consists of 2,200 Kyocera solar panels and ten 50kW ABB inverters. Total power generation capacity is 874MWh per annum per year.
"Embracing green building solutions, cutting CO2 emissions and utilising alternative fuel sources go hand-in-hand with our production plans for new vehicles" – Matthew Callachor, Toyota Australia
Solar power generation actually began even before the building became operational as a logistics facility and by the time of the official opening 556,000kWh had been produced, which in a domestic context would be enough to power 125 four-person households. That initial power generation prevented more than 477 tonnes of greenhouse gases from entering the atmosphere, according to Toyota. Further work to expand the solar system is planned once the company has been able to determine the required solar array uplift to achieve a zero-emissions site.
After the first six months of operation, the company was able to report that "energy and solar performance are significantly better than initially estimated." Toyota's spokesperson says the building "performed very well during the summer heat, allowing continuous operation of the centre". This was despite the fact that the facility has no mechanical cooling systems. Local wind conditions were evaluated during the design phase and so the structure is oriented to allow for maximum cooling from cross ventilation through operable vents on its east and west faces. Meanwhile, the roof is oriented on a north-south alignment to allow for maximum solar energy generation performance.
Toyota is keen to stress that no electricity generated by the solar power system is wasted. While most of the electricity generated is used onsite, the system is connected to the grid so that any excess can be exported for use elsewhere.