Chemical companies are doing their bit to help minimise the risk of fires caused by lithium-ion batteries, with recent announcements for Korea's LG Chem and Henkel in Germany.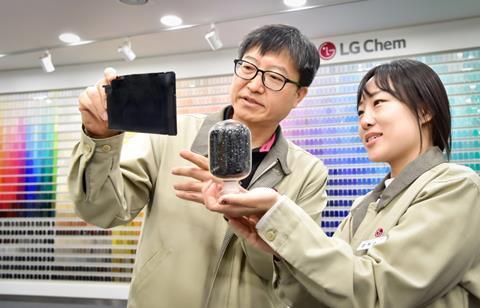 LG Chem has developed a fire-resistant plastic that it said can resist temperatures of up to 1,000°F, the temperature at which lithium explodes. At the same time, Henkel has launched two new protective coatings designed to shield the battery housings against heat and fire.
The Korean chemical company said its flame-retardant plastic, made out of polyphenylene oxide (PPO), polyamide (PA), and polybutylene terephthalate (PBT), could withstand fires at 1,000°F for up to 400 seconds. In doing so, it provided resistance that was 45 times better than other flame-retardant plastics.
LG Chem also said the material could be used to make battery pack covers that provide protection from combustion in case of thermal runaway in lithium-ion batteries and prevent fires from spreading.
Thermal runaway can occur when a lithium-ion battery cell is damaged in some way, either by thermal or mechanical failure, short-circuiting or electrochemical damage. Batteries that come into contact with each other, or come into contact with conductive material or metal surfaces, are at risk. Thermal runaway can even be caused by excessive movement that leads to damage.
The longer protection afforded by the LG Chem plastic would allow drivers and passengers time to get away safely from a vehicle that had a battery fire. It would also offer fire crews more time to control those fires, which are difficult to contain and extinguish.
LG Chem is now working on establishing mass production of the material and plans to initiate its full-scale production starting in 2023. The company is currently filing for patents in South Korea, the US and Europe.
Loctite coatings
Henkel has already launched its two new coating products for the automotive industry – Loctite EA 9400 and Loctite FPC 5060. The first is a two-component, active flame-retardant, epoxy-based fire protective coating designed for the battery pack housing. The second, which is also for the battery pack housing, is a one-component, water-based, inorganic material that does not form any smoke or fumes when exposed to flame.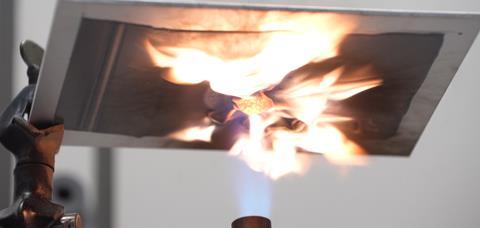 The company said that when applied to battery packs, the coatings helped to inhibit and delay the spread of fires, again helping to protect passengers as they evacuated a damaged vehicle.
"Battery safety is an increasingly important topic for OEMs and battery manufacturers alike," explained Stephan Hoefer, market strategy head for E-Mobility at Henkel. "Thermal runaway events are possible in any lithium-ion battery, but the key is to minimise the risks and consequences. At Henkel, we are seeking to minimise the impact of such events through effective and practical solutions that can delay the spread of fire. This is vital to ensure that passengers have sufficient time to evacuate the vehicle."
On-board protection
Developments such as these also promise to help logistics providers tasked with the job of moving volumes of either batteries or finished electric vehicles (EVs). In the latter case, in recent years there have been a number of catastrophic fires aboard car-carrying vessels. The latest, in which a blaze quickly spread through Mitsui OSK Line (MOL) vessel Felicity Ace, resulted in the vessel eventually sinking with its cargo of 4,000 VW Group vehicles almost certainly already totally destroyed.
Investigations into these fires do not conclusively blame EVs for the ferocity of the fires but vessel operators have been looking at ways to control EV fires as their volumes increase. Most recently, Hyundai Glovis said it plans to have all 90 of its car carriers equipped with new equipment to make the shipment of finished vehicles safer. That equipment includes installing an onboard fire cover and water mist lance to quickly contain any fire that is detected. 
Read more about lithium battery packaging
Lithium battery and EV logistics will be under discussion at next week's Automotive Logistics and Supply Chain Europe conference in Munich Germany, which takes place between May 2-4