After a period of exploration, OEMs, tier suppliers and logistics providers are getting serious about making their operations smarter and more connected – Logistics 4.0 is here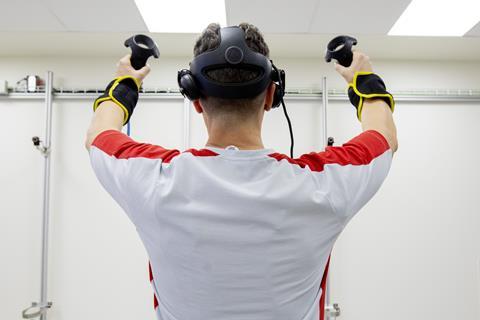 In recent years, Logistics 4.0 technologies have emerged as increasingly important tools in the automotive logistics sector, with a growing number of OEMs, tier suppliers and logistics providers exploring the potential benefits of their deployment: improved operational efficiency, accuracy and visibility, optimised inventory management and enhanced human workforce capabilities.
Logistics 4.0 enables process improvements through a variety of technological innovations, including smart robotics, driverless transport vehicles and automated systems for handling parts inside warehouses and factories. However, as Enric Martí, logistics director at Seat, explains, Logistics 4.0 does not only consist of technology or digital applications but represents "a new way of supply chain management, where client processes and stakeholders are fully connected to each other, with the final aim of giving an answer in an agile and easy way to every new business model that appears".
"Automation is not enough… The visualisation of all the data of the whole supply chain and the use of predictive and cognitive analytics is the last step that will push us to the next level" – Enric Martí, Seat
With the help of the Internet of Things (IoT) – the networked connection of physical objects to enable real-time data visualisation – and the automation of logistics flows, Seat has been able to "speed up and connect all its processes and elements", says Martí. He reveals that Seat has already deployed more than 120 automated guided vehicles (AGVs) to automate in-house logistics flows, made use of artificial vision to ensure quality and security and implemented collaborative robot (cobot) technology for bin picking.
In addition to helping the company to speed up its processes, Martí observes that the deployment of cobots also allows Seat to use universal instead of specific containers, something that is particularly useful when such containers are specially designed because of ergonomic reasons.
As for outbound processes, RFID has helped the OEM to automate its loading validation processes, increasing the productivity and efficiency of its compounds.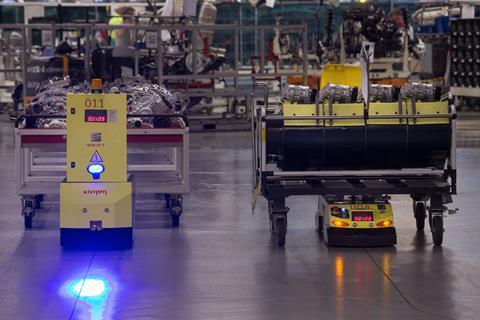 "Nowadays, the automation of the in-house [processes] is already a reality. Our factories are full of AGVs that make the delivery of parts to the consumption points. Once at the consumption point, the use of artificial vision systems enables us to make quality and security validations, automating the complete line feeding process. And now, drone technology is appearing as a new solution to use our airspace to automate in-house processes and deliveries," he adds.
"The next step, still as a future vision, is the automation of the inbound flows, with the use of driverless trucks and platforms," says Martí.
"But automation is not enough. To be fast and agile, it is essential to get full control of the supply chain. The visualisation of all the data of the whole supply chain and the use of predictive and cognitive analytics is the last step that will push us to the next level," he states.
Adding digital value
According to Fathi Tlatli, president ­– auto mobility at DHL Customer Solutions and Innovation, Logistics 4.0. technologies provide "new digital value to the whole supply chain network", enhancing employee productivity, automation and connectivity.
"Specific logistics applications include wearables like smart watches, ring scanners and exoskeletons, robotics and autonomous vehicles and also data infrastructure like the Internet of Things," he says.
From its Logistics Trend Radar research, DHL has identified a number of key technological changes which are impacting the automotive industry and Tlatli says that artificial intelligence and Big Data are "transforming logistics operations with new data-driven insights".
"A lot of companies – both OEMs and suppliers – are still rather on the level of Industry 2.0, meaning that, in fact, the introduction of barcodes is their first step towards digitalisation and Industry 4.0" – Jan Cirullies, Fraunhofer
Tlatli also says that augmented reality (AR) is creating a "new dimension between the physical and digital world, providing assistance in picking [parts]" and that technologies for bionic enhancement such as exoskeletons and advanced wearable technologies "have the potential to expand the current physical barriers, which will support with material handling".
He adds: "IoT also has the ability to connect virtually anything to produce sense-making data through low-cost sensors, which will enhance the visibility of operations especially for aftermarket and picking." For Tlatli, some of the key areas for IoT innovation in logistics are "smart warehousing, real-time transport visibility and predictive delivery".
"For example, in smart warehouses, location data from sensors on equipment such as scanners and material handling equipment, as well as shelf locations, are transmitted wirelessly in real-time to the IoT system. The data provided by these locations is then aggregated to visualise activities and drive improvements in operational efficiency, asset utilisation and safety," he explains.
Controlling complexity
According to Jan Cirullies, head of logistics at the Fraunhofer Institute for Software and Systems Engineering, Logistics 4.0 applications provide benefit "whenever processes become complex". This is often associated with very small lot sizes, fast-changing processes or high production sequence flexibility. In these scenarios, Logistics 4.0 technologies enable control to be transferred to the operational level, so that humans and machines can "make autonomous decisions in the boundaries of centrally provided production or logistics plans", he says.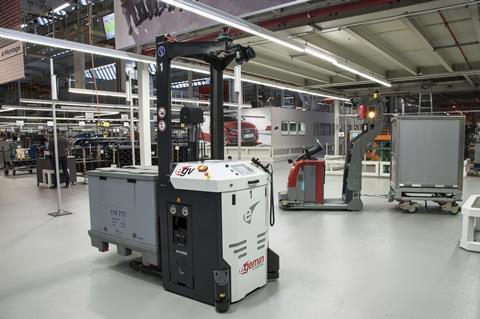 Cirullies singles out onsite logistics, especially line-feeding systems, as an area that can benefit greatly from Logistics 4.0, especially since line feeding relies on a complex system of storage and transportation to workstations, for example via tugger trains.
"The orchestration of this system is currently very challenging. However, if decisions relating to who picks and transports which item, and when, are made autonomously by individual workers or machines – for example automated guided vehicles – the controlling effort can be reduced and the system becomes more resilient against disturbances," he explains.
"In future, traditional line sequences will be complemented by workstation-based production systems, if the volume per model further decreases. Today, these systems are already applied in smaller volume production processes, such as those used for the Audi R8. This requires very flexible 'line feeding' rather than workstation feeding. In these circumstances, an autonomous system based on digitally equipped staff and AGVs is needed even more," he adds.
According to Cirullies, several OEMs and suppliers have already introduced, or are currently implementing such AGV-based systems, including Continental, Scania and Audi. However, he emphasises that these systems are still controlled by a central computer and therefore "do not fully fulfil the idea of Logistics 4.0-level autonomy".
"Even so, companies are still working hard on digitalisation, and in doing so are creating the foundation for successful Logistics 4.0 systems. For example, Volkswagen is currently working on digital supply chain integration based on the International Data Space [collaborative project] and improving data management," he says.
Sensors and sensibility
Ralph Büsgen, head of AGV systems at Siemens Digital Industries, lists some of the key technologies underpinning Logistics 4.0 systems: industrial WLAN, RFID, RTLS (indoor GPS) and DMC (Data Matrix Code) for precise positioning as well as free navigation (ANS+), PLS (Proximity Laser Scanner) automation controllers, AI modules, camera reader systems, controls software and system packs.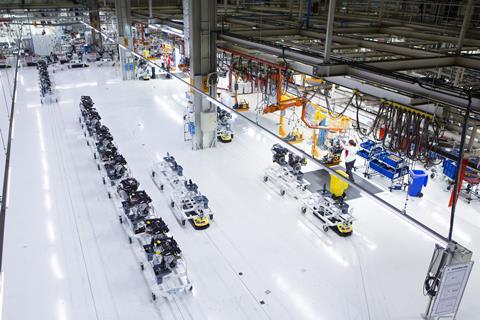 At Seat, for both indoor and outdoor navigation systems a combination of mapping and laser-guided solutions have been used, together with, when possible, GPS. Its indoor AGVs employ a combination of laser-mapping technology and odometry, which estimates change in position over time by analysing data from the movement of the wheels.
"RFID is also a powerful technology to automate inventory and indoor tracking processes. A passive tag is attached to the container or element you want to track, and it is detected by specific antennas when passing through the gates," explains Martí.
When compared with barcode or data matrix reading systems, Martí says there are two main advantages to using RFID: the tags do not have to be in the line of sight of antennas and many tags can be read at the same time. That said, when these two functional advantages are not particularly needed, he says that data matrix systems "can also be an efficient and cheaper solution".
Collaborative robots, meanwhile, use many sensors "in order to detect unexpected contact and ensure smooth human interaction", says Martí. Most of these sensors measure variations in the working intensity of their engines to detect unexpected contacts with people or objects. They can also be replaced or combined with machine vision technology to detect the location of workers even before they come into physical contact with the robot.
Besides hardware, Martí says that the use of data analytics and predictive software is necessary to manage information throughout the supply chain, and that Seat "simulates thousands of scenarios in real time to find the optimal solution".
"To share information with suppliers and collaborators, more and more cloud solutions will replace 'on premise' software," he says. "Use of blockchain will also help to share and use reliable data through all the supply chain. Blockchain is a shared database where nobody can change data without the rest knowing; this concept will help to build trust relationships among partners."
"The main challenges of implementing Logistics 4.0 technologies relate to how best to obtain trustworthy data from supply chains, how best to adapt to laws and regulations and how best to lead the 'people transformation' necessary to adapt to the new changes" – Enric Martí, Seat
Fraunhofer's Cirullies agrees that technologies relating to data creation, processing and management are just as essential for the operation of Logistics 4.0 systems as physical devices. He reveals that he and his team are currently engaged in applying systems dedicated to real-time data analytics and data management in several automotive logistics contexts.
He points out that companies need the infrastructure to "create and provide data to the cyber-physical system", something which can be achieved by using micro-controllers equipped with sensors. Bluetooth beacons can also be used to locate assets, albeit with "limited precision", he says.
"The information gained is then provided to the logistics system and can be provided de-centrally – that is, via edge computing systems, or in a cloud. For this purpose, Volkswagen recently partnered with AWS," Cirullies states. Fraunhofer provides companies with its open-source-based tool RIOTANA (real-time IoT analytics).
"Companies also have to manage data with respect to availability, responsibility, quality and compliance – for example GDPR [the EU's General Data Protection Regulation]," he adds.
Q&A with Lars Witte, director – brand logistics planning, Audi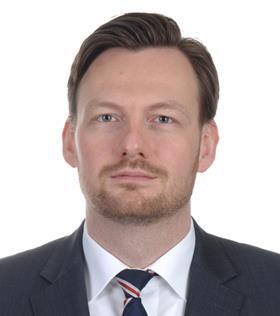 What are the main current and potential Logistics 4.0 applications in the automotive industry?
From our point of view, there are several emerging technologies that are more and more available to be implemented in the logistics sector.
In our logistics processes, we already see a huge number of automation technologies in action each day, especially a high variety of automated guided vehicles for part transportation. Together with related technologies such as autonomous forklifts, these systems will further grow in number and application fields.
In the near future, we also see great potential in robot-supported part handling, for example for picking or replenishment processes. In parallel to optimising the material flow, logistics-specific data are increasingly provided in real time. This enables us to react quickly to disturbances and detect relevant patterns through comprehensive Big Data analytics. Virtual and augmented reality will help our employees to visualise this information and support logistics planning, as well as the training of new employees.
Can you provide more detail on the Logistics 4.0 technologies that Audi is currently trialling or implementing?
Audi has implemented the above mentioned technologies in trial projects as well as in series applications in nearly all our plants.
System automation is accompanied by further improving the working conditions of our human staff. Exoskeletons offer the potential to reduce physical stress to the human body by supporting certain movements and holding weights as well as forces. We have already tested several devices in assembly and logistics processes and are going to implement the most promising concepts in our series processes.
"One of the biggest limitations at the moment is the cost of technology investment… many automation projects can only be realised in an economically successful way at sites with higher labour costs" – Lars Witte, Audi
Additionally, we are using modern training concepts like virtual reality for the onboarding of new employees, for example in the part delivery process of our international logistics department. That is how we acknowledge the challenges of the demographic transition and our responsibility for a healthy work environment.
Virtual and augmented reality are, however, not only used for training purposes, but also to support the planning process of new logistics structures and equipment. For these technologies, we are in close cooperation with all other brands in the Volkswagen Group, as we share a common IT platform. With this 'digital reality hub' we are able to access the same digital models and increasingly replace global business trips by virtual reality meetings.
What hardware and software underpins these Logistics 4.0 applications?
Advanced tools for localisation and identification like smart sensors and optical recognition will help us increase the transparency within our plant but also in our supply chain. Once it is possible to track every single piece of material from supplier to assembly, it is much easier to identify process bottlenecks and optimise the material flow. The general challenge is not so much on a technical level but much more a matter of common standards and open protocols for the whole industry.
What are the key benefits of Logistics 4.0 applications?
Automotive logistics has become one of the most complex logistics businesses. To satisfy our customers' needs, we have to provide hundreds of thousands of different variants and part numbers at the right time in the right order at the right place. This is how automation can help our staff to increase efficiency and prevent errors while walking, reading and identifying part numbers or crosschecking information. This enables us to focus on those manual value-added processes which are too complex to be done by a machine.
What are the limits of Logistics 4.0 technologies right now? And what kind of timeframe are we looking at for Logistics 4.0 to become widely implemented?
One of the biggest limitations at the moment is the cost of technology investment. At the moment, many automation projects can only be realised in an economically successful way at sites with higher labour costs. But in the next years, we expect a strong decrease of hardware and software prices.
Economies of scale will apply, with an increasing number of automation projects until 2025. Today we might have an automation degree of 20%; for the next seven to ten years it is expected to grow up to 70 to 80%. Besides the increasing number of 'regular' automation [applications], we assume to also see a more intensive collaboration between human employees and robots working hand in hand.
Benefits of Logistics 4.0
According to DHL's Tlatli, the automotive industry is well placed to enjoy the multiple benefits to be had from implementing Logistics 4.0 innovations, particularly because it has what he describes as "the highest complexity in product range".
"While SKUs have been increasing, innovative technologies for picking such as vision picking and ring scanners are contributing to a quicker, more accurate and efficient logistics operation. Bionic enhancements, including exoskeletons, support employees and provide significant improvements in health and safety when dealing with heavy components like tyres or transmissions," he explains.
Similarly, Cirullies believes that the key benefits of Logistics 4.0 are "a gain in flexibility and the control over complexity".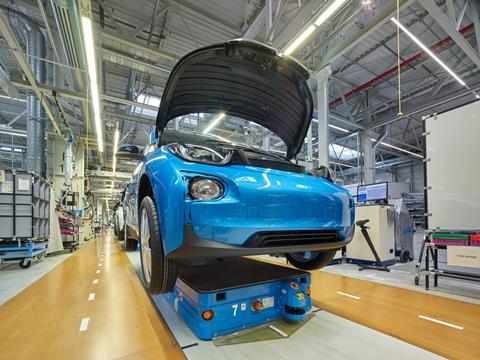 For Siemens' Büsgen, the plentiful advantages include "efficient production planning and stock management, intelligent material distribution, shorter transport routes, time saving and transparent logistic flows" as well as "energy savings, seamless communication from control level down to production level and order process optimisation".
However, he points out that currently there are "no standardised interfaces and protocols for Logistics 4.0 technologies"."Every AGV supplier uses their own technologies, different kinds of fleet managers and navigation systems on the market. It becomes a challenge for end customers due to the service, maintenance and handling required for each technology," he says.
In an effort to address these issues, Büsgen reveals that Siemens has developed the Simove system package, which can be used to integrate third parties and ensure that AGVs acquired from different suppliers can be controlled via a common fleet manager. In the automotive sector, the company has also deployed optimised hardware and software portfolios for several intelligent logistic applications, notably at BMW's Leipzig production plant.
In Martí's opinion, the automation of supply chain processes brings mostly incremental benefits in terms of efficiency and repeatability, with systems installed to track and trace automated processes also helping to "increase the visibility of the supply chain".
"This increase in visibility is one of the most powerful tools to reduce costs in terms of stock, obsolescence and urgencies," he says.
Striving for full digitalisation
In the coming years, Tlatli believes that the process of digitalisation facilitated by Logistics 4.0 technologies represents "the biggest opportunity in logistics since globalisation, creating unprecedented opportunities for operational efficiencies, sustainability, new business models, and richer customer experiences".
"The supply chains of the future will be fully digitalised, facilitated by technology and standardised processes. Disruptive technologies will modify current logistics business models when limitations such as different technology standards and regulatory issues have been overcome," he adds.
Tlatli predicts that automated inventories forming part of inbound-to-manufacturing operations will help companies to keep up with the necessary pace of production and "might lead to an almost fully automated assembly process". Meanwhile, the establishment of a collaborative environment for robots and human employees will also make automation more applicable and contribute to "safer, more sustainable and optimised processes".
"The supply chains of the future will be fully digitalised, facilitated by technology and standardised processes. Disruptive technologies will modify current logistics business models when limitations such as different technology standards and regulatory issues have been overcome" – Fathi Tlatli, DHL
"In the globalised world, automotive supply chains are spread across several different regions. OEMs require global visibility not only of their in-house inventory but also of their rolling stock in order to plan dynamic material flows," he says.
Cirullies' impression is that, after discussing and considering it for some time, companies are "now seriously working towards Logistics 4.0". Following conversations with "a Swedish manufacturer" his understanding is that a likely timeframe for the establishment of autonomous systems onsite is five years.
Martí says that the technology to automate the rest of the supply chain is "almost ready" but stresses that such technological developments will also need to be accompanied by a development of the associated regulations.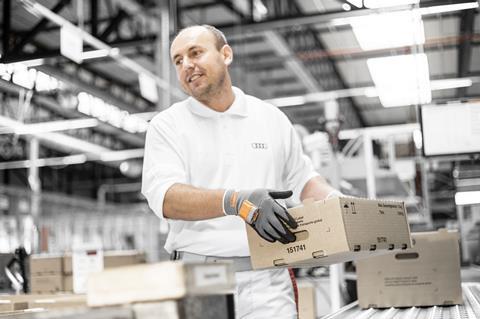 "Regarding the connectivity, we still have to walk a long path in order to achieve a full visibility of the supply chain. Nevertheless, technologies like blockchain will help us to gain more trust and visibility in relation to our data," he says.
Cirullies sees two big challenges: "First, existing logistics and production systems are rigid in such a way that they are very difficult to change and no-one wants to touch them. Secondly, a lot of companies – both OEMs and suppliers – are still rather on the level of Industry 2.0, meaning that, in fact, the introduction of barcodes is their first step towards digitalisation and Industry 4.0."
In Martí's opinion, "The main challenges of implementing Logistics 4.0 technologies relate to how best to obtain trustworthy data from supply chains, how best to adapt to laws and regulations and how best to lead the 'people transformation' necessary to adapt to the new changes."