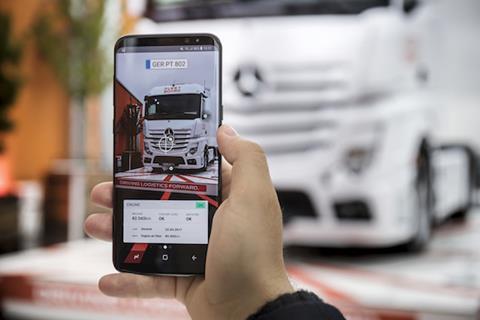 Long gone is the era when it was normal to wait for 28 days for a delivery; in today's market consumers expect to receive their order by the next day. But the Amazon-type model is putting a lot of pressure on logistics. At the same time, developments in vehicle connectivity are driving change in logistics to meet the needs of these new consumer demands.
Logistics operations now have to be much more dynamic in terms of coordination and planning, factoring in such demands as driver working time regulation, cost-effective and efficient route planning, and environmental impact. Truckmakers, their technology providers and the operators using their products are all involved in gathering and analysing telematics data to make the delivery process as efficient, secure and profitable as possible.
At last week's SMMT Connected conference hosted by the Society of Motor Manufacturers and Traders, speakers from some of the leading truckmakers and fleet management technology providers discussed the latest developments in connectivity and logistics.
The productivity of the truck and its fuel efficiency are key considerations for any operator and for the truck provider. John Comer, head of product management at Volvo Trucks said the company was embracing app technology to scorecard drivers on performance, including fuel efficiency. Condition monitoring – using telematics to assess engine performance or issues that may occur in the truck itself – is also an area of development at Volvo Trucks. Comer said that maintaining vehicle uptime was important for productivity and that intelligent monitoring saved time by targeting problems at the most appropriate moment.
More from SMMT Connected 2019
"If we can save time on the vehicle coming into the workshop and do conditioning monitoring on the vehicle [on the road] it is important for productivity," he said.
At Mercedes-Benz Trucks that is called Telediagnosis, according to John Armes, senior connectivity specialist.
"Use of the vehicle is important, if it is broken down it is not helping anyone," he said. "The [Telediagnostics] system talks to the vehicle all the time, looking at CPUs [central processing units] and tolerances. It sees if a problem is developing that needs to be dealt with and whether than can be done on the six-week inspection or it is something that can wait until the next service."
Enriching app-based data
In terms of performance, Mercedes-Benz Trucks is also rolling out an open platform app portal to support general or specific apps that improve performance.
Armes explained: "There are lots more vehicles on the road but it is a question of how efficient those vehicles are, and not just how they are being driven. Are they fully loaded? Do they have loads on return legs? We have a wide range of apps, for instance to tell the driver where is the next secure parking lot, which is important for securing the load."
While there are issues with GDPR and control of data on open app platforms, Armes said that enriching the data to make operations more productive was where the industry wanted to go. "The truck is the piece of metal with four wheels, it is what goes on inside it that we want to know about and connect that information," he said.
Comer agreed and said that Volvo Trucks was also developing connected services with user interface apps being used by the drive as well as the company taking data from the vehicle itself.
A wealth of information
Microlise, which specialises in fleet telematics, is capturing 21.9 billion journey 'events' every year from fleets in the UK, according to its CEO, Nadeem Raza. That includes vehicle diagnostics, driver behaviour and a range of peripheral information including topography, load factor and driving time.
"We collect data about the vehicle itself from the engine management system but we also have other data collection sensors on the truck to gauge weight, see where the doors are opening, or making sure things are being loaded and unloaded at the right place and time, for example," said Raza.
It is a two-way system because the technology used to gather data is also able to send information to the driver, such as their next delivery route.
Volvo's Comer said that granular level of detail was important to total cost of ownership of the truck, but what was also an important aspect was connectivity with the driver.
"Drivers are in short demand and the truck is changing: most are now two peddle control trucks," he said. "Using cloud-based data, we are able to look at the truck topographically and using the predictive cruise control we can get a better management of the vehicle, making sure it is in the right gear at the right time."
That level of connectivity is something that Microlise is looking at on a fleet level.
"We are getting real-time information on what vehicles are where, how loaded they are and what the driving availability time is based on legislation," said Raza. "Having that information and being able to plan and communicate and redirect vehicles according to changes to operations, and do it efficiently, is an advantage."
Connectivity now critical
Greater connectivity is now central to operational performance in logistics and as the 5G network expands there will be more opportunity to collect data from and send data to the delivery vehicle.
The next connectivity development will be between the vehicle and the city infrastructure. Truck data is already being provided to organisations such as Transport for London, the local government body responsible for the transport system in Greater London, including through camera data to the transport police, but there is a need for the technology to be improved.
However, in the future there will be better and more dynamic collaboration, according to Raza.
"Information about traffic in the city and forward-looking forecasts will mean that we can alter routes into cities more dynamically and still deliver things in a cost-efficient way," he said.