A new company based in Chemnitz is seeking to overturn conventional wisdom when it comes to material handling equipment – by using wood as a construction material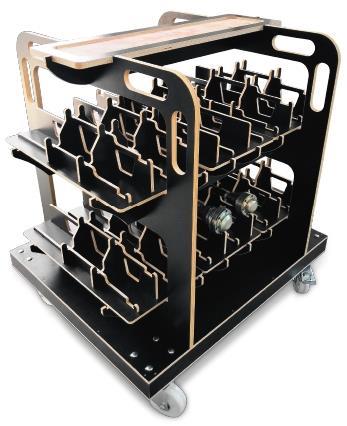 Weight saving remains an ongoing concern for vehicle-manufacturers seeking ever greater levels of fuel efficiency. Such opportunities are not confined to finished vehicles, however, as transporting parts and assemblies from suppliers to OEM locations and then around factories also uses energy and costs money, and so is ripe for improvement.
For instance, a mesh steel crate of the sort used to carry plastic trays containing small components may itself weigh as much as 140kg and yet carry only 12kg of parts. Therefore, it will make tough demands on the battery life of an automated guided vehicle (AGV) or forklift truck used to move it about the plant, or else it will fatigue personnel if it is fitted with wheels for manual manoeuvring. Steel is strong, but also heavy.
So what material is available that is robust enough to withstand the rigours of rough handling and possible collisions in an automotive manufacturing environment, yet also light enough to drastically reduce the weight of the cart, even perhaps halving it to 70kg?
Many people might be surprised to hear that the answer is not some artificial product of human ingenuity but instead one of the oldest and most commonplace substances used by people to fashion all sorts of tools, equipment and other objects: wood.
Since last year, a small company based in Chemnitz, eastern Germany, has been exploring applications for wood in modern industrial materials handling and logistics applications, with the automotive industry a prime target area.
Academic credentials
CEO Christoph Alt explains that LiGenium began corporate life at the beginning of 2018, when it was spun out of research work conducted at its home city's Technical University (TU Chemnitz). Two of his colleagues, Ronny Eckardt and Sven Eichhorn, were also part of the same research team.
Given this academic background, the start-up has a substantial bank of knowledge and experience to build on, including several years of previous work carried out by a research group on 'application technology of renewable materials', which had specifically focused on the suitability of wood and wood-based materials for industrial applications. Moreover, the university team carried out a number of pilot projects with partners from the automotive industry. One of these was Volkswagen (VW).
In a project at VW's Wolfsburg plant in Germany, the in-house transport of car bodyshells was achieved using special workpiece carriers (skids) made of wood. The racks were built from commercially available 15-ply birch plywood, resulting in a weight saving of 48% compared with a steel frame.
Before they actually see our constructions people have difficulty believing it works. Our most difficult task is to explain our products – Christoph Alt, LiGenium
More recently, a conveyor system in wood construction, as used by automotive manufacturers for car body transport, was shown off by the university at the Chemnitz trade fair LiMA (Lightweight Construction in Mechanical and Plant Engineering).
The researchers at TU Chemnitz regard wood as a composite material that can be custom-built depending on the area of application, similar to a technical fibre composite in which individual layers with different thicknesses and fibre angles can be combined to achieve performance objectives.
They see this wood veneer composite (WVC) as a revival and further development of the traditional, composite material usually known as plywood. The properties of WVC make it possible to adapt the material to satisfy environmental as well as mechanical requirements.
Wood has, in fact, never been totally supplanted as an engineering material and has a track record of use into the industrial age, though this has generally been in decline since around the 1960s, largely because of the comparative ease with which newer artificial materials can be machine-formed. Nevertheless, when compared with rival materials, not only does wood still offer attributes that have always made it a useful option for applications requiring robustness and ease of fabrication, it also has characteristics that give it some appeal for modern concerns (see box).
In short, wood is a natural fibre composite material and is therefore a means of creating versatile, lightweight fabrications.
What's good about wood?
• Light construction but good mechanical performance
• Low temperature expansion and heat conduction
• Good vibration damping and noise reduction
• A relatively soft surface, avoiding abrasion on loaded parts with hard surfaces
• Minimal maintenance requirements
• Ease of customisation
• Able to be disassembled and reconfigured for alternative uses
• No risk of corrosion in the fabrications themselves, or contact corrosion with metal loads
• Environmentally friendly (from renewable sources)
Framing a future
Finding commercial applications for this special mix of capabilities in the area of materials handling is the purpose of LiGenium. "We are scientists with a specialism in conveying construction," Alt states, adding that this can include both mobile and static fabrications. The company's small team conducts product design and five-axis machining; everything is done in-house.
Right now, the company is focusing on what Alt describes as "frames" – effectively latticed wooden containers – for transporting small parts in automotive production environments. They can be used as containers that are picked up and put down by forklift trucks, loaded onto AGVs for transport around a site or, if fitted with wheels, pushed by people or pulled by tow trucks. The component parts of the units fit together without the use of adhesives, instead using screws that enable them to be assembled and disassembled as required.
According to Alt, the maximum size of fabrication the company could produce would be 7.5 x 1.5 metres. He says that, so far, the frames that have been delivered to an automotive customer have been much smaller – essentially pallet-sized, at 1.2 x 0.8 metres. He adds that the company is looking to gain patent protection for what describes as its "modular wooden design".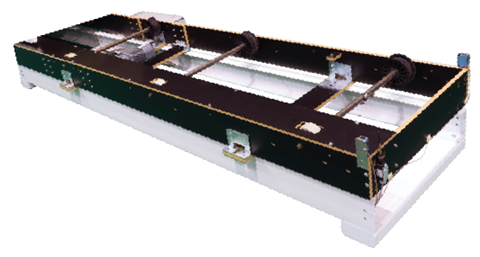 Alt says the units combine woodworking skills in their construction with mechanical engineering knowledge in their design, to ensure that they can withstand the mix of loading and movement to which they will be subjected. This fusion of different areas of competence is what constitutes the company's key intellectual capability and hence commercial potential.
He explains that, while the knowledge and experience of a skilled craft worker might be enough to fabricate a wooden carrier that could support a load of a few dozen kilograms, it would not suffice for the construction of units able to support the weight of a vehicle assembly.
The company uses not only computer-aided design software system (the AutoDesk Inventor package) but also a number of specialist analysis programs that it has written itself.
As for the specific materials it uses in its constructions, the company uses birch plywood sourced from eastern Europe or Scandinavia and beech plywood from Germany. Alts says the beech predominates and is sometimes used in a compressed form at double its normal density to provide added strength and durability.
Convincing customers
Asked about the challenges LiGenium has faced so far, Alt indicates that the biggest one is not technical but about expectations: the need to convince potential customers to share the company's confidence in the material it uses. "The main problem is that we use wood and before they actually see our constructions people have difficulty believing it works," he says. "Our most difficult task is to explain our products." He acknowledges that wood is a flammable material but does not believe that it poses any significant hazards in the context in which it is planned for use.
In fact, LiGenium has just received a public endorsement from VW, which recently named it as one of six start-ups selected for the latest installment of the Future Mobility Incubator programme at its Transparent Factory in Dresden, Germany. The programme provides the selected participants with a mix of financial backing and practical support to develop their own expertise. At the time of the announcement in May, VW said that LiGenium had been selected to implement a "site logistics project". However, details of the work cannot be released yet.
For LiGenium, that recognition is very timely. As Alt explains, its last formal links with TU Chemnitz will cease at the end of September, after which it will be out on its own as a purely commercial enterprise. However, he is confident that the company's use of a very old material will enable it to meet modern industrial materials handling challenges in which light weight, versatility, product safety and environmental efficiency are paramount.