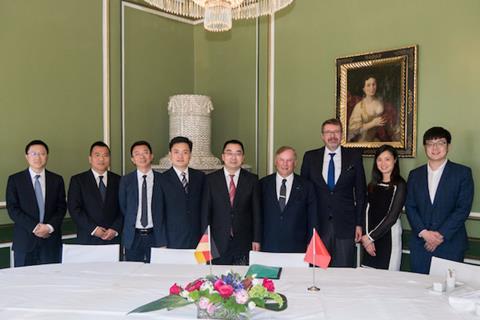 Mosolf Group is looking to transport containerised finished vehicles between the Polish city of Łódź and Chengdu in China as part of a project to extend the services currently provided by Chengdu-Euro Express Railway. That service has been moving containerised goods between Chengdu and Łódź since 2013 but this will be the first time finished vehicles are transported on the route.
Last week (May 24) the German finished vehicle service provider signed agreements with the local government in Qingbaijiang district to rent operating sites with rail access to support the new service. It has also set up its own subsidiary in China to manage rail operations on the New Silk Road route. Test operations are planned to begin in the second half of this year.
In a statement Mosolf said it would load the vehicles onto racks and into the containers at its own facility and move them to the Spedcont railway terminal in Łódź. Spedcont, which is an intermodal rail operator, will be responsible for handling the containers, including loading them onto railway wagons, as well as managing the empty containers returns.
"Customers will benefit from end-to-end quality management, direct links between the railway terminal and the container terminal as well as daily departures on this main line along the New Silk Road between Europe and China," said Wolfgang Göbel, chief sales officer of the Mosolf Group. "Our investments in real estate, facilities, personnel and equipment will continue to promote the Chengdu-Euro Express Railway as the best possible solution for European vehicle manufacturers that wish to export their products to China."
Vehicle travelling from Europe to China will cross Belarus, Russia and Kazakhstan before crossing into China at the Alataw Pass into Xinjiang province.
As discussed at last month's Automotive Logistics Global Shanghai conference, rail continues to provide certain advantages for the transport of finished vehicles between Europe and China in terms of cost and time, compared to air and ocean respectively. Fixed routes, times and prices give rail a certain immunity to fluctuation and therefore a stable mode for customers. Furthermore, vehicles can be more accurately monitored through the process and quality is maintained through containerisation (read more here).
Mosolf has not revealed for which carmakers it is providing the rail service but a number of carmakers based in Europe and China have been turning to rail for vehicle shipments as China's Belt and Road trade and infrastructure strategy develops.
In December last year Mercedes-Benz moved vehicles from Bremerhaven in Germany to Chongqing on a service provided by Russian Railways and Gefco and Volvo has been using rail since 2017 to move Volvo S90s built in Daqing by train to Zeebrugge in Belgium.
Stay posted this week for further details on the new service