North American finished-vehicle processor Amports has bought the port operations formerly run by Horizon Terminal Services (HTS). In doing so, Amports adds vehicle processing operations at the ports of Jacksonville, Port Everglades and Freeport in the US.
"We are delighted to welcome Horizon to the Amports family," said Steve Taylor, CEO of Amports. "Working in partnership with the experienced team at Horizon, we look forward to further expanding and enhancing our award-winning operations, strengthening our competitive position in the marketplace and, above all, building on our commitment to safety, quality, operational excellence and customer satisfaction."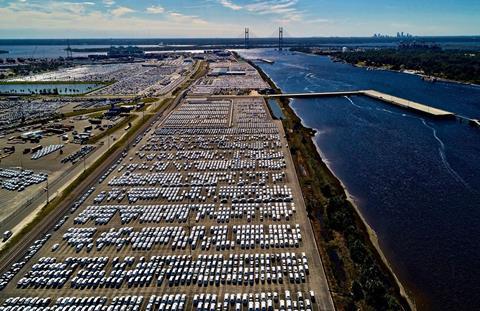 Amports is one of the largest finished-vehicle processors in North America, with locations across the US and Mexico. It already has operations at the US ports of Baltimore, Benicia and Jacksonville. It also has operations in Mexico at the ports of Altamira, Lázaro Cárdenas and Toluca. The company provides vehicle processing, rail yard management, inspection, storage, accessory installations and customisations, repairs, and regulatory homologation services. It also directly owns approximately 50% of its land portfolio.
Last year Amports expanded its existing finished vehicle operations at Jacksonville, at the Dames Point and Blount Island marine terminals. It now builds on that capacity with the acquisition of the facility run by HTS.
Consolidated services
Horizon Terminal Services was a subsidiary of ro-ro operator Höegh Autoliners. Andreas Enger, CEO of the company, commented: "As we simplify and consolidate our services around port-to-port ocean transport, we sought a new owner for our land-based terminals in the US that could invest and grow the business for the benefit of our customers and employees. In all areas, Amports emerged as the ideal partner, bringing its leading market position and strong long-term industry relationships to Horizon."
Earlier this year the subsidiary's operations in the US switched to operating as Horizon Auto Logistics (HAL), when the company aligned its business in North America, though the legal name for operations in the US remained Horizon Terminal Services. HAL will now refer to operations exclusively in Mexico, at the ports of Veracruz and Lázaro Cárdenas.
The change means that Tomasz Lis, vice-president of commercial and chief commercial officer at HAL, has moved to a new role as vice-president of business development at Amports.
"Since inception of operations in 2015, we have made terrific strides in establishing all three terminals as significant players within the automotive marine terminal field," said Per Folkesson, CEO of HAL. "We are very grateful and fortunate having had such a great group of people being integral to our success, but unfortunately in a change of control process this can happen".
Operations in Colombia will also continue to operate as Fast Terminal International, and in the Dominican Republic as Fast Auto Logistics.
"Our business in the non-US markets is very different, we truly provide seamless total logistics managing the entire supply chain for our customers, acting as both 3PLs and LLPs [lead logistics providers]," explained Folkesson. The company provides services for all types of ro-ro cargo, including finished vehicles and heavy equipment and project cargoes.
"Going forward, the vision remains the same, developing our business through innovation and foresight," said Folkesson.