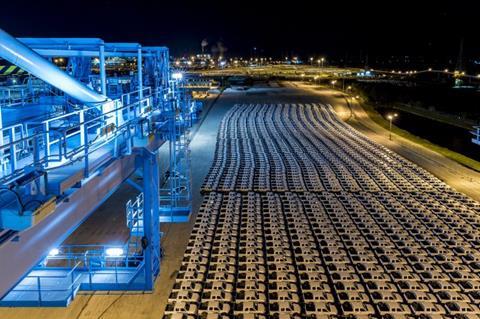 North American vehicle processor Amports has signed two long-term agreements with Jacksonville Port Authority (Jaxport) in Florida to expand leasing space.
According to Jaxport, contiuned growth of the port's vehicle processors as well as its location in the heart of the nation's fastest growing automotive consumer market have led to increased demand for vehicle space.
CEO Eric Green added: "We are committed to supporting our auto processing partners and the growth of their business in Jacksonville."
One lease provides Amports with 9.07 hectares for vehicle processing and storage space at Jaxport's Dames Point marine terminal and the other is an extension of its existing lease at the Blount Island marine terminal.
Amports handles processing and delivery of passenger cars and trucks for Audi, Fiat Chrysler Automobiles, General Motors, Honda, Isuzu, Mazda, Mitsubishi, Porsche and Volkswagen.
The new leases cover sites offering direct waterside access for vessel loading and unloading with a major interstate about 1.6km away, plus access to rail.
Both leases, which take Amports' lease holding from Jaxport to more than 68 hectares, are for 25 years with the possibility of two five-year renewals if mutually agreed.
Amports also plans to develop an additional 16.2 to 18.2 hectares at Dames Point by 2023, said Jaxport.
The port authority said the agreement with Amport follows its two busiest years for vehicle volumes in 2017 and 2018, with the port on track to handle a record 700,000 vehicle units this year.
The latest developments in the North America vehicle handling ports will be under discussion at the FVL Import Export summit, which takes place in Baltimore in just over two weeks, between 6-7 August