Audi has started using trucks powered by liquified natural gas (LNG) to deliver parts to its Neckarsulm factory in Germany. The carmaker said the two trucks would replace conventional diesel vehicles and save up to 20% of CO2 and around 85% of nitrogen oxides.
A third truck is expected to be added to the fleet by the end of this year. The trucks will deliver parts for the Audi A6 and A7 models.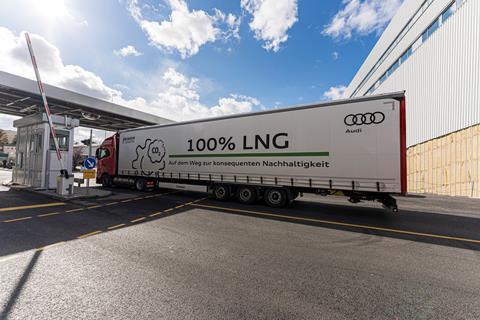 Audi has been using trucks powered with compressed natural gas (CNG) at the site since 2016, as well as a purely electric truck. The latest initiative with LNG trucks follows their use at Audi's Brussels facility, which began in 2018.
"With the planned comprehensive use of alternative technologies such as LNG trucks, we are pursuing a climate-friendly solution for our logistics transport in line with our cross-site environmental programme Mission:Zero," explained Achim Diehlmann, head of environmental protection at the Neckarsulm site. "We are thereby laying a further building block for achieving our CO2 goals."
He added that the trucks use biogas to truly drive down emissions, and that Audi had started in 2010 to switch all its outbound rail transports in Europe to green energy as well. Volkswagen also plans to use green energy for its rail transports by 2021.
The Mission:Zero programme brings together Audi's efforts to reduce emissions, save water and increase the efficient use of resources in production and logistics. As part of those efforts Audi is aiming to become carbon-neutral at all its production locations by 2025. This has been achieved already for the Brussels, Belgium and Győr, Hungary locations.
Last year Audi began trialling the use of forklift trucks and tow tractors powered by used lithium-ion batteries at its plant in Ingolstadt.