BMW Group has founded a subsidiary called Idealworks to supply autonomous robots to the logistics sector, including companies outside of the automotive industry. The subsidiary, which is based in Munich, Germany, and currently has a team of 30, takes its name from the acronym for industry-driven engineering for autonomous logistics (Ideal).
Idealworks will build on the success of BMW's Smart Transport Robot (STR), which was first developed in 2015 with Germany's Fraunhofer Institute and is now being used both at BMW plants and in other locations. There are currently more than 130 of the robots supporting series production across BMW's production facilities, including for seat installation at BMW's Munich plant.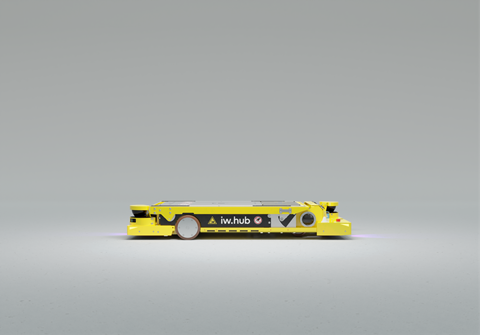 With the launch of the new subsidiary the STR has been renamed iw.hub. It is an autonomous mobile robot that can transport goods weighing up to one ton by freely calculating routes using simultaneous localisation and mapping (Slam) navigation technology. Slam technology does not require permanent navigation transmitters to be installed in buildings and can be set up quickly in a new environment without requiring any structural adjustments, according to BMW.
The iw.hub is equipped with special Nvidia AI steering modules that allow it to learn and apply different responses to people and objects. It is driven by an integrated battery module from the BMW i3 electric car that can last for at least an entire shift.
The system works in conjunction with BMW's AnyFleet cloud-based management platform, which can support autonomous transport vehicles from different manufacturers and allows operatives to automate processes.
Jimmy Nassif, chief technology officer at Idealworks (formerly head of IT planning systems at BMW), explained: "While Idealworks was still under BMW Group management, the team advocated for the standard protocol VDA 5050, which describes the communications between different autonomous transport systems available on the market, in the German Association of the Automotive Industry (VDA) and the German Mechanical Engineering Industry Association (VDMA). Regardless of the manufacturer, AnyFleet can be used to manage any autonomous transport system."
The third generation of the iw.hub will be rolled out at the end of 2020.
"In founding Idealworks and launching iw.hub, a product that holds great potential, we are bringing something new to the autonomous industrial vehicles market," said Markus Bauer, chief operating officer of the new subsidiary. "We are launching a revised version with new features and, for the first time, the iw.hub is available outside the automotive industry. Since October, we have been carrying out pilot projects with a variety of interested companies to great success. We want to develop Idealworks into a top player among the providers of industrial logistics robots."
Bauer moves into the new role from his previous position leading strategy driver assistance and infotainment, technology prognosis at BMW.
Pilot projects
Ahead of the launch of Idealworks BMW has been conducting pilots of the iw.hub. One such pilot was carried out at the Neutraubling facility run by Syncreon. At that facility the logistics and supply chain provider prepares BMW vehicle parts for export to overseas destinations including China, Brazil, Thailand and the US.
The pilot robots were used for the reception and transport of incoming parts to designated areas and also for retrieval and transport back out of the warehouse. Parts delivered by truck are unloaded into block storage whereupon a logistics operative presses a call button and the iw.hubs arrive to transport the goods for packaging. Once that stage is complete the goods are brought to a truck on pallets ready for onward shipping.
Idealworks said the processes functioned autonomously on the second day and by the end of the first week all missions received by the robots were 100% successful.