The Covid-19 pandemic has made it clearer than ever that better visibility of the supply chain is needed, even if its sheer complexity doesn't make that easy. Artificial intelligence (AI) and machine learning (ML) technology may help, but a clear workflow process, and a talented and inspired workforce, are essential to make the technology effective.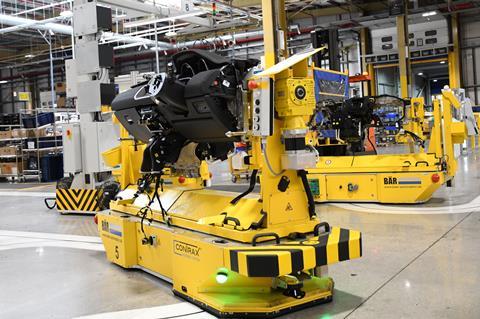 At last week's live webinar hosted by Automotive Logistics – Optimizing supply chain resiliency through integrated planning and execution – supply chain experts gathered to discuss how best to recover from a crisis and what needs to be done to prepare for the next one.
Logistics professionals in the automotive industry are used to dealing with supply chain challenges but the disruption and uncertainty caused by Covid-19 amplified two main concerns: how to generate more cash and how to avoid or mitigate risk. The need to improve cost performance in inventory, network and logistics is matched by need to manage variability, whether it be shipment delay, capacity shortage or excess inventory.
Crisis management
Car making is a capital intensive industry and the automotive supply chain is highly complex, involving the manufacture and movement of highly engineered parts on global supply lines, usually to a schedule of just-in-time delivery. The industry is not good at dealing with sudden stops and starts, which put significant stress on the supply chain and have costly repercussions in a number of areas.
"We spent the majority of 2020 in crisis management mode, dealing with inventory, monitoring accounts payable activity and ensuring stability of supply once we had to start the wheels turning again," said Kelly Bysouth, chief supply chain officer at International Automotive Components (IAC), a tier one parts maker providing interior components to the majority of the major global carmakers.
Ensuring stability of supply is a particular issue for the automotive industry, especially when supply lines are suddenly disrupted, because finding alternative parts is easier said than done.
"A lot of the parts that we buy in the automotive industry are specific, engineered parts and a lot of those parts require lengthy lead times to tool up," explained Bysouth.
Invisible chain
Identifying alternative sources of supply is one thing. Having the foresight to know when to go ahead with that supply and evaluate the shipping options is another. It is complicated by the fact that there remains no true end-to-end visibility in the automotive supply chain.
"More often than not, tier one suppliers do not have the right level of visibility from an integrated supply chain perspective," said Bysouth, "[and] the OEMs themselves – big as they are with as many resources as they have – also struggle."
That is obvious from the current semiconductor shortage that is forcing carmakers around the world to revise production forecasts for the first quarter. Carmakers are sending requests to their tier suppliers for information about semiconductor purchasing but many simply do not have the answer either.
"There are certainly opportunities to improve [visibility] in the entire automotive supply chain, from OEM to lowest tier," said Bysouth.
The need for better visibility from top to bottom is a consistent request BlueYonder is hearing from its customers, according to Salim Shaikh, digital transformation executive at the supply chain management software provider (formerly JDA Software). In one recent example, a tier one supplier of wiring harnesses and electrical distribution systems was dealing with expedited costs, and excess and obsolete inventory, because of Covid disruption.
"As we got into the March timeframe and Covid hit, [the supplier] realised they were not able to respond to rapid demand exchanges that were happening from the OEMs," said Shaikh. "The OEMs were changing their EDI demand signal two or three times a week … and they were not able to be responsive to the OEMs' needs because of the lack of end-to-end visibility."
Designing resilience
In the absence of that visibility suppliers have to be more responsive and equip themselves with the tools and talent to recover quickly. According to David Breaugh, regional business leader for Americas at Microsoft, suppliers are trying to restructure their networks and rethink where to store inventory and finished goods so they can be more responsive to their markets.
"As such they are looking at network design, to become more demand-driven and really look to more data-driven operating models," he said. "It requires a different infrastructure than most companies don't have today."
OEMs and tier suppliers need better scenario planning and a robust range of contingencies to navigate not only the current ongoing crisis but the next one and the one after that, something that BlueYonder is helping carmakers with. For example, Renault, which previously ran sales and operation planning (S&OP) scenarios on a monthly basis, is now running them several times a week on much faster schedule, according to Shaikh.
Another of its customers, Mahindra & Mahindra has used BlueYonder technology in aftersales to reduce inventory investment by 20%, while at the same increasing customer service agility and responsiveness. That is done through tools that afford better visibility on demand and inventory supply and distribution plans.
"Inventory reduction, cashflow preservation and leveraging machine learning and AI are the three areas where we have seen traction and invested," said Shaikh.
What is also crucial however, is that the right process for transformation is in place so that workflow is harmonised even before the technology used to make the process faster and more efficient is chosen.
"Once you spend the time to map out the process you intend to use then you can do a good job of choosing what system you can apply to execute that process," said Bysouth. "More often than not, when you are doing a system transformation you are going out to find a system and then try to make it fit the process. Really it should be the reverse."
This is something Microsoft's Breaugh agreed with, arguing that companies should not be pursuing laborious proof-of-concept pilots without knowing first what it is they actually want to achieve.
"Rather than saying we want to go AI on something or talking about the latest internet of things technology, [we should ask] to what purpose," he said. "What are we trying to deliver? Is it service level improvement, launching a set of new products, or is it trying to compress time-to-market. If we can focus on the outcomes then we can design backwards and decide what technologies need to come together and in what sequence we deliver."
Engaged leadership
What is also necessary for this sort of change to happen is that companies are receptive to change at the top level of management and that they are proactive in their adoption of the technology required for its execution. For some companies this is a culture change and requires engagement at the executive board level, said Ehap Sabri, industrial manufacturing lead for supply chain US at KPMG.
Sabri said it was important to have executive support and engagement, to the extent that company heads are talking to end users and making decisions.
"It is important they show their support and willingness to maintain that support," said Sabri. "I notice some hesitation after Covid to take this journey, so it's very important to articulate the business case and the benefits."
Another reason for hesitation which is related to change management, according to Sabri, is the success rate it has in the automotive industry.
"We don't have a big success rate in transformation – it is only 30%," he said. "This is why we spend a significant amount of time highlighting the success factors and how we can increase them. That is important."
That success rate can also be improved by ensuring better employee satisfaction, which is related to the deployment of better supply chain visibility tools, according to Kelly Bysouth. She explained that those responsible for demand and supply planning at IAC had a tough 24/7 job because of the constant changes in demand. Equipped with better tools those people could become the decision makers they aspired to be, rather than simply "spreadsheet jockeys".
"Your company's CEO and CFO need to be supportive of the transformation," said Bysouth. "It can't be pushed up from the ground, it has to sponsored. That is a success factor to get projects kicked off and implemented. You need top level sponsorship."
The next crisis for the automotive industry might be just around the corner and being able to strike the right balance between agility, resilience and responsiveness will separate the winners from the losers.