The switch in the US to a Democrat government led by Joe Biden from 2021 could bring about a recovery in trade with China and a more globally integrated approach to vehicle and parts imports from overseas. Those global links will support the global platforms typifying greater efficiency in vehicle production and provide opportunities for tier suppliers, who are getting more involved complex subassembly.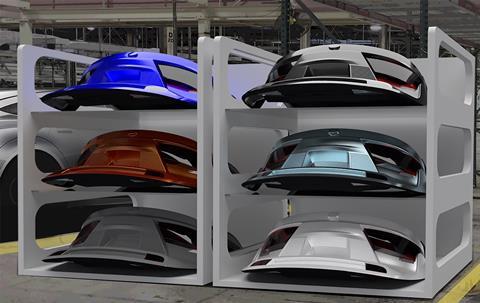 It remains to be seen whether the US Senate will remain in Republican control but either way there will be no overnight changes in trade or emissions policy. What is more immediate, according to Joe McCabe, CEO and president of AutoForecast Solutions, is a post-Covid recovery in vehicle production and the ability to maintain that production through an ongoing pandemic. In fact, the speed of that recovery is putting its own pressures on the supply chain.
Speaking at last week's Livestream Hour, the first in a new season of online discussions, McCabe said 2021 was going to be a recovery year in global vehicle production and that continued recovery to 2027 would be based on greater stability.
In part, that greater stability – in the US at least – is based on existing policy designed to protect production in the country.
"We still have things that are 60 years old, like the Chicken Tax, where if [an overseas OEM] wants to import a pick-up truck into America it gets hit with a 25% tariff," said McCabe. "We don't see that going away anytime soon because it protects GM, Ford and Chrysler."
However, stability is also promised because of the lessons learned through the first wave of the coronavirus pandemic.
"We are learning how to deal with it and how to move on," said McCabe. "So there has been less volatility in [production] outlooks for the last four or five months."
Less output, more efficiency
AutoForecast Solutions estimates that vehicle production in Europe will climb from almost 16m this year to 19.2m in 2021.
Meanwhile, in North America, vehicle production is expected to reach 15.8m next year, from 12.8m this year but, with recovery happening earlier in the year than previously predicted. Light vehicle sales in the US are forecast to return to 17m by 2023, though passenger cars will represent less than 20% of that as crossover and SUV sales continue to grow.
"We thought recovery would come in Q3 of 2021 and now it looks more like late Q1, early Q2," said McCabe. "People are finding ways to work through this problem."
Those 17m units by 2023 are still some way below the peak of 17.8m vehicles in 2016, but McCabe doesn't see this as a problem because better utilisation of existing capacity is going be where the gains will be made.
"This idea of having multiple plants running at 70% is an old path and its dated," he explained. "It's not that old GM model of putting a ton of vehicles out and the consumer is just going to have to buy them. Consumers are more finicky and more focused on what they like and not brand loyalty, and the competition is ramping up."
That is why OEMs will shift to more efficient model strategies, moving away from sedans, and into SUVs for North America, and keeping brands only where they perform well.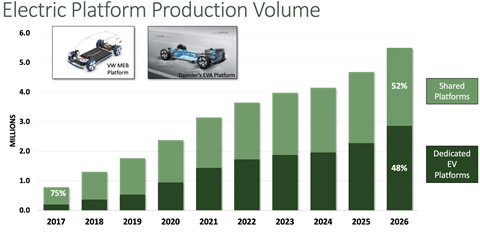 The idea of building where you sell will make plants more efficient. McCabe said: "The idea is that this [reduced output] is not a bad thing; it is a good thing. We're going to really see the importance of those plants running at full speed, knowing that their supply chains have to be spot on, their logistics has to be spot on, their marketing has to be spot on."
That more positive forecast chimed with a survey carried out during the Livestream Hour in which attendees were asked what impact the current wave of coronavirus restrictions in Europe will have on automotive production. In Europe, carmakers are looking at a damaging month for sales as new lockdowns in Europe hit the dealer network. A majority of 66% said that while it would lead to lower output, there would be fewer production shutdowns.
Supplier collaboration
What is significant is that a lot of the rebound will depend on the resilience and flexibility of the top tier suppliers and logistics providers because there is no longer time for a gradual ramp-up in production if a plant shutdown happens. Just-in-time deliveries and reserve inventory both need to be in place as soon as a production restart is possible.
Strong collaboration in the supply chain and the huge efforts made through 2020 to gain visibility of inventory and its location, using tools both old and new, mitigated the situation. That effort will have to continue.
"Suppliers are being asked to overbuild," noted McCabe. "Manufacturers still need to stockpile parts from key suppliers so that when the lights go back [they can return to] 100% production capacity…[.] There is a now a big reliance on supply chain and logistics to make sure everything is lined up when the lights go on."
That strategy is putting additional strain on logistics capacity, but is part of a deeper trend in the automotive industry related to the growth in electrification that will see a rise in contract manufacturing as tier suppliers produce more subassemblies.
"You can see Ford, GM and Chrysler basically being mobility companies, selling services, putting their badge on [a vehicle] but being heavily reliant on the supply base to actually build it," said McCabe. "That is where your real change is going to be."
McCabe said that from a logistics point of view, the conversation going forward was going to be with those major tier suppliers as well as the carmakers.
"They are going to give better insight into what how much they are contributing, especially to the electric vehicle space."
Watch the full recording of last week's Livestream Hour
The next episode on sustainable packaging will take place on November 18