In an innovative response to lowering emissions in European maritime freight transport, Volkswagen Group Logistics has set up an initiative for ro-ro vessels carrying its vehicles to use vegetable oil, including oil recycled from restaurants and the food industry.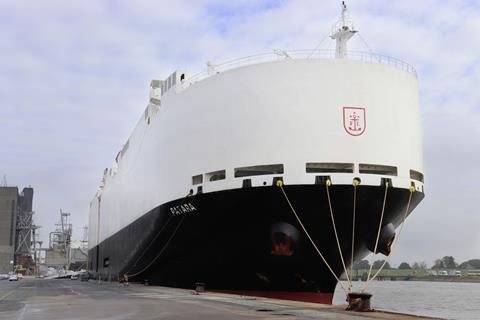 The first short-sea car carrier was fuelled using the oil this month and a second ship is due to follow at the beginning of 2021.
The vessels will be used on the rotation between Emden (Germany) and Setubal (Portugal) via Dublin (Ireland) and Santander (Spain). VW transports around 3,500 VW Group vehicles on the route which runs approximately 50 times a year. Those vehicles include Audi, Seat, Škoda, VW brand cars and VW commercial vehicles.
"We are the first automaker to make widespread use of this fuel," said Thomas Zernechel, current head of Volkswagen Group Logistics. "This way, we reuse waste oil in an environmentally compatible way. With 85% lower CO2 emissions than with conventional fossil fuels, the contribution to climate protection is enormous."
VW said the move was part of its strategy to make its logistics more sustainable and reduce greenhouse gases, as seen earlier this year in the use of car carriers for cross-Atlantic routes powered by liquified natural gas (LNG).
"In addition to that, we are in close contact with manufacturers of suitable fuels and are intensifying our cooperation with them," said a spokesperson for VW.
He added that VW was focusing on its own charter services because it provides the company with extensive freedom of design with regard to the deployment and operation of the vessels.
Out of the frying pan and into the SECA
The two ships are to be refuelled at sea off the coast of Vlissingen (Netherlands) with the recycled fuel supplied by the Dutch company GoodFuels. Carbon emissions will be reduced from over 60,000 to about 9,000 tonnes per year, according to VW. In addition, sulphur oxide emissions will be almost completely avoided.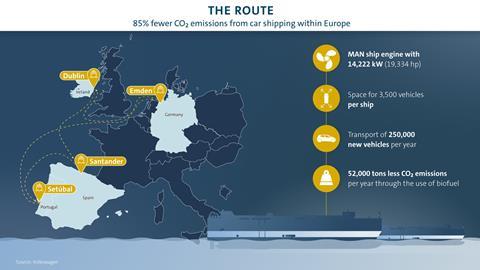 This helps VW fall in line with International Maritime Organization (IMO) regulations governing sulphur emission control areas (SECAs) around the European coast. From January 1 this year, the limit for sulphur in fuel oil used on board ships operating inside emission control areas is 0.10% m/m. Outside designated emission control areas it has been reduced to 0.50% m/m.
The regulations were first proposed by the IMO in 2008 and confirmed in October 2016.
"With our activities we are sending the right signals to the market," said VW's spokesperson. "We are convinced that our behaviour will have a long-term effect on future transport solutions.