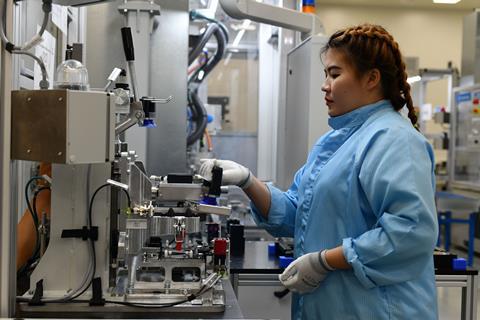 German electronics company Dräxlmaier has launched a high-voltage battery production plant at Chonburi, Thailand, in partnership with BMW.
The batteries are transported to the carmaker's assembly lines at the Amata City industrial estate, in the manufacturing hub of Rayong, where they are fitted into the entire range of BMW 5 Series plug-in hybrid electric vehicles (PHEV).
Production of those cars started in July, as did assembly of battery modules and the batteries themselves at Dräxlmaier's plant on the WHA Chonburi industrial estate 2.
The battery cells are provided by Samsung of South Korea with other parts, such as aluminium housing, electronics and cables, being imported. The final batteries meet Thailand's local content requirement regulations, said BMW which, like Dräxlmaier, declined to name the other suppliers.
"The start of local battery production enables us to better respond to growing domestic demand for electrified vehicles in Thailand," said Uwe Quaas, managing director of BMW Group Manufacturing Thailand in the statement. "This new capability also strengthens the performance of Plant Rayong in fulfilling the country's mission of sustainable mobility."
The carmaker said that to ensure production process met its quality standards, experts from headquarters in Munich were involved in setting up Dräxlmaier's new plant "to set up a solid foundation for the future." The companies have been partners for 53 years.
In the build up to production starting in Thailand, advanced training and qualification programmes in battery production began a year ago for Dräxlmaier staff at BMW's Dingolfing plant, the group's competence centre for e-drive production, and its pilot plant for e-drive trains in Munich.
The expected outcome is for Dräxlmaier employees to produce the latest generation (Gen4) of BMW's high-voltage batteries. Processes include laser welding, plasma activation, robotics, gluing, automated optical and electrical inline quality inspection, along with end-of-line testing.
BMW has invested 700m baht ($22.6m) in PHEV production with support from Thailand's Board of Investment (BoI) through import tax exemption for machinery and corporate income tax being waived for a defined period, plus jointly invested 500m baht in the battery assembly plant with Dräxlmaier.
"In addition, BMW Group Manufacturing Thailand has already planned and been approved for government's incentives by the BoI to further invest over 700m baht for upcoming BMW Plug-in Hybrid models to come," a BMW spokeswoman told Automotive Logistics.
The nature of battery production means the new venture scope's for further expansion is limited. For example, there are currently no plans to supply plants outside Thailand from Chonburi.
Transportation of batteries is not easy because of weight, safety and other considerations, she said. "Therefore, the BMW Group is producing the batteries as locally as possible. For this reason, the BMW Group does already have three battery plants worldwide, in the US, in Germany and in China."
Also, the chances of localising production of parts for batteries in Thailand are even more limited.
"The supply chain for a production plant is a very complex topic, as all production locations are linked to each other in our entire global production network. It is in our interest to keep transport distances as short as possible and to purchase local. The supply chain for the local production of batteries is already as ideal as possible," she said.
Because they are produced to meet BMW's exact requirements, the spokeswoman also said there are no plans to supply the batteries to other OEMs.