Ford has announced production increases in the US for some of its more popular electric vehicles (EVs), as well as for some best-selling internal combustion engine (ICE) vehicles. To support that it will now have to secure additional transport capacity to deliver the vehicles and reduce lead times.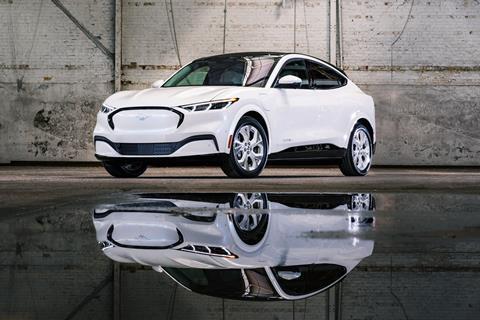 Ford is increasing production of the Mustang Mach-E, F-150 Lightning and E-Transit EVs. It is also boosting output of the Bronco Sport and Maverick combustion-engine cars. The carmaker has also announced the launch of four new versions of ICE vehicles in 2023: Super Duty, Ranger, Mustang and Escape.
In addition, Ford is looking at ways to increase output at the Dearborn Truck Plant to meet continued strong demand for the gas and PowerBoost hybrid models of the F-150.
Ford reported a sales increase of almost 30% in February, equal to just more than 157,600 vehicles. Of that number, EV sales were up 68% in the month to more than 3,500.
In response, the carmaker has started to increase production of the Mustang Mach-E, nearly doubling output at its Cuautitlán stamping and assembly plant in Mexico. Production of the Mach-E began there in 2020. The carmaker aims to make 210,000 units of the Mach-E by the end of this year. It is currently moving the vehicle by rail and short sea from the Mexican plant for wider North America and overseas markets.
The carmaker also plans to triple production of its F-150 Lightning pick-up EV, equal to production of 150,000 units by the end of 2023. It is the best-selling electric truck in the US, with sales of 3,600 through February. However, assembly at the Rouge Electric Vehicle Center in Dearborn has been suspended for most of February because of a battery problem. Ford expects to recommence production on March 13 and it is investing $2 billion across three plants in Michigan state to meet its production goals, despite the lost output in February.
Meanwhile, Ford sold 3,600 E-Transit models in February, and more than 15,600 last year. That contributed to overall Transit sales including the ICE version 38,000 vehicles in 2022. Ford said it was investing $95m and adding 1,100 union jobs to support increased production at the Kansas City assembly plant. The Ford E-Transit has 80% commercial EV market share in the US and it made more than 6,000 units in 2022.
Battery power
Ford has signed a number of battery supply agreements for local production in support of its growing EV range. Last month in announced at $3.5 billion investment in a 35-GWh battery facility in Marshall, Michigan. The plant will make lithium iron phosphate (LFP) batteries for its electric vehicles (EVs) from 2026 using technology licensed from CATL. Ahead of that the carmaker will be installing LFP batteries supplied by CATL from China in its Mustang Mach-E this year and in the F-150 Lightning from 2024. Batteries for the F-150 are currently being supplied by SK On from its battery factory in Commerce, Georgia.
Back in 2021 Ford has signed an MoU with lithium-ion battery maker SK Innovation for a joint venture called BlueOvalSK to manufacture battery cells and finished packs in the US. Plans include the output of 60 gigawatt hours (GWh) worth of battery production a year with scope for expansion by the middle of the decade. Ford is building three new BlueOval SK battery plants – one in Tennessee and two in Kentucky – to produce advanced lithium-ion batteries to power next-generation Ford and Lincoln vehicles.
It is not clear how Ford's decision to build its own LFP battery facility will impact plans for the BlueOvalSK.
For ICE-driven vehicles, Ford said it is increasing production of Bronco Sport and Maverick models by more than 80,000 units in 2023, helping to meet demand in both North and South America. In the US, SUV sales totalled 777,770 units, up 4.6% in 2022 versus 2021. Those sales were led by the Bronco range, while the Maverick became the most popular small truck in the US in 2022. Ford sold more than 117,000 Bronco models in the US last year, a 234% increase on the previous year. Maverick sales increased more than 460% to almost 74,400.
Cutting down the lead
What Ford now needs to also work on is the reduction of lead times to satisfy customer demand and service expectations. Delivery times in 2022 were longer they had been for a long time, and speaking at last year's Finished Vehicle Logistics North America conference, Michael Arnold, operations supervisor for North America vehicle logistics at Ford, said managing customer expectations was a big priority.
The patience of car buyers is still being tested by delays in delivery, and their ability to purchase vehicles and run them is also being tested by inflation and rising fuel prices.
Dealers are also demanding information on the location of vehicles and arranging their own transport for vehicle pick-ups if the lead time is too long. In response Arnold said there was now an intense focus on providing more accurate ETAs for the customer and minimising the number of revisions to those ETAs.