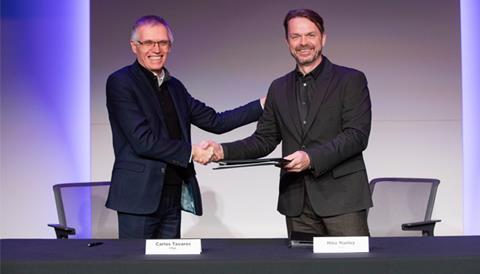 Carlos Taveras, CEO and chairman of Groupe PSA, signed the merger deal with Mike Manley, CEO of FCA on December 18
Following initial statements made in November, Groupe PSA and Fiat Chrysler Automobile (FCA) have signed a 50:50 merger agreement that will create the fourth largest carmaker by volume, based on a current annual combined production of 8.7m units. Completion of the proposed merger is expected to take place in 12-15 months and will also mean the creation of the third largest carmaker in the world by revenue, with a combined taking of €170 billion ($185.6 billion).
The combined entity is expected to deliver €3.7 billion in annual synergies and, according to a joint statement from the two carmakers, these will not be at the cost of any plant closures. However, it is likely to lead to increased pressure on suppliers and logistics providers as platforms are reduced, and networks and services optimised.
Under the new arrangement John Elkann will carry his chairman role at FCA over to the new company, while Carlos Taveras, currently CEO and chairman of Groupe PSA, will be appointed group CEO. The name of the new group has yet to be announced.
"Our merger is a huge opportunity to take a stronger position in the auto industry as we seek to master the transition to a world of clean, safe and sustainable mobility and to provide our customers with world-class products, technology and services," said Taveras. "I have every confidence that with their immense talent and their collaborative mindset, our teams will succeed in delivering maximised performance with vigour and enthusiasm."
The new company stands to gain efficiencies from optimising investments in vehicle platforms, engine families and new technologies. Two thirds of its annual volume output – equal to 3m cars – is predicted to be concentrated on the small and compact or mid-size platforms. This fits with Groupe PSA's guiding Push to Pass strategic plan to reduce platforms worldwide and save on production costs. Platform consolidation was a guiding principle when the carmaker bought Opel/Vauxhall from GM in 2017 for €2.2 billion.
FCA and PSA already collaborate on commercial vans, however the merger will enable more costs savings. As outlined by Ultima Media's Automotive business intelligence unit, FCA's SUV platforms could help PSA with its expanding lineup, while PSA has two platforms that it will use to electrify its range, the eCMP and the EMP2. Both companies' premium brands – DS, Alfa and Maserati – have struggled, but combining their technology and engineering could be an advantage.
Investment in technology
The companies said the increased scale of the merger would enable it to enhance purchasing performance and would "leverage investment efficiency across a larger scale to develop innovative mobility solutions and cutting-edge technologies in new energy vehicles, autonomous driving and connectivity".
Mounting pressure to invest in this new technology, including for electrified powertrains, is driving mergers and strategic partnerships across the industry as companies look to mitigate risk in the face of a prolonged slowdown in global vehicle sales. Traditional automotive players need to gain even more economies of scale and pool risk to survive one of the greatest upheavals to affect the industry.
Apart from Groupe PSA's buyout of Opel/Vauxhall, Renault-Nissan took a 34% stake in Mitsubishi at the end of 2016. Furthermore, at the end of last year FCA sold its Italian-based automotive components business Magneti Marelli to CK Holdings, parent company of Japanese components supplier Calsonic Kansei, in a deal worth around $7 billion. Elsewhere, Faurecia formed a strategic partnership with ZF in 2017 to develop "disruptive and differentiating interior and safety technologies for autonomous driving". That followed ZF's previous takeover of rival TRW. And in the logistics world DSV's integration of Panalpina and Groupe Cat's buyout of STVA are just two major examples out of many more.
From a logistics perspective, service providers are likely to face more pressure to cut costs and further optimise services and networks. Groupe PSA is in the process of cutting its supplier numbers in half and bringing those suppliers much closer to the plants they are servicing, cutting down on overseas transport. Last year it started reorganising operations across Europe to boost regional competitiveness by improving the performance of its powertrain plants. Some production is being transferred from Asia in line with company plans to make components as close as possible to its car plants, thus cutting supply times and logistics costs.
PSA has also spent the last two years improving control across the sector through the development of its S&OP function. That involved using advanced tools to develop forecasts, production and distribution plans through inputs from multiple departments.
As part of those efforts Opel/Vauxhall is also targeting 7% in cost reductions this year and 5% per year thereafter to 2026. Its plan includes achieving greater efficiencies in manufacturing, logistics and purchasing. Groupe PSA will be looking to continue this rationalisation of both product and supply chain with FCA.
Read more on the likely impacts on the supply chain of the merger between Groupe PSA and FCA