Logistics at the Volkswagen Group is a complex business. There are currently 12 brands in the VW Group and every day 8,500 suppliers send parts into 70 assembly plants worldwide, from where finished vehicles are delivered to 150 markets. According to Matthias Braun, head of digitalization and concept development at VW Group Logistics, the company is looking at the latest technology to manage that complexity and do it sustainably.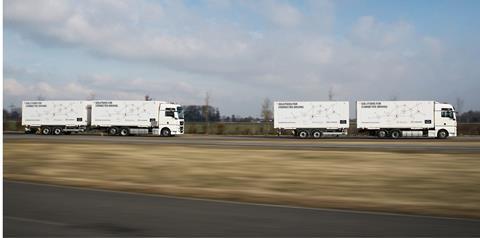 To add to its already very complex supply chain, VW has announced ambitious plans for electric vehicle production. Its asembly plant in Zwickau, Germany is the first in the group to exclusively make electric vehicles in the shape of the ID.3 and ID.4. By the end of this year the company intends to be making six EV models at the plant across three group brands.
That switch to EV production, which will grow massively over the coming decade, brings with it its own complications for logistics, not least because of the special requirements for lithium-ion battery transport and storage. What is more, the company is looking for a more sustainable way to deliver parts and finished vehicles through the use of commercial vehicles either powered by electric or by alternative fuels.
To manage this increasingly complex and more sustainable supply chain the carmaker is adopting the latest technology to digitalise and automate logistics processes and at this year's Automotive Logistics and Supply Chain Europe Live conference Matthias Braun, head of digitalization and concept development, at Volkswagen Group Logistics explained what new technologies were opening up opportunities for the company that were previously impossible
According to Braun the digitalisation of logistics – or logistics 4.0 – requires new ways of thinking across inbound, outbound and aftersales logistics, as well as in-plant production logistics. Braun said the company was looking at everything from RFID tracking of containers, to the use of smartphones by its delivery and warehousing operatives, as well as including the use of virtual reality in daily logistics planning and operations.
"There are a lot of new technologies coming that will change the way that we are working today and how people behave in the logistics environment in the future," noted Braun.
VW Group Logistics provides services for VW, VW Nutzfahrzeuge (commercial vehicles) Audi, Bentley, Bugatti, Ducati, Man, Lamborghini, Porsche, Scania, Seat and Skoda
Electric, automated and shared
VW Group Logistics is also looking carefully at electrifying and automating its delivery trucks, and working with teams at its truck making divisions, including Scania and Man, to bring that to fruition.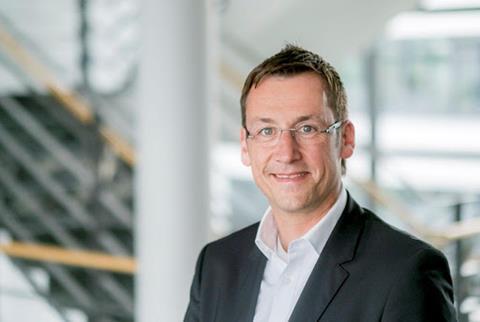 "I am 100% convinced that electrifying all the trucks we are using is the future," said Braun. "This will take some time but at the end of the 2020s [electric] trucks will be ready for long haul and final distribution. That will be a way to a more sustainable future for us and help achieve the climate targets to which we have committed."
As reported last year the carmaker is intends to have all the material, parts and vehicles it moves in Germany with state-run rail provider Deutsche Bahn (DB) transported using 'green electricity' this year. Currently 95% of VW freight movements carried by DB Cargo in Germany are accounted for by sustainable power generation. Bringing the figure up to 100% will save more than 26,700 tons of CO2 emissions annually, according to the carmaker.
In terms of automation, VW Group Logistics is carrying out a pilot project using teleoperated (or remote controlled) trucks at one of its plants as a bridging technology to full automation.
Braun said VW Group Logistics is learning from the use cases what the challenges are of adopting the new technology. He said the division saw automated driving as an area with a lot of possibilities for more efficiency in its daily business.
Watch more coverage from all the sessions at the ALSC Europe Live conference
Braun also sees a greater use of brokerage platforms for shared transport that will simplify the shift to an efficient, climate-friendly, multimodal logistics. Investment in new transport assets fit for sustainable future is going to be high and Braun said it would have to collaborate more closely with its logistic service providers to find a solution based on shared economy principles. "We are convinced that brokerage platforms [will increase] and we have to find our solution to get connected to that platform to make a shared community of transport assets," he said.
There are, however, questions to be asked about both to these technologies. Who will operate the teleoperated trucks? Braun said that this could lead to new job models. And if VW adopts in a shared brokerage platform for transport, who will be buying the transport assets? That is a discussion it will be having with its logistics providers.
Technology adding value
It is all about added value when it comes to the adoption of new technology, according to Braun.
"I don't implement any new technology just because it is a new technology. I always do it because I see an added value," he said.
Blockchain is one technology that VW does not currently see adding value to its logistics processes, Braun explained, but he did see the value of data lakes – storage repositories for vast amounts of data gathered from the different logistics operations. Building those data lakes at the moment is something of a challenge for VW Group Logistics but Braun is adamant that investment needs to go in that direction.
With the right data, Braun said VW Group Logistics would be able to advance into artificial intelligence (AI) and predictive analytics, two areas he said he was 100% convinced would be playing a major role at the company and the sector as a whole.
"We are missing a lot of information to use AI but VW Group Logistics has started a project to find transparency in the supply chain [establish it as] a basic, then put in systems and apps that can then lead towards AI solutions," he said.
Braun went on to say that with ability to gather the right data VW Group Logistics will be able to create a sustainable and efficient working environment and identify the right tools needed to automate and digitalise its processes for the future. For VW data is the key to a more sustainable future.