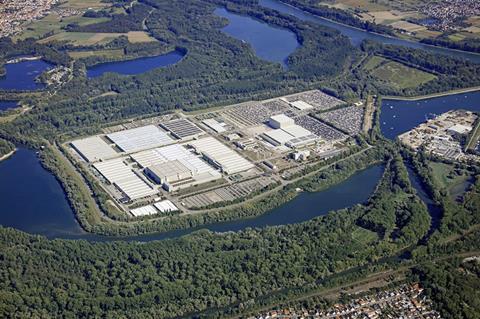 Mercedes-Benz has invested €100m ($84m) in a new warehousing complex at its global spare parts logistics centre in Germersheim, Germany, which handles aftermarket parts for Mercedes-Benz, smart and Fuso vehicles.
Its inauguration falls on the 30th anniversary of the establishment of Mercedes-Benz Global Logistics Center Germersheim.
The new 80,000 sq.m high-bay warehouse features a number of high-tech storage and retrieval devices, according to the carmaker. They include an integrated conveyor technology, which uses a combination of chain, hydraulic and electric pallet conveyors to directly send parts picked in a central part picking location to the high-bay storage areas. The warehouse also operates on a 'goods-to-person' ergonomic principle, in which parts are delivered to employees by automated delivery systems.
Overall, Germersheim's central warehouse holds around 500,000 different passenger car and commercial vehicle parts as well as Mercedes-Benz accessories across an area of more than 1.4m sq.m. The site supplies parts for parent company Daimler Group in Europe and overseas. On average, more than 40,000 consignment note items leave the facility every day.
"By opening the new high-bay storage facility, we are continuing the tradition here at the Global Logistics Center Germersheim of setting the standard in the automotive aftersales industry with the latest automation technology for vehicle parts logistics," said Ingo Flachs Nóbrega, head of steering and design and Mercedes-Benz Global Parts Supply Chain Network. "In doing so we have set the next milestone in the technical and digital transformation of our location."
Mercedes-Benz said that at its opening in July 1990 its logistics centre in Germersheim was already one of the largest and most modern distribution centres for vehicle parts in the automotive industry. Automated materials-handling technologies, such as driverless transport systems and storage and retrieval devices, were installed from the beginning and kept up-to-date through several modernisations and extensions.
"The Global Logistics Center Germersheim looks back on a successful and important history," said Klaus Ziemsky, site manager of the facility. "The continuous and high level of parts availability ensures that our aftersales location remains a reliable partner. In cooperation with our global logistics network, we ensure the prompt availability of spare parts anywhere in the world, even in challenging times. With commissioning of the new warehouse complex we are creating additional, dynamic storage area and preparing our Germersheim site for the future."