Mercedes-Benz Trucks has opened a new, dedicated service hub that will store spare parts and act as the logistics centre for all of its UK-based trucks, and also those of Daimler sister brand Fuso. At 13,000 sq.m it adds a fifth more space capacity than current facilities and is based in Willen, just outside Milton Keynes.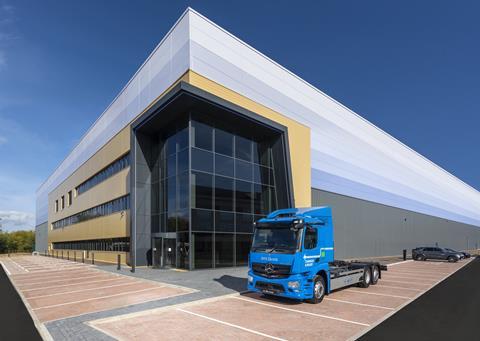 The hub will be operated by XPO Logistics, which has been Mercedes Benz Trucks' third-party logistics partner for all UK operations since 2020. Unlike the previously existing facilities operated by XPO and Mercedes, this will be a truck-dedicated and completely specific facility, meaning it can better service UK-based fleets.
Heiko Selzam, the managing director of Mercedes-Benz Trucks UK, said: "Together with members of our dealer network, we are committed to providing operators of Mercedes-Benz and Fuso trucks with the industry's finest aftersales back-up. This fantastic new centre, coupled with the ground-breaking agreement we have reached with XPO Logistics, provides the perfect platform from which we will be able to provide our customers with the fast, efficient parts support they deserve."
The facility is currently being fitted out, with deliveries already arriving from Germany. Parts will be held in dedicated storage, with small and medium-sized parts in a three-tier mezzanine system that is accessible on foot. Larger and fast-moving parts will be held on dedicated racking.
As well as general opening hours of 6am until 10pm on weekdays, the centre will have a 24-hour call out service for any issue involving vehicles that require immediate repair or services. Approximately 35 XPO staff members will man the site and pick and pack parts for delivery.
"Rather than just moving to a new warehouse, we're effectively adopting an entirely new supply chain," said Philip Cross, head of parts logistics for Mercedes-Benz Trucks. "As with so many industries, the automotive logistics aftermarket is becoming increasingly specialised, and given our focus on providing the best possible service to customers we felt this was the right move at the right time."
Cross said that XPO was familiar with the dealer network through its work on the transport of parts from existing logistics centres.
"This means that any disruption can be kept to an absolute minimum when we commence operations from our new site in January," he said.