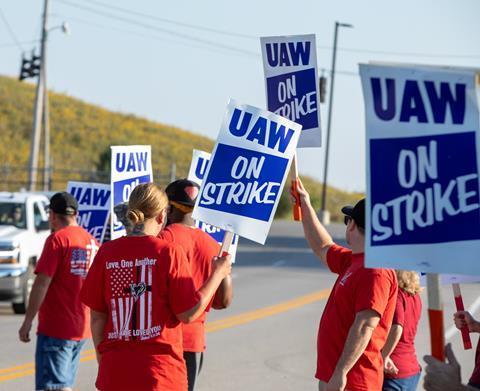 Members of the UAW union are this week voting on a tentative, four-year agreement which negotiators have reached with General Motors (GM) after a strike lasting five weeks and counting.
The stoppage, which has brought large swathes of North America's automotive supply chain to a standstill, continues until ratification. Informational meetings and voting end on October 25.
"Ultimately, UAW members will make the decision to ratify the agreement," said union vice-president Terry Dittes.
GM issued a statement saying: "We encourage the UAW to move as quickly as possible through the ratification process, so we can resume operations and get back to producing vehicles for our customers.
"Our goal during these negotiations was to ensure the future of General Motors is one that works for our employees, dealers, suppliers and the communities where we operate."
Terms in the draft agreement, which include a GM commitment that plans to increase its electric and autonomous vehicle lineup, as well as expand the use of advanced processes and new technology, will not move work out of a bargaining unit.
In addition, UAW members will be able to retain the higher-skilled work associated with new technology.
A National Committee on Advanced Technology will be set up to discuss the impact of future technologies on UAW members, especially where work is to be moved out of a bargaining unit.
GM also agreed to speed up processing payment for members whose innovative ideas the company adopted. The awards will be raised by $5,000 to a maximum of $25,000 for individuals and $30,000 for teams.
The union also says it won a pledge from GM to shorten full-time temporary workers' path to permanent status.
But union negotiators have had to accept planned closure of the Lordstown assembly plant and transmission factories at Baltimore and Warren. CCA Fontana will also shut down during the agreement's four-year tenure. But closure-earmarked Detroit Hamtramck will be retained for a new product, according to the draft agreement.
Severance packages have been proposed for workers who will lose their jobs due to the factory closures.