Members of the United Auto Workers (UAW) union have started a strike against the 'big three' Detroit OEMs GM, Ford and Stellantis, after their contracts expired and no agreements were reached.
The strike will be targeted and will start small but could grow bigger. For now, the union workers are on strike at GM's Wentzville Assembly plant, Ford's Michigan Final Assembly and Paint plant, and Stellantis' Toledo Assembly plant.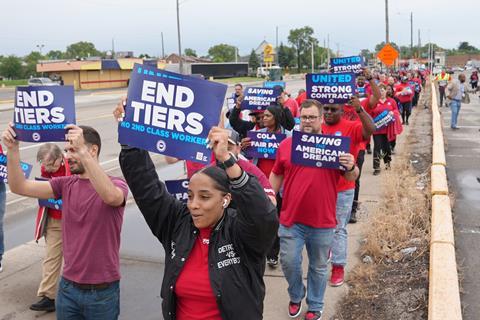 In a statement, the UAW said: "This fight is our generation's defining moment. Not just at the 'big three', but across the entire working class. We will stand up for ourselves. We will stand up for our families. We will stand up for our communities."
The union, which represents 146,000 workers at the OEMs, said that as time goes on, more local branches will be called on to join the 'Stand Up' strike, giving them more flexibility to avoid exhausting its strike fund. UAW said it gives it the "ability to escalate all the way up to a national, all-out work stoppage if necessary".
The strike could see automotive suppliers facing redundancies and possible collapse, according to lawyers from Clark Hill who previously told Automotive Logistics that it would have a "devastating impact" on the wider supply chain in North America. Dennis Devaney, senior counsel, Clark Hill said: "This is potentially a major economic crisis that our clients who are suppliers may face, because if there is a strike, they're not going to be getting paid what they're supposed to, and there are going to be layoffs."
Ford released a statement after the deadline expired last night. "Ford has bargained in good faith in an effort to avoid a strike, which could have wide-ranging consequences for our business and the economy. It also impacts the very 57,000 UAW-Ford workers we are trying to reward with this contract," it said. "Ford remains absolutely committed to reaching an agreement that rewards our employees and protects Ford's ability to invest in the future as we move through industry-wide transformation."
GM said it was "at a crossroads" in a statement to its manufacturing team before the midnight deadline. It said it continues to bargain in good faith but added that it "had a strike in 2019 and nobody won". The 2019 strike brought widespread disruption to the US supply chain.
in a statement today, Stellantis said: "We are extremely disappointed by the UAW leadership's refusal to engage in a responsible manner to reach a fair agreement in the best interest of our employees, their families and our customers. We immediately put the Company in contingency mode and will take all the appropriate structural decisions to protect our North American operations and the Company."