Volkswagen has ended production of the Golf hatchback at its Puebla plant in Mexico. The performance versions of the new Golf will be imported from Germany while American production shifts to SUVs
The Golf remains one of the most popular cars in Europe, but because of the US' preference for large and high-riding vehicles, US consumers bought just over 6,000 units of the hatchback in 2020, even if that was a slight increase over the year before.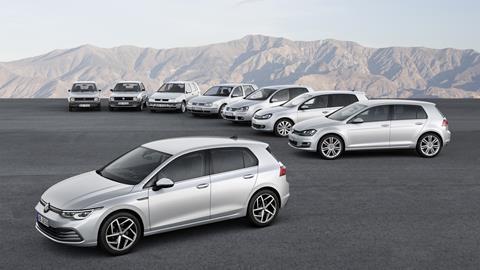 As a result, VW has ended production of the seventh-generation Golf in Mexico with no plans to produce the eighth generation there. Production of the eighth-generation Golf started in Wolfsburg in 2019 and VW USA plans to only import the GTI and R performance versions.
The Puebla plant will instead start production of the slightly larger Taos SUV later this year.
The same move to higher-riding vehicles is happening at VW's US plant in Chattanooga, Tennessee, where the Passat sedan is likely to be phased out without a replacement. Instead, production will shift to the ID.4 electric SUV when it goes into US production in 2022. Currently, ID.4 models are produced in Zwickau, Germany, and imported into the US. The European-market Passat, which is substantially different from its North American relation, is likely to get a successor.
"Over four decades, the Golf has delivered a great value to American drivers," said Hein Schafer, senior vice-president, product marketing and strategy, Volkswagen of America. "It exemplified what Volkswagen does best – melding dynamic driving characteristics with purposeful packaging and unmatched quality. While the seventh-generation Golf will be the last of the base hatches sold here, the GTI and Golf R will carry its legacy forward."
Last year VW began shipping vehicle volumes from Germany to North America on a car carrier fuelled by LNG as part of its goTOzero decarbonisation strategy.
For shipments of the Taos SUV north to the US and Canada VW will use a combination of rail and shortsea from Mexico.