Stellantis has confirmed that Christopher Mattingly retired from his role as vice-president of transportation in North America. The carmaker said a replacement had not been named.
Mattingly, who left Stellanis at the end of May, had worked for the carmaker through various structures and ownerships for 35 years in a wide range of roles, including parts and material transport, at Chrysler, DaimlerChrysler and later Fiat Chrysler Automobiles (FCA). He took up the role of director of inter-regional flow and customs at FCA in 2018 before becoming vice-president of transportation for Stellantis in 2021 when the FCA merged with PSA. He had responsibility for all inbound, packaging and vehicle logistics planning and operations in North America, as well as global flows of vehicles and parts to and from the region.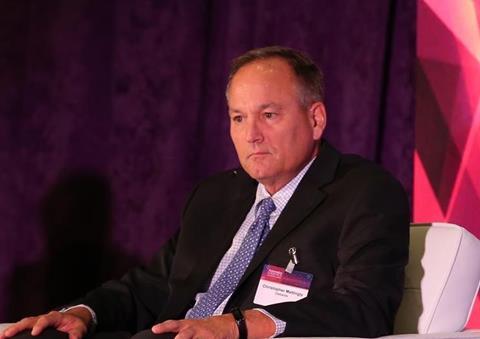 A Stellantis spokesperson confirmed that Mattingly had retired, and that a replacement was expected to be named by July 1st. Like Mattingly, his replacement will report to Anna Markett, who has been senior vice-president of supply chain for North America since autumn 2021.
Mattingly has held leading positions across supply chain management, including logistics, procurement, supplier quality and production control, during his time at the company. In recent times he brought that expertise to support the carmaker in dealing with the volatile outbound volume flows, low inventory, and capacity and labour shortages since the Covid pandemic.
Speaking at Automotive Logistics and Supply Chain Global last year, he outlined initiatives Stellantis was taking to deal with the shortage of drivers in vehicle haul. Stellantis is looking for ways to recruit more drivers, including for its own fleet of car carriers in Canada. They include bringing drivers in from the regular 'dry van' transport sector and attracting talent from schools and community colleges.
"It takes some time to get through the training to make that happen, but we have some experience with that. It has been a good initiative for us," he said.
Nick Thompson, who as head of vehicle logistics in North America reported to Mattingly, told the recent Finished Vehicle Logistics North America conference in May that Stellantis was currently seeing capacity challenges especially in rail and ro-ro shipping, and "pretty much everywhere" in Mexico.
In related news, in spring Jon Schwartz took over as senior manager of North American inbound logistics at Stellantis. Schwartz moved from his role as senior manager of North America supply, responsible for production planning and capacity management for the Jeep Wrangler at the Toledo North plant, Jeep Gladiator at the Toledo Supplier Park, and Jeep Compass at Toluca.
Prior to that Schwartz held a range of roles in logistics, procurement and production planning at Chrysler and FCA.