Daimler is realigning its management board responsibilities with the Mercedes-Benz division to create more streamlined decision-making following the announcement that it is separating its passenger car and truck divisions.
As part of the change, Jörg Burzer (pictured), who leads production and supply chain management at Mercedes-Benz, is also joining the management board of Daimler from December 1, 2021.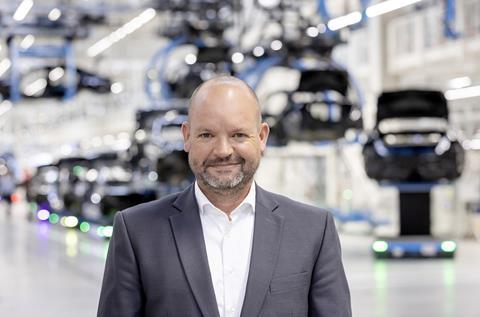 Daimler is spinning off its commercial vehicles business into a separately listed and fully independent company called Daimler Truck Holding. The company is also renaming Daimler AG as Mercedes-Benz Group in the first quarter of 2022, emphasising its focus on cars and vans in the luxury and premium segments. The company is calling the reorganisation Project Focus.
"In addition to separating Daimler into two separate pure-play companies, more efficient governance structures are being created so that Mercedes-Benz can accelerate into a software-driven zero-emissions future," stated Bernd Pischetsrieder, chairman of the supervisory board of Daimler.
Pischetsrieder said that Burzer has "played a decisive role in transforming the global production network of Mercedes-Benz into a highly efficient, digital, flexible and sustainable operation, capable of scaling up to meet the rapidly increasing demand for electric vehicles".
Burzer joined the former DaimlerChrysler in 1999, working in vehicle pre-development. He has been board member responsible for production and supply chain management since 2019. Previous to that he was head of quality management at Mercedes-Benz Cars.
In his new role he will work alongside Markus Schäfer, who leads group research at Daimler and is chief operating officer at Mercedes-Benz Cars. As part of the management alignment Schäfer will take on the role of chief technology officer at Daimler as well as being responsible for development and procurement at Mercedes-Benz.
As part of his expanded role, Schäfer will assume overall responsibility for e-drive systems and car software, including connectivity and autonomous vehicle technology.
Hubertus Troska, who currently heads the Greater China region at Daimler, will also join the management board of Mercedes-Benz as part of the reorganisation.
The company said that the "entrepreneurial freedom" afforded the restructuring will allow it to pursue its goal of reaching zero emissions.