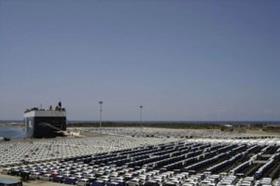 Vehicle transporter Automar of Italy has acquired complete ownership of AutoTerminal Gioia Tauro in the country's south through purchasing the 50% held by the terminal's founder, BLG Logistics of Germany.
Renamed AutoMar Gioia Tauro, the terminal and its operations will subsequently be incorporated into Automar.
BLG set up the Gioia Tauro car storage and handling base in 1999. The terminal currently covers 320,000 sq.m, has storage capacity of around 18,000 vehicles, a 2,400 sq.m centre for pre-delivery inspections (PDI) and three railway sidings.
In 2016 Automar purchased a 50% stake, using the car carrier connections of the Grimaldi Group. The Italian shipping line is one of Automar's shareholders. The others are Bertani and Mercurio.