Nissan North America is the latest carmaker to use the US port of Brunswick for vehicle imports. The carmaker is moving vehicles through the port for distribution to its dealer network in the US south-east.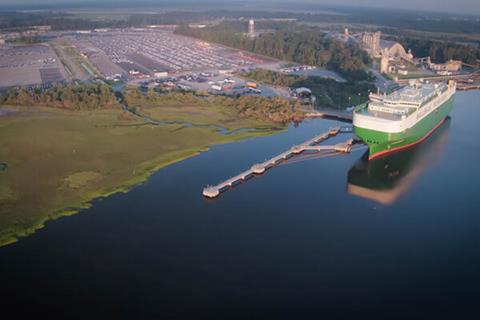 The Georgia Ports Authority (GPA), which runs Brunswick port, is developing an additional 34 hectares (85 acres) for vehicle storage at the Colonel's Island terminal, and maritime services provider Wallenius Wilhelmsen Solutions (WWS) will add three new buildings to support vehicle processing for Nissan.
"With WWS expanding its presence to make Brunswick a hub port for its auto processing, combined with new customers such as Nissan coming onboard, Colonel's Island Terminal is poised to become the nation's premier gateway for vehicles and heavy machinery," said GPA Board Chairman Joel Wooten
The additional developments for Nissan come on top of $60m the GPA has approved for additional buildings, property development and civil infrastructure to expand ro-ro capacity at Colonel's Island terminal. GPA said those projects are in addition to $186.8min improvements the board approved in January and March. A total of $25.4 million will go to upgrades for GPA common areas.
By 2023 GPA will have expanded annual vehicle capacity at the Colonel's Island terminal to 1.4m units, the result of a $150m investment. As part of the expansion plans GPA is adding 33,445 sq.m (360,000 sq.ft) of new warehousing, along with the 34 hectares of vehicle storage. GPA has a total of around 145 hectares permitted for expansion.
Last year Brunswick port and its neighbour Savannah moved almost 633,000 vehicles.
The Port of Brunswick also recently received federal approval to add a fourth berth at Colonel's Island. The project will more efficiently accommodate the larger vessels with a capacity of 7,000-plus vehicles.
"Brunswick is a great fit into Nissan's network, based on its location close to our dealerships in the southeastern US, [with] proximity to I-95 for truck haulaway, and rail connections," said J.S. Bolton, director of supply chain management for Nissan.
Nissan also moves vehicles through the port of Jacksonville. The carmaker has yet to comment whether the move to Brunswick represents a shift in port for those volumes destined for the south-east or whether it will continue to use both.
Read more about developments at the port of Brunswick in our most recent review of activity at the North American vehicle handling ports