US east coast ports have been grabbing land to handle increased volumes while some on the west coast deal with dramatic volume fluctuations. In Mexico, meanwhile, private investment is helping to deal with congestion. Marcus Williams reports on the performance of North American vehicle handling ports in 2018
Last year there were some notable fluctuations at vehicle-handling ports in the US and Mexico, both in terms of volume increases and decreases. Those fluctuations, against an otherwise steady but unremarkable performance amongst the majority, were caused by a combination of factors, including increased short-sea volumes from Mexico that were unforeseen and new trade on deep ocean routes. Shifts in entry points for vehicle imports on the west coast of the US were also a factor in the more obvious volume changes.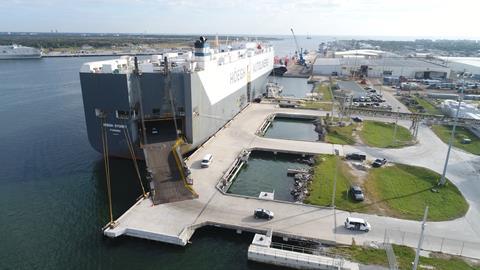 The impact on capacity of these shifts at the ports comes at a time when vessel operators are looking to move more cars on post-Panamax vessels and make fewer calls, meaning ports were faced with sudden influxes. Port operators faced with space issues have been responding with land grabs and new handling strategies at a number of locations.
In the US, the east coast ports remain dominant in terms of vehicle-handling numbers. The US' busiest vehicle-handling port remains Baltimore, which actually posted an increase of almost 43,000 units last year, up more than 5%. The rise at Baltimore, to more than 850,000, including imports and exports, was a record for the port and put it in a secure lead in the US for the eighth year in a row.
"We also saw volume increases from all of our major OEMs and had strong growth from our privately owned vehicle business to Africa," says a spokesperson for the port.
Increased short-sea volumes to and from Mexico, and more imports from India have also helped to push up numbers at Baltimore. The recent announcement that terminal operator Tradepoint Atlantic will be adding VW traffic in 2020 will further strengthen the port's vehicle-handling profile.
Those added volumes raise the question of space, which is a continual challenge for Baltimore as it is for a lot of the North American ports dealing with growing numbers and ever-bigger pure car and truck carriers (PCTCs) discharging more cars.
"We are always looking for additional land to help with our increasing auto business," says the port of Baltimore's spokesperson. "We also keep a close watch on the overall flow of vehicles that arrive at the port of Baltimore to the time they exit either by ship or by truck."
This summer is expected to see the opening of a new seven-acre (2.8 hectare) parcel of land that will be used for vehicle storage and processing.

Meanwhile, Jacksonville port, to the south, finished construction in December last year on the first phase of its Dames Point Auto Terminal, which is providing an additional 25 acres of land directly adjacent to the berth. The plan is to develop infrastructure for a further 40 acres at the site, according a spokesperson for the Jacksonville Port Authority (Jaxport), who says a number of growth factors are making the need for more space a priority. These include "the continued strong US economy and the growing consumer base in the state of Florida and larger southeastern US," he says. "Additionally, the port's proximity to OEMs' southeastern production facilities have led to healthy export volumes."
Again, Mexico is providing more business and now accounts for 18% of the port's overall handling, but there are also deep-ocean routes opening up for Jaxport. Last year, Höegh Autoliners initiated a new trade lane linking Jaxport to Australia and New Zealand on a fortnightly basis, increasing export opportunities.
"Some neighbouring ports have seen carrier service reductions recently, which our carrier partners have been able to benefit from in Jacksonville, with new cargo opportunities here," says the spokesperson.
In addition, early last year Jaxport's partner, North Florida Warehouse FTZ, opened a 3.7-acre outdoor storage facility close to the North Jacksonville terminals. While the port of Jacksonville saw a 4% dip in volumes in 2018 to just over 667,000, the numbers are healthy in 2019.
"More than half-way through our fiscal year we are running approximately 10% off last year's pace, and if this trend continues Jaxport will finish with potentially its busiest year ever for vehicle cargoes," says its spokesperson.
Room for manoeuvre
Georgia Ports Authority (GPA), which oversees activity at the ports of Brunswick and Savannah, has seen an increase in imports of 9.5%, which brought its overall results up to more than 633,000 units despite a decline in exports of around 14%. Brunswick's import volumes are more than twice its exports and they are brought in through the Colonel's Island Auto Terminal, on which there are three processing facilities. It is here that work has continued on developing additional space to improve storage and flow of traffic, and deal efficiently with the increase in volumes.
Over the last couple of years, 806 acres have been built specifically for vehicle processing and a further 355 acres have been handed over by the US Army Corps of Engineers for development, which is now underway. According to GPA, there are now 61 dockside acres that are being redeveloped for ro-ro cargoes, with a fourth berth planned for Colonel's Island. In addition, there are currently upgrades underway to allow Berth 2 to accommodate larger post-Panamax vessels.
Colonel's Island also benefits from good rail links to the hinterland via the Golden Isles Terminal Railroad, which interchanges with two Class I rail providers, CSX and Norfolk Southern. Twelve miles up the line at the Anguilla Junction, there is a rail yard with 39,000 feet (11,890 metres) of track.
"There is a mile-long passing track halfway between Anguilla Junction and the Myd Harris Rail Yard," says the spokesperson for GPA. "Myd Harris Rail Yard has 15,010 feet of track and nine tracks. On the south side of Colonel's Island 55 acres have been set aside for additional for storage, loading and unloading of rail cars. Rail cars can also be stored on the track at Colonel's Island."
There is also new activity on the export side despite the drop in 2018. KIA Motors, which has been using Savannah since 2009 to import parts for assembly at its plant in West Point, Georgia, is now also exporting its large Telluride SUV to the Middle East from the Colonel's Island Auto Terminal in Brunswick port, supported by Hyundai Glovis.
Meanwhile, at Savannah's Ocean Terminal, GPA is paving nearly eight acres for additional parking slots, which is expected to be complete by September 15 this year. Savannah, which is also a large container port, helps to bolster vehicle exports, with the new parking slots will support.
Incentive for growth
Up at the port of New York and New Jersey there was a very marginal dip in volumes but the port is preparing for growth, something that will be helped by the port authority's (PANYNJ) go-ahead for a new Auto Incentive Program, which starts this year through to 2023.
The initiative enourages the growth of new vehicle imports and exports at the port and follows a similar scheme that expired last year. The new programme includes additional incentives for fuel-efficient, hybrid and alternative fuel vehicles.
Improvements to Colonel's Island Auto Terminal at the port of Brunswick
• 189 additional acres developed for vehicle storage, increasing parking slots from 60,000 units to 90,000 units
• New lights added to the Myd Harris railyard
• Two roundabouts built to accommodate the smooth flow of traffic throughout the terminal
• Connector road built to improve by 20% the movement of vehicles to the south side properties
• Relocation of Gate 2
• Funds approved for the design of future rail expansion on a 55-acre site
• Three additional loading and unloading vehicle pads planned on two loop tracks behind Berth 2
• Re-development of the 61-acre site of the former Bulk Terminal behind Berth 2
The port has also started receiving its first short-sea shipments from Mexico, and volumes from there are expected to grow over the next years as vehicle output and exports build in Mexico.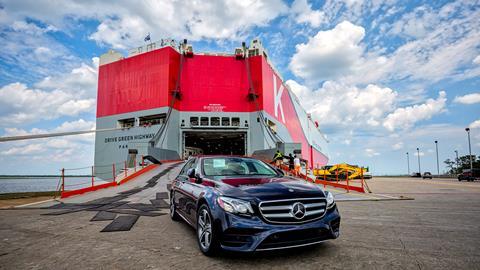 "The new OEM production facilities in Mexico are an anticipated source of import growth over the next few years," says the port spokesperson. "With the potential tariffs in China and Europe we speculate some productions shifts to these facilities." (See page 34.)
To cope with the expected growth over the coming years, PANYNJ has committed an additional 53 acres for finished vehicles at Port Newark South, and a spokesperson for the port says that could increase the port's car handling by between 100,000-125,000 units when fully operational, on top of the 573,000 moved in 2018. The port used 2018 to start working on access improvements to its auto terminal areas under the Port Street Corridors Improvement initiative.
Opening up space in Virginia
At the port of Virginia's Newport News Marine Terminal (NNMT) vehicle volumes were down to 25,000 in 2018, half what they were the previous year, but with the opening up of space at the port's second multi-use terminal, Portsmouth Marine Terminal (PMT), there is now scope to expand on vehicle processing.
Virginia mainly handles Nissan and Infiniti imports from Japan through NNMT, but in 2017 figures were higher at the terminal because it accommodated a number of trial volume shipments from carmakers exploring the port as an option. The Port of Virginia authority says developing automotive imports is an important part of its wider effort to diversify cargo mix and discussions are ongoing with those trial customers to secure further business, including at the PMT.
"The Port of Virginia, because of its deep water, strong rail connectivity to important Midwest markets, and multi-use terminals – NNMT and PMT – has traditionally been an export-import centre for auto and ro-ro cargo," said its spokesperson. "Our goal is to expand the number of autos moving across our port and we have the necessary infrastructure to accommodate our effort."

An additional 150 acres is now available at PMT thanks to port investment in its container terminals, and specifically the Virginia International Gateway, which has taken containerised traffic out of Portsmouth and Newport News.
While the Virginia International Gateway was being built PMT was used as a container terminal. Now the port is in the process of shifting that container traffic over. "With more and more space at PMT opening up, we can begin to develop the necessary density to get more regular vessel calls from auto importers," says the spokesperson. "We have the necessary capacity, infrastructure, inland connectivity, and strategic Mid-Atlantic location to offer a lot of value to the marketplace."
Portsmouth Marine Terminal provides a larger footprint for handling vehicles, according to the port, and is doubly served by CSX and Norfolk Southern, which increases the port's reach for exports.
Terminal technology
A relative newcomer to volume vehicle processing, the port of Canaveral in Florida currently handles a more modest number of vehicles than some of its east coast neighbours, it being focused on space projects, but its tenant automotive processor, Autoport Canaveral, has spent another year developing a full menu of services and the latest technology required to support them.
"Autoport has made a significant investment in its terminal operating system (TOS), adding the use of tablets in the field," says a spokesperson for the processor. "The new cloud-based system has added versatility to terminal operations. Since its implementation, the new TOS has positively impacted our customers with the benefit of providing real-time vehicle conditions and status."
Autoport Canaveral has 16 acres of storage space and the port also has a project underway to improve access to cargo and cruise terminals at its northern end. The $14m-plus Wayfinding and Northside Roadway Improvement project includes sign enhancements and upgrades, including the introduction of electronic signs to improve traffic flow and manage increased vehicle volumes.
The port is also developing a multimodal berth to handle heavier, more diverse cargo. Scheduled for completion in spring 2020, the $18.5m berth project will accommodate vessels up to 850-feet long (260 metres) with 35 feet of draft.
"Port Canaveral has a significant role and responsibility in building and sustaining a strong economy on the Space Coast, and throughout central Florida," says port CEO, captain John Murray. "To do this successfully, we must continue to invest in infrastructure to promote solid growth and economic prosperity for the region."

Ups and downs on the west coast
There were some dramatic changes in volume on the US west coast during 2018. The port of Los Angeles saw an overall decline in units of more than 50% in 2018, down almost 81,000 on the previous year. That is largely explained by Wallenius Wilhelmsen's decision to shift a significant volume of Nissan deliveries to a new facility in the northwest (most probably the new facility it is managing in Tacoma, though this was not confirmed). The only car terminal at the port of LA is managed by WW Solutions and the shift meant that total units were down to around 156,000 from almost 237,000, dropping the port six places to 19 in the top 30 vehicle handling ports in North America.
San Diego port to the south also saw dramatic variation, increasing overall handling to 480,000 units, a 22.5% increase over 2017, but at the same time losing the majority of its export trade.
According to San Diego's spokesperson, the port has benefitted from an increase in demand from US consumers for SUVs and trucks, which now account for 70% of sales there. That trend has been a driver in new models being introduced to meet market demand.
Vehicles imported through the vehicle-handling terminal in San Diego, operated by Pasha Automotive Services (PAS), are in the main from Asia, South America and Europe, and the port counted Honda, Hyundai, Mazda and Toyota among its major clients last year, as well as VW Group and FCA.
San Diego has also seen new import trade from electric vehicle manufacturers, though the port authority did not confirm which OEMs were involved. In terms of improving throughput, the port is working with the city authorities on the National City Balanced Plan, designed to establish priorities for land use in the bayfront area, including optimising maritime operations and commercial redevelopment.
As part of this, Pasha is working on the Connector Rail Project, which will connect the existing rail and loop track located on the National City Marine Terminal to additional rail car storage spots at the existing Burlington Northern Santa Fe (BNSF) National City Yard, east of the National Distribution Center. The rail track would connect the BNSF National City Yard directly to the existing rail loop and loading tracks on the National City Marine Terminal (NCMT). That will give Pasha easier access to empty rail cars at the BNSF National City Yard, which it can use for vehicle transport.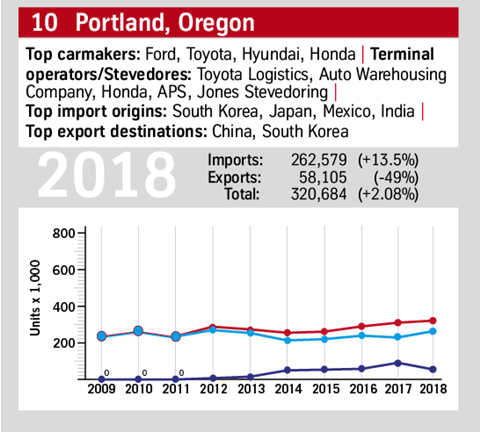 Improving throughput
At the port of Hueneme, up the coast at Oxnard, volumes were slightly down on 2017 but the port welcomed its first shipment of Subarus imported from Japan in October last year. The vehicles are being brought in by WW Ocean and processed by WW Solutions at Hueneme for onward delivery to dealers in southern California, Nevada and New Mexico. Ted Boudalis, regional and general manager of VPC port operations and straetgy at WWL Solutions, says the company expanded its operating space by five acres to accommodate the additional Subaru volumes. "Part of the expansion includes the renovation of a 30,000 sq.ft building," says Boudalis. "We've also invested in and started using a mobility tool to allow us to delivery high-quality processes and real-time reporting on the operation's KPIs."
The reorganisation of WWL into WW Ocean and WW Solutions is able to answer demands from ocean and inland services that are at different levels of maturity, according to Batista.
"We have found that the demand for the inland and technical services continues to be more complex as manufactures attempt to standardise at a plant level, but differentiate at a regional level," he says. "Whereas, the ocean component is much more mature and focused on capacity and service assurance. The two-pronged approach has allowed us to focus our resources on building the necessary capacity and look for efficiencies for the customer within the overall supply chain."
Like some of its west coast neighbours, Hueneme port has also seen an increase of short-sea vehicle imports from Mexico. "We are actively pursuing other short-sea shipping initiatives that make sense for the west coast market volumes, instead of railing units from Mexico to the US, which costs $314m annually," says a spokesperson for Hueneme. Mexico volumes into the US have grown 312% overall in 2018, according to the port authority.
The spokesperson also says that it is looking at implementing new technology to track vehicle movements in the port to increase productivity and space utilisation.
At the moment, Hueneme is moving vehicles off port for processing between three to five days after their arrival, and for export they are placed on dock within one or two days of the vessel arriving at port.
The port also processes high-and-heavy units and other rolling stock, and in 2018 handled more than 16,700 units in this category.
The port of Long Beach is also working on making throughput more efficient. In August 2018, it approved an environmental review for Toyota's investment plans to consolidate its existing operations at Pier B, and streamline operations. Work at the terminal will include construction of one new facility that will bring together separate existing buildings, including offices, a carwash and vehicle servicing and repair facilities.
The Port of Long Beach Harbor Commission has also approved an $820m on-dock rail facility at Pier B.
Up at the port of Tacoma, Washington State, the Northern Seaport Alliance (NSA) opened a new vehicle-handling facility late last year, managed by WW Solutions. It is the first time WW Solutions has had a presence in the Pacific northwest.
Nissan is the first customer to use the Taylor Way Auto Terminal, which is the second such facility at Tacoma (Auto Warehousing Company has been operating a vehicle-handling facility there since 1977). According to the NSA, Tacoma has become the new port of entry for Nissan in the Pacific northwest and the new facility will push annual volumes up by 15% over the 2018 figure of around 146,000 units.
Regarding developments at the Port of Portland in Oregon, meanwhile, along with resident terminal operator Auto Warehousing Corporation, the port completed construction of an additional 19 acres of auto storage adjacent to Terminal 6. The new staging facility provides offload storage for BNSF's Rivergate rail ramp. According to a spokesperson for the port, the facility improved logistics efficiency and increased the capacity to export vehicles.
The North American ports have continued to expand their service capabilities on the whole in 2018, but the forecast is for a decrease in volume through 2023 and that raises the question of what effect excess capacity will have on the market.
One other question affecting trade are new berth regulations, being brought in to reduce emissions from vessel engines. They may not be practical and even costly for both ports and vessel operators if applied to PCTCs, which discharge their vehicle cargo in a much shorter time, typically within six to 12 hours.
Tariff threat to import trade
One of the main concerns for the North American port operators through 2018 and into this year has been the impact of trade and tariffs on the import of vehicles. Under the Trump Administration there have been tariffs of 27.5% applied against vehicle imports from China (and China applied its own tariffs on US imports), and there remains the possibility that tariffs as high as that could be applied to imports from the EU.
There was also a flurry of concern at the beginning of June this year when Trump threatened escalating tariffs on imports from Mexico unless the government there did something to curb illegal immigration, though that threat was removed following the signing of an agreement which stated that the US would "indefinitely suspend" any tariffs in exchange for Mexico taking "strong measures to stem the tide of migration through Mexico" to the US border.
In 2018 the Trump Administration said it would impose $200 billion worth of tariffs on 5,745 items imported from China. The trade tension with China that has continued since last year is related to Trump's Section 232 investigation, which was requested in May 2018. Section 232 authorises the president to apply tariffs (or other means) to adjust imported goods if they are deemed to threaten national security.
The Center for Automotive Research in the US said in a report sponsored by the National Automobile Dealers Association that a wider imposition of the 25% tariff would raise US light-duty vehicle prices by $2,750 on average, and at the same time drop sales to 1.3m units per year.
As discussed at the Finished Vehicle Logistics North America conference in California this year (see p18), the US government's response to findings from the 232 investigation into vehicle (and parts) imports – and any retaliatory tariffs by trading partners – will force decisions by carmakers on the import/export mix. It will also influence production decisions, in terms of what vehicles are made where.
The degree of response from industry will depend on the severity of the tariff. Attempts to bring forward orders before a tariff increase can be costly and disruptive, with both direct and indirect costs because of congestion and an inevitable strain on processors who are in some cases already looking for extra capacity.
No clemency for carmakers
GM and Volvo Cars applied to be excluded from the 25% import duty on their Chinese-made SUVs but this request was turned down by the United States Trade Representative (USTR) and Volvo has shiftd production of its US-bound XC60 to Sweden.
GM had argued that Envision sales in China and the US would generate funds "to invest in US manufacturing and develop the next generation of automotive technology in the United States."
The US carmaker had also argued that the vast majority of Envisions, about 200,000 a year, are sold in China and, because of lower US sales, assembly in its home market was not an option.
In response to the USTR rejection, a GM spokeswoman said the carmaker did not have any plans to adjust the volume or price of the Envision in the US and would continue to comply with the trade rules.
The North American ports have taken a 'wait and see' approach in their response, though there is an understanding that if tariffs are applied there will be a slowdown in the receipt of vehicle volumes. A spokesperson for Long Beach port says that while there is concern about the potential application of tariffs it "remain[s] optimistic that Washington will come to mutually beneficial agreements with our trading partners".
The Port Authority of New York and New Jersey (PANYNJ) was a little more direct and said the tariff issue was one of a number of issues the ports in the US were dealing with. "We share the challenges and concerns with the industry in terms of tariffs, softening of new vehicle sales and OEM production realignments; these challenges certainly impacted our 2018 year-end numbers," says a spokesperson for the port.
The latest developments at the finished vehicle handling ports in North America will be central to discussions at this year's FVL Import Export summit, which takes place on the August 6-7 in Baltimore