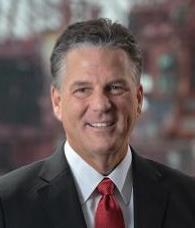 Peter Levesque is to become president of North American marine terminal operator and stevedore, Ports America in February 2020. He takes over from Mark Montgomery, who has held the position as well as that of CEO since the beginning of 2018. Montgomergy will continue as CEO.
Levesque brings more than 30 years of maritime industry experience and moves from his role as managing director and CEO of Modern Terminals in Hong Kong, a company at which he has spent nine years.
"I am thrilled to have Peter be part of our leadership team of the Ports America platform," said Montgomery. "Ports America remains focused on providing best-in-class service to many of the world's leading shipping lines, as well as the work we have completed in improving workflow solutions to beneficial cargo owners to drive dramatic growth for the company."
Based in the US state of New Jersey, Ports America provides services for all types of cargo, including container, bulk, breakbulk and automotive. The company handles more than 2m finished vehicles a year and is expecting growth of around 2-3% over the next five years.
"Having Peter Levesque join Mark Montgomery, Rick Surett and Jim Pelliccio as a core part of the management team is central to the strategic growth plan for Ports America," added Dave Starling, chairman of the company board. "Peter's strong leadership, experience and success in building superior organisations gives the board the utmost confidence that this team will drive the continued success of the company."
Read more about Ports America's vehicle handling in our interview with Luke Doremus, director of sales for auto/ro-ro.