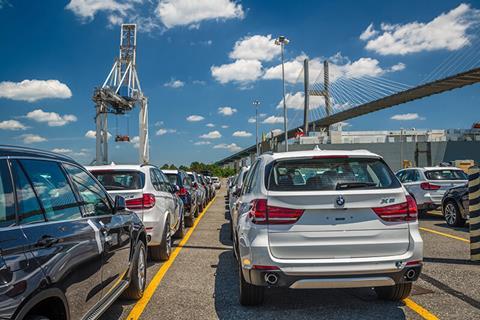 As part of this year's review of activity at the North American vehicle handling ports, Automotive Logistics spoke with Luke Doremus, director of sales for auto/ro-ro at stevedore and terminal operating company Ports America, about efficiency gains and losses and how the company is working with port authorities to improve berth productivity.
Q&A: Luke Doremus, Ports America
What are three main issues affecting vehicle flows and logistics at the ports at which the company provides services? Do these issues differ by region?

Each port has unique challenges affecting vehicle flows and some of those issues are on the terminal and processing side of the business. On the stevedoring side, we face two major challenges – land availability and distance to the first point of rest (FPR).
Factfile: Ports America
Number of vehicle units processed in 2017: 2.1m
Top ro-ro providers calling at Ports America facilities:WW Ocean, NYK, K Line
Locations of stevedoring services:Boston, MA; Davisville, RI; Newark, NJ; Baltimore, MD; Norfolk, VA; Charleston, SC; Savannah, GA; Brunswick, GA; Jacksonville, FL; Galveston, TX; Wilmington, CA; Port Hueneme, CA; Tacoma, WA
Where has efficiency been improving and by comparison, where is it suffering? What do you see as the contributory factors in both cases?

Efficiency is improving through better communication with our customers. We have been successful implementing structured working groups to solve problems and reduce or eliminate choke points in our operations. Efficiency is suffering because of the two issues mentioned above – land availability and distance to FPR.
Have there been any improvements in the use of technology to track, monitor and optimise port flows?

Yes, Ports America utilises a live scan technology that monitors production in real time, giving our teams the visibility needed to make quick adjustments in the operation to improve efficiency.
What particular improvements would you most hope to see in the short to medium term?

In ports where the FPR is far from the berth, we would like to work with port authorities and processors to develop an FPR area close to the berth used just to service the vessel. After operations are complete, the autos will be shifted to the processors. This model will significantly improve berth productivity in these ports.
What is Ports America's outlook for vehicle flows at the ports in which it operates this year and beyond?

Overall, we expect volumes to remain flat for 2018 with modest increases during the next three to five years (2-3%). Beyond five years, it is very difficult to project due to significant disruption expected in the auto sector, for example because of ride-share programmes, autonomous vehicles or electric vehicles, etc.
Ports with the ability to grow their footprint to service high-demand regions of the country will experience the most growth, ie those in the US south-east.
Developments at ports in North America will be central to discussions at the forthcoming Finished Vehicle Logistics Import Export summit in Baltimore, which takes place on August 7-8