Daimler Buses and its aftersales service brand Omniplus have set up a mobile 3D printing centre that fits in a container for the local production of spare parts. The 36 sq.m facility will speed the delivery of spare parts to bus customers and cut down on the transport of those parts from fixed production and storage centres.
In a pilot project the container has been situated at the BusWorld service centre in Hamburg, which is run by Omniplus, and is producing parts for Mercedes-Benz and Setra buses. All the container requires is an electricity supply and internet connection.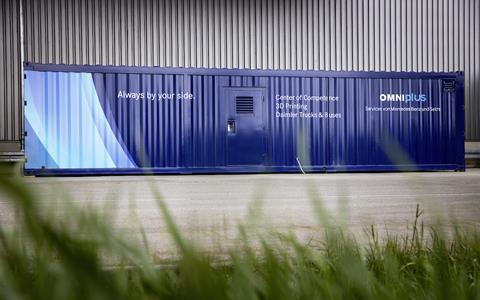 The 3D parts are printed using high-quality polyamide and meet the production standards for injection moulding and deep drawn parts, according to Daimler Buses (deep drawing is a sheet metal forming process). Currently, just under 40,000 bus spare parts can be produced with 3D printing technology and Daimler said that some of those are now only available as 3D printed spare parts.
"Thanks to the mobile 3D printing centre, we can exploit the advantages of 3D printing to a greater extent and further increase the speed at which we supply spare parts," said says Bernd Mack, head of customer services and parts at Daimler Buses. "Decentralised production of parts as required avoids warehousing costs and reduces transportation routes. Thus, 3D printing not only allows us to react fast, flexibly and economically to customer requirements but to also improve our ecological footprint for the production of spare parts."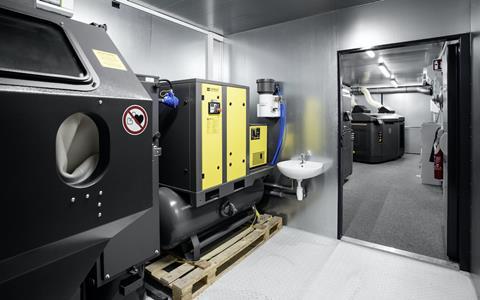 The production and delivery of 3D printed parts takes days at the most, compared to week for those conventionally produced, especially for parts that are rarely required or specialist. Daimler Buses said its Center of Competence 3D Printing, headed by Ralf Anderhofstadt, was currently focusing on digitising around 7,000 parts, which are being stored are stored in a 'digital warehouse' together with the necessary printing information.
Daimler Buses intends to further expand and decentralise spare parts production through the use of 3D printing centres. According to the company customers will then be able to purchase 3D printing licences from the commerce section of the Omniplus On portal and have the corresponding parts produced in a 3D printing centre certified by Daimler Buses.
Daimler Buses first announced its plan to 3D print spare parts last year. It follows similar moves by the Mercedes-Benz truck division, which started 3D printing of service parts back in 2016.