Mercedes-Benz Trucks is building a service parts centre in Halberstadt, Germany this year that it said will help make its spare part logistics more flexible, efficient and sustainable. It is the biggest logistics project in the company's history.
When complete, in 2026, it will be the main base for the worldwide supply of spare parts for Mercedes-Benz Trucks, according to the company. Parent company Daimler Truck said it had invested "a mid-three-digit million amount" in the facility.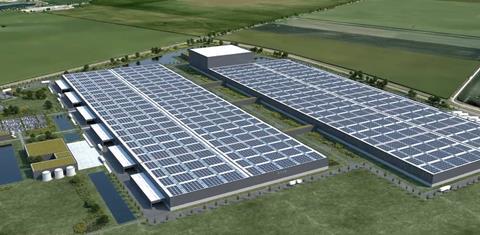 "At the end of 2022, we sealed the purchase of the property, the start of construction is planned for 2023, and the gradual commissioning should take place from 2025," said a spokesperson for the the truckmaker. "The investment thus extends over a period of several years."
The Global Parts Center will comprise a high-bay warehouse and an automated small-parts warehouse. The combined facility will manage 300,000 different line items for almost 3,000 dealers across the world. The truckmaker said the latest storage and conveyor technology will facilitate the timely retrieval of parts. Those parts will be supplied from around 2,600 suppliers and will be distributed to 20 regional logistics centres around the world, which in turn will supply the regional dealers.
In the first stage of expansion, the Halberstadt centre will have 260,000 sq.m of logistics space, across a wider 270,000 sq.m footprint. Once all three construction phases are complete and additional parts logistics operations are in place the company expects to employ 600 people.
"Halberstadt and the Global Parts Center will play a key role in the future," said Karin Rådström, CEO of Mercedes-Benz Trucks. "Spare parts from our new logistics hub will make a significant contribution to keeping our customers and their trucks up and running, thereby delivering on our ambition 'Trucks you can trust'."
Carbon-neutral facility
Mercedes-Benz Trucks is keen to promote the environmental credentials of the facility. According to the company, it will be a carbon-neutral operation, using electric heat pumps for an underfloor heating system that does not need gas or oil.
The roofs will also be photovoltaic systems able to generate up to 13m kWh of electric energy a year. Surplus energy generated at the centre will be made available to other locations in Germany operated by parent company Daimler Truck.
The company also said that charging options would be provided for electric delivery trucks as well as for employees using electrified forms of transit.
In December last year, Daimler Truck announced plans to make operations carbon-neutral and had started sourcing electricity from solar, wind and hydro-powered sources at its locations in Europe. It said the next step would be the construction of buildings with photovoltaic systems.
"The expansion of photovoltaics is an important contribution to Daimler Truck's sustainable business strategy and a major step toward energy independence for our production sites," said Sebastian Brendel, responsible for central energy and environmental management at the company.