Mercedes-Benz Trucks has officially started construction on its global parts centre in Halberstadt, Germany, the biggest logistics project in the company's history. Operations are due to begin at the centre in 2026 across 260,000 sq.m of logistics space.
As announced earlier this year, the truckmaker, a division of parent Daimler Trucks, will receive 300,000 different line items from 2,600 suppliers and serve 20 regional logistics centres worldwide. Those centres will in turn supply regional dealers.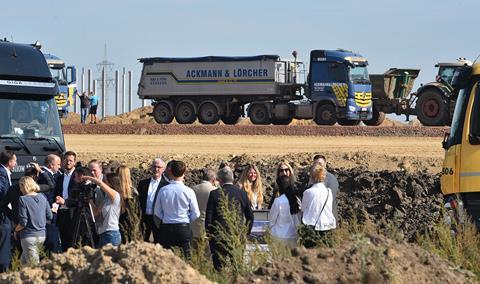 At the outset 450 people will man the operation, expanding to 600 as more activities are added.
"Thanks to the excellent cooperation with the city, district and state, we are able to celebrate the laying of the foundation stone for our new logistics site just a few months after it was announced," said Jörg Howe, chief representative for Daimler Trucks. "In the future, it will play a crucial role in keeping our trucks, and thus our economy and society, running."
The Daimler Truck Global Parts Center will comprise a high-bay warehouse and an automated small-parts warehouse. It will also use the latest storage and conveyor technology for the timely retrieval of parts. The truckmaker said that fast and comprehensive parts supply will enable vehicle fleets to spend as much time as possible in operation.
Mercedes-Benz Trucks said the parts centre will be a carbon-neutral operation, with underfloor heating supplied by electric heat pumps and the roof fitted with photovoltaic systems. Those systems can generate up to 13m kWh of electrical energy per year, according to the company, more than what is needed by the centre itself. The surplus energy generated on-site will be made available to other Daimler Truck locations in Germany.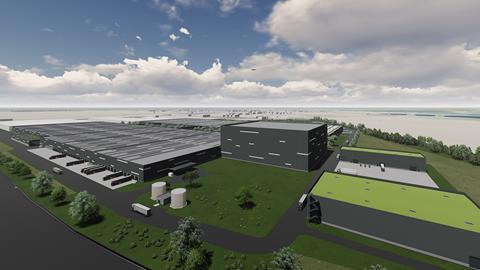 The company also said that charging options would be provided for electric delivery trucks as well as for employees using electrified forms of transit.
Construction of the centre is being carried out by Goldbeck. The company has already laid a 230,000 sq.m base course for the two hall buildings as well as installing the first 150 hall pillars.
Daimler Trucks has also announced this month the establishment of a joint venture with EnBW and the City of Wörth am Rhein. Called WärmeWerk Wörth, the venture will look into climate-neutral energy supply for the Mercedes-Benz plant in Wörth and the City of Wörth am Rhein. The company said the aim is to determine the geothermal usability and, if positive, to build and operate a geothermal plant to generate heat at the Wörth site.