Ford has launched the reorganisation of its business in Europe under three new groups, each with its own dedicated management: Commercial Vehicles (CVs), Passenger Vehicles (PVs) and Imports. The move is designed to improve customer-centred decision making and part of a previously announced reorganisation.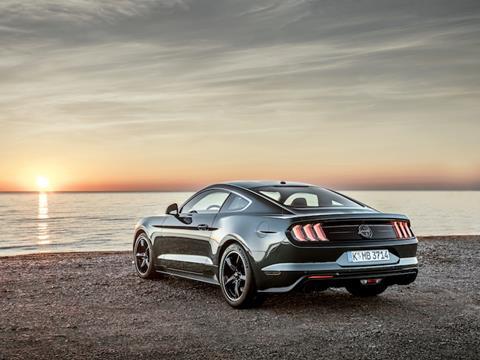 Ford currently imports the Mustang, Edge SUV and Ranger pickup from outside the EU. An all-new, Mustang-inspired fully electric performance utility vehicle will come in late 2020 to join the new Import division's portfolio, as will the Explorer SUV.
"The Imports group…has been established to better facilitate these niche products into the European market," a company spokesman told Automotive Logistics.
Despite discontinuing to ship in the Ka+ town car as part of the shakeup, Ford said it expected to more than triple annual passenger vehicle imports into Europe by 2024, though would not disclose projected figures.
In January the company reported 2018 registrations of the Mustang, Edge, Ranger and KA+ totalled 120,900 in the EU20 sales market (see below).
The corporate reorganisation includes reducing the company's manufacturing plants in Europe to 18 from 24. The Bridgend engine plant in South Wales and transmission plant in Aquitaine (France) will close, while the Naberezhnye Chelny and St Petersburg assembly and Elabuga engine plant in Russia have closed.
The Kechnec transmission plant in Slovakia was sold back to Ford's partner, component manufacturer Magna, in April.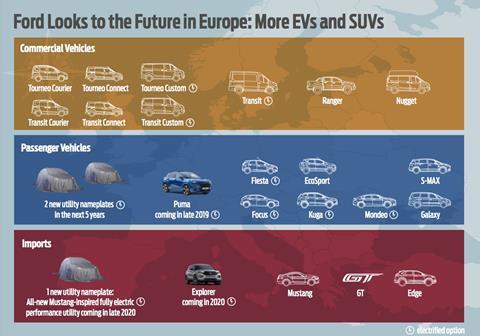 There will also be shift reductions at Ford's assembly plants in Saarlouis (Germany) and Valencia (Spain) as well as a more streamlined management structure and marketing and sales operations. Around 12,000 jobs will be lost, including 2,000 salaried posts.
Stuart Rowley, president, Ford of Europe, said of the reorganisation: "Ford will be a more targeted business in Europe, consistent with the company's global redesign, generating higher returns through our focus on customer needs and a lean structure.
"Implementing our new strategy quickly enables us to invest and grow our leading commercial vehicle business and provide customers with more electrified vehicles, SUVs, exciting performance derivatives and iconic imported models."
Other aspects of the changes include the CV group being based at the company's centre of excellence in Dunton (UK), with improvements and investments to enhance its technical skills.
The passenger vehicle group will be based in Cologne (Germany) and lead the future portfolio of European-built cars and SUVs.
*Ford of Europe reports its sales for the European traditional markets where it is represented through national sales companies. They are: Austria, Belgium, the Czech Republic, Denmark, Finland, France, Germany, Greece, Hungary, Ireland, Italy, the Netherlands, Norway, Poland, Portugal, Romania, Spain, Sweden, Switzerland and the UK.