Ford will end production at all three of the assembly plants it runs in Russia with Sollers by the end of this year. Ford vehicles are made at Elabuga and Naberezhnye Chelny in Tartarstan, and Vsevolozhsk, near St Petersburg.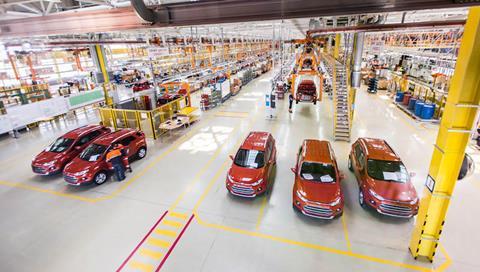 The move by Ford confirms statements made earlier this year that it would be "addressing underperforming markets" as it aimed to improve profitability and competitive performance.
Domestic and export sales of the EcoSport, Explorer, Fiesta, Focus, Kuga, and Mondeo will stop. However, the Ford Transit will continue to be made under contract at the Elabuga plant for domestic sales and Ford suppliers will continue to make components for export abroad, with the prospect of increasing output.
In 2018, Ford estimated that it was exporting 100 different types of component from Russia to its plants in Europe, equal to 120,000 units per year. The carmaker now plans to triple this by 2021 and will authorise 20 Russian components suppliers to export their products to Ford plants outside of Russia.
Competition to take up the slack
Ford sales in Russia have declined in the first half of this year and its plants have been well below capacity for some time, down to just 15% last year. In the first half of 2019, Ford sold around 21,000 finished vehicles in Russia, which was 18% lower than during the first half of the previous year.
In June it did see a spike in demand when sales hit 6,150 vehicles, which was a 43% jump compared to June of 2018, according to the Russian Association of European Businesses. Sales of the Ford Kuga in particular jumped by 68% to 1,800 units, the highest in one month since 2014. However, Russian consulting agency Autostat said this was to be expected as customers rushed to purchase vehicles before the carmaker shut down its passenger car business in the country completely.
Ford's share of overall Russian sales is expected to go quickly to Hyundai-Kia, Volkswagen and Renault. Hyundai-Kia is harbouring plans to expand production capacities in Russia, and Volkswagen is the second most likely candidate to purchase those assets, said Vladimir Bespalov, senior analyst of the Russian think tank VTB Capital. The price of the plants could be limited to between 3-4 billion rubles ($50-$65m), said Russian consulting agency AKRA.
Renault already has its existing majority venture with Russian car giant Avtovaz.
The problem is that, as Ford has experienced, production capacity in Russia is currently far in excess of actual output.