A sustained production decline in the UK's car industry could ease off by year-end as new models arrive and output balances out over the third quarter. That is, however, provided the country leaves the EU with a favourable deal, a substantial transition period and all other things remain equal, said Mike Hawes, CEO of the UK's Society of Motor Manufacturers and Traders (SMMT).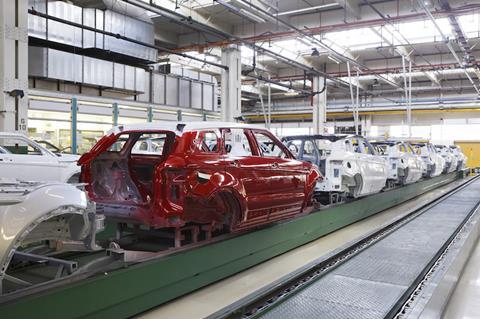 He was speaking after the society published figures showing production slumped 44.5% year-on-year in April to around 71,000 cars, partly because Honda and BMW shut their British assembly plants in anticipation of possible supply chain disruption following an exit planned for March 29.
The UK's departure from the EU was postponed at short notice after the UK's Parliament failed to reach agreement on withdrawal terms; too late for car manufacturers to change their logistics and production arrangements. The target date is now October 31 but, according to Hawes, the shutdown strategy cannot be repeated.
"[That] was just one of a raft of contingency measures put in place by manufacturers ahead of the expected Brexit deadline," he said. The other measures included stockpiling, rationalisation, training for new customs procedures and rerouting of logistics, which Hawes said were all designed to try to protect business when the UK leaves the customs union and single market. Businesses will be incurring those costs until certainty is restored, said Hawes.
April was also the 11th consecutive month of decline for British car production, largely because of slowing demand in key international markets including the EU, China and US, as well as because of low domestic demand, according to the SMMT.

The decline in demand is obviously affecting the supply chain, as seen by the 23.4% decline in engine production which has seen the year-on-year fall to 177,925 units in April.
While that is negative, it could be worse. Citing an independent forecast commissioned by the SMMT from sector analysts AutoAnalysis, Hawes said: "We can expect to finish 2019 around 10% down on last year's production numbers. But the picture would obviously look considerably different in the event of a 'no deal' Brexit."
Uncertainty related to the country's departure from the EU has already had a "significant impact" on UK automotive businesses.
"The fear of 'no deal' is holding back progress, causing investment to stall, jobs to be lost and is undermining our global reputation," said Hawes. "Despite some calling for 'no deal', this must be taken off the table immediately and permanently, so that the industry can get back to the business of delivering for the economy and keeping the UK at the forefront of the global technology race."