Suppliers need "commitment and accountability" from OEMs across departments on EV strategy and purchasing, according to a major North America OEM-supplier relations index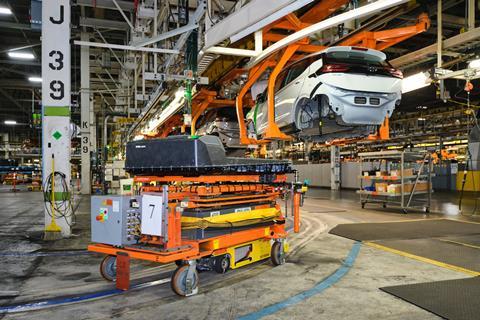 Following a report evaluating the relationships between suppliers and OEMs, EV plans are one of the biggest factors affecting the relationships, according to Dave Andrea, principal of Plante Moran, which compiles the influential survey.
The annual report, the North American Automotive OEM Supplier Working Relations Index Study, found that there has been rising tension between suppliers and major OEMs as the industry transitions to EV. Other factors such as supply chain disruptions, production scheduling and increased risk related to short-term cost recovery issues played a role.
The survey, now in its 23rd year, collected responses from 715 salespeople across 459 tier one suppliers judging relationships across six major OEMs: General Motors, Ford, Stellantis, Toyota, Honda and Nissan.
Suppliers reported they had the worst relationship with Stellantis, although it did improve on the previous year. Asked to rate the relationship based on a points-based system from 125 to 400, Stellantis rose from 128 in 2022 to 145, scoring a 'very poor to poor' on the scale. Toyota came out on top but dipped slightly from its 345 points last year to 338, an 'adequate' score, according to the survey baseline. GM and Nissan showed improvements year-on-year, while Honda also showed small declines.
Suppliers want detailed EV plans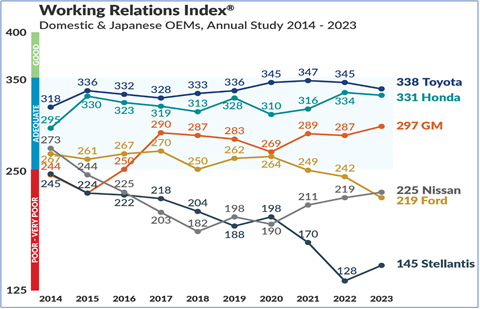 Andrea said suppliers are asking for "realistic expectations" when it comes to EV strategies, which would help them to better plan investments, manufacturing and transition plans. "Just give [suppliers] a clear plan for what they need to invest to support OEMs' growth with EV. It's about sharing information with the supplier to do their job, and the supplier sharing information with the OEMs to do their job. It's about commitment and accountability."
He added that OEMs need to stick to timelines on EV strategy, and that variation in programme and launch plans could have significantly negative impacts on suppliers. "If you say you're going to launch these EV programmes in certain quarters of the year, then you need to do that, so the supplier can match up their investment and production capacity and research and development to that OEM's plan," he said.
He pointed to a lack of detail in some OEMs' strategy. Back in 2019, GM set a goal to achieve zero emissions across the business but did not give an expected time frame or detail on how it would be achieved. However, the company has since updated its strategy to include more detail and has set a date to reach carbon neutrality by 2040, strengthening relations with its suppliers. "Now it starts to become clear what they expect from their supply chain," said Andrea.
Jeffrey Morrison, vice-president of global purchasing and supply chain at GM, commented on the carmaker's improved results on LinkedIn. "I'm extremely proud of the work the GM team has put into strengthening supplier relationships," he said. "The results show we're on the right track. Despite the challenges of supply constraints, inflation and disruptive trends in technology, the team finds ways to work together with our supplier partners to build a better future."
An interview with GM's Jeff Morrison, VP of global purchasing and supply chain, will appear in the next issue of Automotive Logistics.
Andrea added that all six OEMs included in the survey needed to improve in their internal and external communications. "In the current high-risk business environment, communication is key, because the supplier CEOs must ask: 'Who would I rather do business with? Who is my customer of choice?'" he said.
"The answer comes down to three questions: 'Whom do I trust? Where will I get the best return on investment? And what is the prospect for future business?' It's in the OEM's best interest to maintain open and honest communication with its suppliers."
"Just give [suppliers] a clear plan for what they need to invest to support OEMs' growth with EV. It's about sharing information with the supplier to do their job, and the supplier sharing information with the OEMs to do their job. It's about commitment and accountability."
-Dave Andrea, Plante Moran
Creating trust in the war room
The move to electrification is an opportunity for OEMs to expand their relationship with their suppliers, rather than harm it. Andrea said it is important for OEMs to balance the desourcing of the traditional internal combustion engine (ICE) supply chain with increased sourcing for the growing electrification supply chain using the same suppliers. To do this, the OEMs need to replicate the 'war room' approach that many implemented during the peak of pandemic and subsequent semiconductor shortages, with cross-functional teams working together to track issues and make decisions across purchasing, engineering, manufacturing, finance and logistics, for example. A similar approach should be taken across departments, together with suppliers, to ensure a holistic view of changes across the supply chain for EV, according to Andrea.
Such an approach would also be part of OEMs demonstrating to suppliers that they understood the complexities of the transition to EV and would reinforce that it is still one consolidated company providing two different products. In some cases, according to Andrea, suppliers were reporting that OEMs appeared to be separating ICE and EV business, which was leading to confusion among suppliers.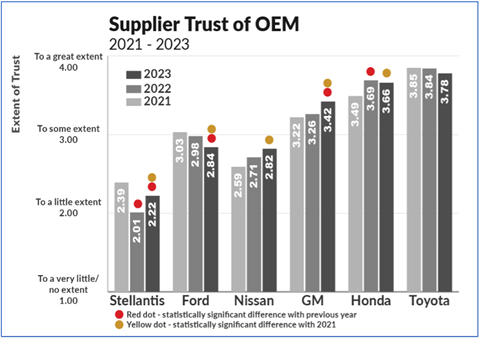 Andrea used the example of Ford, which last year announced its two distinct units: the Ford Model E division, focusing on electric vehicles, and the Ford Blue division, the traditional ICE offering. Coinciding with this announcement, ford experienced a dip in its supplier relations, dropping from a score of 242 in 2022 to 219 this year. Andrea said this could be a "transition issue".
"The way that Ford established its Model E and Ford Blue organisational structure made it seem like it was two different customers," he said. "Even internally, Model E was going to be the new auto industry, achieving new goals and profit margins, while Ford Blue was Ford's legacy. How do you reconcile those two philosophies? It's difficult, and I think that's why we saw their numbers drop off."
Supplier trust of OEMs can be affected by this, which directly affects the relationship. Ranking of supplier trust in OEMs mirrored the overall rankings, with Toyota being ranked as most trustworthy and Stellantis the least trusted. Trust in Ford decreased substantially within the year.
To regain supplier trust, OEMs like Ford need to use their purchasing teams to offer suppliers, who are being desourced on the ICE brands, work on their EV brands. "It's not the same volume of work, but at least they can work with the supplier to say 'we'll give you business over here'," he said.
Spending money to make money
OEMs also need to address inflation-driven cost increases in a fair way if they want to be ranked highly by their suppliers.
Suppliers have been put under pressure due to rising interest rates, higher inventory carrying costs, which could be affecting their relationships with OEMs. The survey asked suppliers to rate the OEMs based on the effectiveness of their purchasing organisations, based on several factors including payment issues being resolved on time and timely communication. The results showed that across the board, Honda was rated the most effective when it comes to purchasing, whereas Stellantis ranked the lowest on every variable.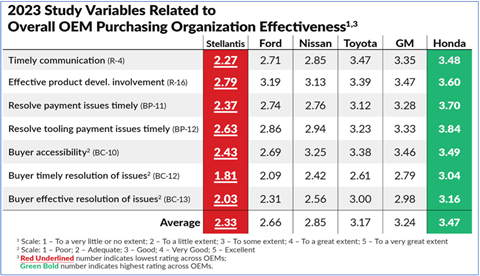 "The automakers will have to continue building on these fundamentals to survive near-term parts shortages, rising costs, and high risk to truly deepen supplier relations to support their transition to EV," said Andrea.
He said a way to tackle this would be to separate the piece price from the costs of engineering, designing and tooling. "If you want a strategic supply chain tomorrow, you have to pay for it today," he said. "I think the industry has to look at separating the costs [in parts]. If costs are separated out and not baked into the piece price, then suppliers on a lagging basis can say their costs were over what was budgeted for, and you can work out better recovery mechanisms for this type of inflation."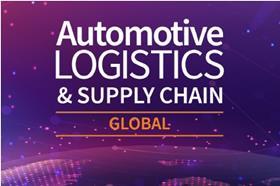 OEM and supplier EV supply chain will be a major topic at Automotive Logistics and Supply Chain Global, September 26-28, 2023 in Dearborn, Michigan, with speakers from GM, Nissan, BMW and others. Find out more and register here