VW Group expects vehicle deliveries to rise to around 9.5m units in 2023 and sales revenue to increase by between 10-15% compared to 2022.
The carmaker said the easing of supply chain and logistics restrictions, including the readier supply of semiconductors, would help it increase output to meet a strong order backlog.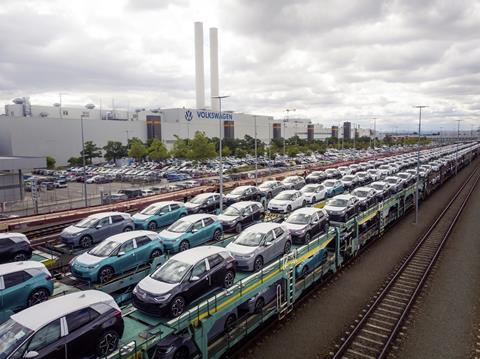 The carmaker is forecasting an operating return on sales in the range of 7.5 to 8.5%, it said in an earnings statement. Last year overall revenues increased by 11.6% to €279.2 billion ($297.7 billion) thanks to "sales of better equipped vehicles as well as an improved mix and continued pricing discipline", according to the carmaker.
However, VW Group said that total vehicle deliveries had declined by 7% last year to 8.3m vehicles. That was because of semiconductor shortages and logistics disruptions, as well as supply problems from China. Nevertheless, deliveries of battery electric vehicle (BEVs) increased by 26% compared to 2021, representing 7% of overall deliveries.
"Despite significant supply chain challenges leading to a decline in overall delivery numbers, we delivered 572,100 all-electric vehicles and simultaneously further increased operating profits," said Arno Antlitz, chief financial and chief operating officer at VW Group.
With regard to the supply of semiconductors, VW Group said the situation would continue to ease in 2023, both in the number of critical semiconductor types and in the available quantity, though it did forecast that shortages would continue.
"To position the Group strategically in the best possible way, a cross-brand and cross-functional semiconductor strategy has been developed in the Volkswagen Group in order to be able to guarantee the security of supply of semiconductors for the vehicles in the long term," said a spokesperson for the carmaker.
Regional differences
Overall deliveries in Europe declined by 10.4% to 3.1m vehicles across 2022, whereas BEVs were up by 13.4% to 352,000 units, with the majority delivered to the west of Europe. The order bank in western Europe remained high last year, at 1.8m vehicles, including 310,000 BEVs, because of supply constraints. Deliveries in the central and eastern parts of Europe declined by 33% to 441,900 vehicles because of the war in Ukraine.
In North America, 842,600 vehicles were delivered, a decline of 7.2%, though again, BEV deliveries were up by almost 19% to 44,200 units and local BEV production at the VW Group plant in Chattanooga will provide additional capacity to meet demand in the region.
Deliveries in South America were down by 8% to 473,700 vehicles
In Asia-Pacific, the decline was a smaller 2.7%, with 3.5m vehicles delivered. Of that figure 3.18m were delivered in China (-3.6%). VW Group said supply shortages and Covid-related lockdowns in the first half of the year, led to significant losses but recovery was strong in the second half of the year. China was also the biggest contributor to the Group's global BEV increase with deliveries up by 68% to 155,700 units.
VW deliveries, sales and production in 2022
| | 2022 | 2021 | % |
| --- | --- | --- | --- |
| | | | |
| Deliveries | 8,263 | 8,882 | -7 |
| Sales | 8,481 | 8,576 | -1.1 |
| Production | 8,717 | 8,283 | +5.2 |
Capturing capacity
Increasing global deliveries this year by more than a million depends on securing adequate outbound capacity at a time when there are shortages across road, rail and ocean. Deep sea ro-ro capacity is likely to remain particularly tight this year and there are bottlenecks on the rail network in Germany, on top of ongoing labour and equipment shortages for road haulage. VW Group is already chartering trucks in the network to reduce the impact of transport restrictions.
The carmaker recently told Automotive Logistics that it was looking at smart combinations of rail and road for vehicle deliveries in Europe but that flatrate times are dependent on the respective transport corridors and the alternative routes that are available. There is currently significant disruption to the rail freight network in Germany.
To address the shortage in outbound capacity, VW Group is looking at renegotiating contracts and pricing with its finished vehicle logistics providers. At last year's annual conference of the Association of European Vehicle Logistics (ECG), Benedict Bayer, product owner of the outbound order book at VW Group Logistics, said the carmaker was open to discussing the needs of its LSPs and way it worked with them in the future.
"If this means we need to think about the content of our contracts, we are willing to do this," he said.