BMW has announced a wide range of initiatives to instil greater sustainability in the sourcing of materials for parts. They include the use of maritime waste for injection-moulded plastic parts, recycling of steel, aluminium and glass, and the recycling of battery cells.
The carmaker said it already currently uses almost 30% of recycled and reusable materials in the manufacture of its vehicles but aims to gradually increase this figure to 50% while maintaining quality, safety and reliability standards equal to those parts made with primary materials.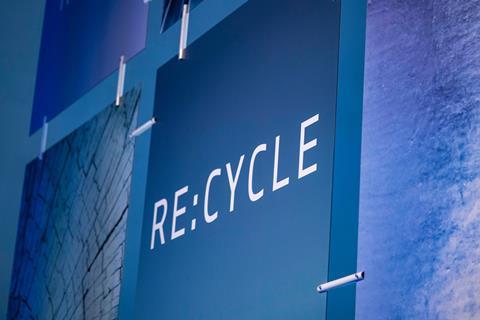 Key to those goals is a reduction in the variety of materials sourced. The company said the use of mono-materials contributes significantly to simplified recycling and the improved purity of secondary raw materials. That applies to textiles, plastics and metal alloys.
Cleaner plastic
With regard to recycled plastic, BMW is taking discarded fishing nets and ropes recovered from the ocean to produce plastic granules that be used for injection-moulded trim components. The carmaker said the raw materials used in the components can consist of around 30% maritime waste. The trim parts will be used in visible and non-visible areas on both the exterior and interior of its Neue Klasse (New Class) EVs from 2025.
BMW said it was aiming to double the proportion of secondary materials in the production of thermoplastics from the current 20% to 40% by 2030. Switching from primary to secondary materials also reduces CO2 emissions in the manufacture of thermoplastic components by 50 to 80%, according to the company.
BMW is also working on a pilot project with chemical company BASF, and recycling and environmental services provider Alba, on a material cycle for plastics that will enable it to end the use of crude oil as a raw material. Alongside that it is looking into the use of bio-based plastics and plastics reinforced with natural fibres such as cellulose, hemp, wood or bamboo.
Steel, aluminium and glass
BMW said it is also aiming to gradually increase the use of secondary raw materials in steel components from the current average of around 25%. Depending on the alloy, the carmaker said that between 50 and 80% of the CO2 emissions in the production process could be avoided by using secondary materials.
BMW is further ahead with aluminium components, which already contain up to 50% secondary raw materials. One good example is in the cast aluminium used for wheels on the Mini Countryman, where secondary aluminium will lead to a reduction of 75 to 85% in CO2 emissions associated with production compared to the use of primary materials.
BMW reports it has been dismantling and recycling components for two decades and is "committed to establishing a circular economy within the automotive industry, especially for steel, aluminium, glass and plastics".
In terms of glass, it is working on establishing a circular economy for vehicle windows by 2030. It said dismantling, sorting and reusing automotive glass could reduce CO2 emissions in window production by up to 30% compared to using new material.
Renewable energy
At the same time, BMW is looking at using primary steel that has been made produced using cleaner energy. From 2025 it will source steel from a Swedish manufacturer that uses hydrogen and electricity from renewable sources. It has signed another agreement with a supplier for the procurement of steel from CO2-reduced production. It said that 40% of requirements for vehicle production at the European BMW Group plants can be covered in this way. That would be equal to a reduction in CO2 emissions through steel production of around 400,000 tonnes annually.
The BMW Group has been sourcing aluminium produced using electricity generated from solar energy since February 2021. That solar power comes from the United Arab Emirates.
"A long-term increase in deliveries of aluminium produced using green electricity is planned, with the aim of reducing CO2 emissions in this area by a total of around 2.5m tonnes by 2030," said the carmaker in a statement. "From 2024 onwards, all cast aluminium wheels sourced by the BMW Group will be produced using only green electricity."
Battery cells
BMW Group is also working on making the production of lithium-ion batteries more sustainable through the re-use of battery cell materials, a process it said would be industrialised once there were substantial numbers of end-of-life EVs and a significant number of old batteries.
The carmaker is currently working with German recycling specialist Duesenfeld on a process that aims to achieve a recycling rate of more than 95%, including for graphite and electrolytes.
In China, the BMW Brilliance Automotive joint venture (BBA) has already established a closed loop for reuse of the raw materials nickel, lithium and cobalt from high-voltage batteries. It said the raw materials obtained through recycling conserves resources and reduces CO2 emissions by around 70% compared to using newly extracted primary material.
BMW is also cutting carbon from the logistics used to supply the parts to those plants and from the delivery process used to get the assembled vehicles to the customer.
More specifically, it has plans to reduce carbon emissions within supply chain by 20% by 2030. That means, among other things, a much closer collaboration with logistics and transport providers, a focus on digital tools for data gathering on carbon emissions in the supply chain and a much greater emphasis on sustainability in the purchasing of services.
Read more about BMW Group's efforts to make the logistics supporting the production and delivery of its vehicles emission-free in our interview with BMW's Maike Rotmann, head of distribution systems and sustainability, and Wolfgang Rudorfer, head of transport planning and steering.