The automotive industry continues to fight supply chain disruption on a number of fronts, from the ongoing shortage of electronic parts, the war in Ukraine, high inflation, and a critical shortage of transport capacity and labour. The impact of these factors is estimated by analysts S&P Global to account for a 50m shortfall in vehicle deliveries between January 2021 and February 2023 (with 19m accounted for by the semiconductor shortage).
Firefighting those issues is a daily trial for the logistics and supply chain professionals working at the carmakers but the issues cannot distract from the more serious goal of meeting sustainability targets. This week the Intergovernmental Panel on Climate Change (IPCC) issued a final warning that if action was not taken immediately rising greenhouse gas emissions would push the world to the brink of irrevocable damage.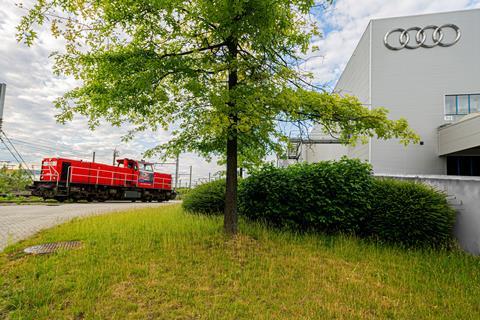 In a keynote address to start this year's Automotive Logistics and Supply Chain Europe conference in Bonn, Germany, Dieter Braun, head of supply chain at Audi, outlined the carmaker's four-point strategy to make good on its commitment to the Paris Climate Agreement it signed in 2021. The carmaker aims to reduce CO2 emissions from the lifecycle of its vehicles by 30% by 2025, a first step toward its long-term goal of CO2 neutrality.
Measures to achieve those goals include: more comprehensive and sustainable closed-loop aluminium recycling along with low-emission battery production; provisions to make production facilities less polluting, including through the use of solar-panel roofing and wastewater recovery; the exclusive production of battery electric vehicles (BEVs) from 2026; and the recycling of end-of-life battery electric vehicles (BEVs).
Braun said the strategy had to be put into effect as soon as possible, given that the automotive industry is responsible for 10% of carbon emissions globally, with Audi's parent company VW Group estimated to account for 1% by itself. VW Group sold 4.56m vehicles globally in 2022.
While transport emissions currently account for just 2% of the overall pollution caused across a vehicle's lifecycle, according to Braun, this will increase as sales of BEVs rise. The costs associated with the battery chain alone add a significant percentage of carbon. That includes, mining, refining and transport of materials, as well as the manufacturing of the battery cells.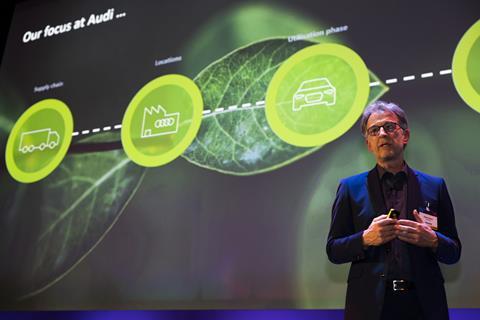 "We still produce a lot of combustion engine cars but when we change this to BEVs what will stay is the logistics operations," said Braun. "That is why we have to concentrate now to find solution to make this CO2-free as well."
That is something the carmaker is working on for the delivery of batteries to its production plants. Braun said that the greater use of rail to deliver prismatic lithium batteries inbound from Samsung SDI's plant in Budapest, Hungary, to its assembly plant near Brussels in Belgium for the Q8 e-tron, will save 3,800 tonnes of CO2 per year.
Audi is also working on reducing the amount of plastic used in packaging of parts and has reduced it by 500 tonnes per year already, according to Braun.
Three to one
However, those laudable inbound savings aside, the delivery of finished vehicles currently accounts for three times more emissions than inbound transport. Braun said that its current 3-1 equation on outbound vs. inbound emissions had to change, not an easy task given that BEVs are considerably heavier than ICE vehicles and getting bigger, which means fewer, heavier vehicles moving per transport asset. According to SP Global, BEV purchases are also trending toward bigger C and D segment passenger vehicles, rather than smaller entry-level cars.
Watch the interview with Dieter Braun at this year's ALSC Europe conference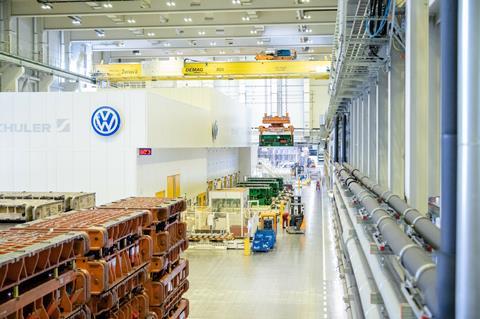 Again, Audi, like its parent company, is looking for greater use of rail for the shipment of vehicles and that rail needs to be powered by renewable energy, something offered in Germany by state rail operator DB Cargo. In fact, Audi achieved CO2-neutral status for shipments in Germany back in 2017 using DB Cargo's Ecoplus service, which draws traction from renewable sources.
Current disruption to the German rail network, however, is forcing inbound and outbound shipments back to the roads. Braun said that pushed Audi's logistics team to be more flexible in planning and to collaborate more with partners to mitigate disruption and the risk to its environmental goals.
"Even with a clear strategy we won't make it alone," said Braun. "That means strategic partnerships with logistics service providers, with the German railway, with the fuel companies to offer bioenergy. You need to be flexible, have clear goals that you may have to revise and adjust where necessary, but you have to stay on course. Legislation will help but the most important thing is to have clarity in legislation that is changing every year."
Coverage from Automotive Logistics and Supply Chain Europe 2023
1

Currently reading

Audi's ambitious strategy for a cleaner future

2

3

4

5

6